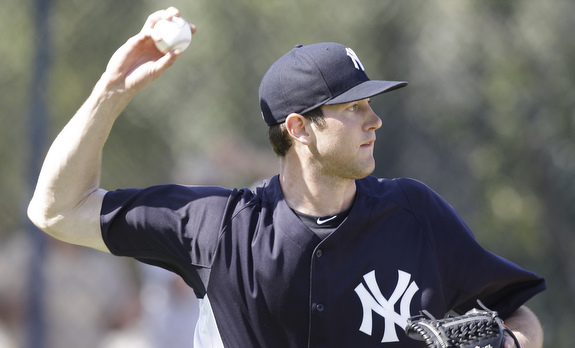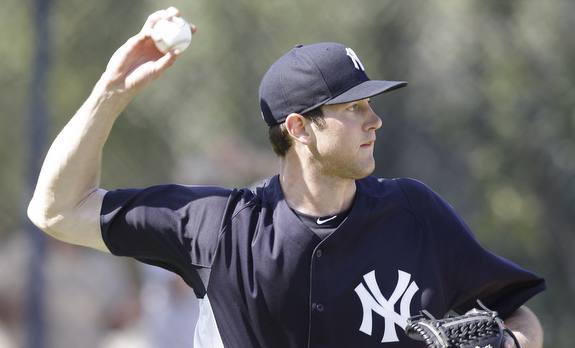 If there's one thing we've learned about scouting director Damon Oppenheimer in his six years running the Yankees' drafts, it's that he loves players who standout in the Cape Cod League. The Cape is the most prestigious amateur summer league around, pitting top college players against each other with wood bats. It's traditionally been a very pitcher-friendly league, and last year was no different: batters hit just .233/.315/.310 overall, and pitchers posted a 3.05 ERA with 7.78 K/9 in the 44-game season.
Prospects like Rob Segedin, Tommy Kahnle, Adam Warren, David Adams, Dan Brewer, D.J. Mitchell, and Andrew Brackman went from the Cape to the Yankees' system in short order, and I'm certain a few more will join them this winter. Here's a few guys that stood out in the league last summer…
Andy Burns, 3B, Arizona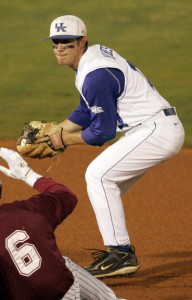 "Standout" probably isn't the best way to describe Burns after he hit just .211/.306/.283 in 152 plate appearances with the Brewster Whitecaps, though his impressive tools allowed him to lead the league with 25 stolen bases (just four caught stealings). Burns offers a well-built 6-foot-2, 190 lb. frame that produces good power from the right side. His speed is above-average and his defense at the hot corner is strong, whether it's catching or throwing. You can dream a little on Burns, who has a sound approach but an annoying tendency to swing-and-miss.
Burns made the odd decision to transfer from Kentucky, where he hit .278/.358/.496 with 18 homers in two years, to Arizona for his junior season. The always player-friendly NCAA rules force him to sit out this season, so his stock can only go down this summer. There's a chance Burns will be undervalued on draft day, and he could be a great late-round flier. Baseball America ranked him as the 74th best college prospect for the draft, which means he's projected to go somewhere between the fourth and sixth round right now.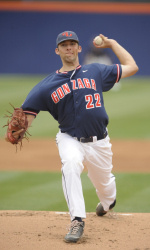 Ryan Carpenter, LHP, Gonzaga
Big left-handers are easy to love, and Carpenter certainly qualifies. The 6-foot-5, 225 lb. southpaw struck out 39 and walked ten in seven starts (38.2 IP, 2.56 ERA) with the Orleans Firebirds last summer. You'd expect Carpenter to offer huge stuff with that frame, but he's not some big-time flamethrower. His fastball sits in the low-90's and will occasionally touch 95, and his second best offering is a low-80's changeup. He's working on a curveball and refining his command, so he's far from a finished product.
The Yankees do a fine job of teaching curveballs, and it's always possible that a professional training program will add some juice to his fastball. There's definite upside here. Keith Law ranked him as the 31st best draft prospect while Baseball America had him just 41st out of all college players. Law's clearly high on him. Carpenter could go anywhere from the middle of the first through third round, and could be in play when the Yankees' first pick comes up, 51st overall.
Grayson Garvin, LHP, Vanderbilt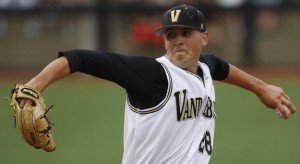 Another monstrous lefty like Carpenter, Garvin is listed at 6-foot-6, 220 lbs. and was named Cape Cod League Pitcher of the Year after taking home the league's ERA crown (0.74). In 36.2 innings (six starts) with the Bourn Braves, Garvin struck out 38 and walked 12, allowing just 18 hits. Again like Carpenter, he's more results that raw stuff, sitting at 88-91 with the heat and backing it up with a slurve that's neither slider nor curve at the moment. Garvin is also working on a cutter and changeup, and as always, command.
Garvin would be another fine curveball-teaching project, but his upside isn't as apparent as Carpenter's. It's definitely there though. Baseball America ranked Garvin as the 48th best college player available this summer, so they project him to be a third or fourth rounder at the moment.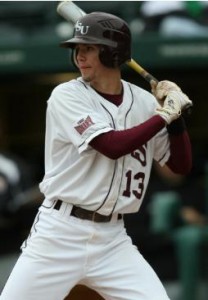 Kevin Medrano, 2B, Missouri State
One of just four players that managed to crack a .300 batting average on the Cape last summer, Medrano hit .321/.380/.423 with nine doubles in 150 plate appearances for the Falmouth Commodores. He's an undersized (6-foot-1, 160 lb.) middle infielder that makes a ton of contact and offers plenty of speed. There are doubts that he'll ever hit for much power, especially against advanced pitched, and he's limited to second base because he doesn't have the arm for short or third. He's a fine defender with plenty of range.
As cliche as it sounds, Medrano has some David Eckstein in him, though he's a lefty hitter with better defensive tools, and he's likely to steal more bases. There isn't a ton of upside here, but quality middle infielders are getting harder to come by these days. Baseball America had Medrano 50th among college prospects, which means he's a third or fourth rounder right now.
Joe Panik, SS, St. John's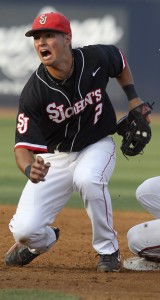 A local kid from Yonkers, Panik hit .276/.386/.372 with more walks (20) than strikeouts (12) in 171 plate appearances for the Yarmouth-Dennis Red Sox last summer. He's a .355/.460/.572 career hitter with the Red Storm, again with far more walks (67) than strikeouts (33). His lefty swing is geared for hard contact and produces gap-to-gap power, and his military-style plate discipline makes him a strong on-base threat. Defensively, Panik is built for shortstop (6-foot-1, 195 lbs.) with quick feet, soft hands, and a strong arm. There aren't many that doubt his ability to remain there for the next decade or so. It's worth noting that he took home the Cape sportsmanship award.
Players that project to remain at shortstop with this kind of offensive ability are hot commodities, so much so that they tend to be overvalued on draft day. Baseball America ranked Panik as the 38th best college prospect in the class, but I could see him going anywhere before the third round. Both the Diamondbacks and Brewers own two of the first 15 picks, and I wouldn't be surprised to see either grab him early in an effort to cut costs while still landing a quality player.
* * *
Those are just a few standouts from last summer, but I could probably do two or three of these posts. I love me some Carpenter and Panik, and Burns as a buy-low candidate is definitely intriguing. Medrano's interesting after the fourth round, and Garvin could shoot up draft boards if he figures out a breaking ball and adds about two miles to his heater, something that's very possible this spring.