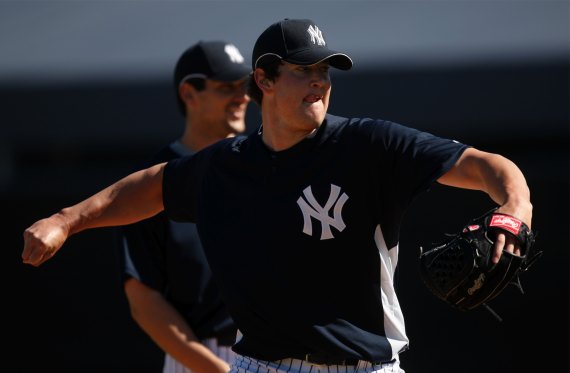 It has become tough to believe Brian Cashman's public statements. During the past five or so years he has put up many fronts — Bubba Crosby in center field, signing Teixeira as "fantasy land" — which makes it difficult to determine when he's truthful and when he's speaking strategically. Yet there are some statements that just feel true. Cashman made one of them yesterday at camp. As Mark Feinsand reports:
[Dellin] Betances and [Manny] Banuelos aren't earning spots in the rotation out of spring training. They're going to get their first taste of big-league camp, then they're going to get slotted into Trenton. They have no chance to make this team.
That comes as no surprise. While Betances and Banuelos both rank highly on most prospect lists, they're a bit short on experience. Banuelos has thrown just 215.2 innings during his three years pitching in the Yankees' organization, and Betances has thrown just 299.2 in his five seasons. To place them in the bigs at the outset would likely hamper their development. In fact, given their lack of experience and presumptive workload limits, it's doubtful that we see either of them in the majors this season.
What's interesting is what Cashman didn't say. Not only did he leave a couple of names off of his "no chance" list, but he came out later and reinforced that point.
The other guys are all competing for anything. They're more advanced, they have more experience and they're in a better position. Betances and Banuelos may help us down the line, but they're not coming to camp here to help us now or solve any problems. They're not advanced enough to be in a position to do that.
The most conspicuous omission is Andrew Brackman, the other Yankees' top pitching prospect. He made serious strides last season, finishing the year with a 3.01 ERA in 80.2 innings at AA. It would appear that he has a ways to go, but he is also a bit further along than Betances and Banuelos. He's older, and he has pitched more innings in recent years. While he has just 247.1 innings himself, 140.2 of them came last season. He also has about 150 innings of college ball, which means roughly 400 post-high school innings. That trumps both of the other B's.
This isn't to say that Brackman has a real shot to make the team. He, too, probably needs a bit more seasoning in the minors. After all, it was just a year ago that he had fallen off most prospect lists and risked being labeled a bust. There are worse things than having him start the year in AAA. The Yankees do have a number of veteran options with whom they could start the season, leaving Brackman as a backup option if they fail. He, David Phelps, and Hector Noesi are probably best served in this role.
Chances are we'll see Brackman pitching in the majors, whether in the rotation or in the bullpen, at some point this season. Out of camp, though, it would take quite a showing, combined with quite a meltdown from a couple of other leading candidates, for him to make the team. That's not a bad thing. If anything it speaks to the team's depth. They might not have the most favorable situation presently, but it's pretty clear that their third-best, and most developed, pitching prospect has a chance to help the team this year.