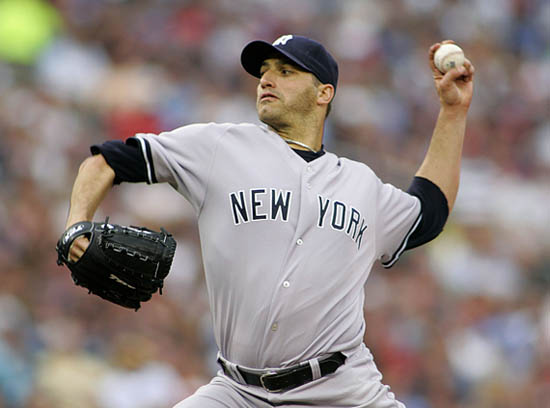 Your critical analysis will have to wait another few hours, because I am personally still in mourning over Andy Pettitte. Yes, I know he's not dead, but the man has been pitching since I was seven years old. When I was eight, he was the best pitcher in baseball, period. This was confirmed by something better than a statistic: my grandma told me so. Anyway, it's kind of a stupid emotional thing for me. Instead, I thought I'd focus on the batters who are glad to see Andy go and some who would have liked him to stick around instead. It's hard to say why hitters do well against specific pitchers. If you can hit one soft-tossing lefty, why not all the other ones in the league? Oh well. Baseball, being hard to predict, I guess.
Sad to See Him Go
Manny Ramirez
There's no two ways about it: Manny had Andy's number. Those years in Boston gave him lots of plate appearances to do as much damage as he possibly could, too. In 104 PAs, Manny hit .391/.452/.652, with an OPS of 1.104. He leads all hitters in damage against Andy Pettitte in three categories: hits (36), doubles (9) and RBIs (23), while striking out only eight times. He follows only Carlos Peña in home runs (5, to Peña's 6), and only Frank Thomas in walks (10 to Thomas' 11). He was intentionally walked twice. With his declining power, he needs a little more Andy Pettitte in his life. But if we have to suffer without him, so do you, Manny.
Magglio Ordoñez
Despite a smaller sample size attributed to his AL Central habitat plus injuries, Ordoñez did fine for himself against our crafty lefty. In 42 plate appearances, he whipped up an impressive 1.050 SLG complete with two homers, six RBIs, and a triple. His best year against Pettitte was 2000, in which he tacked up a double, a triple, and two walks (one intentional).
Carlos Peña
It always surprises me when I hear people who bat .196 sign for $10M. Perhaps the Cubs are signing him specifically for interleague? Peña tops the Pettitte home run list with six, as well as holding the record for highest SLG (an impressive .875) and fourth in OPS (1.301). On top of this, man is tied with three others for the triples-against-Pettitte champion crown with two. In 2007, Peña went 4-for-8 with two home runs, which probably explains the 2.100 OPS. Don't you just love the absurd numbers a tiny sample size can create?
The San Francisco Giants
Congratulations Giants, you are the only major league team that Pettitte has never beaten. In three games, Pettitte gave up a grand total of 11 ER and had a WHIP of 1.582, going 0-3. Most of his bad Giants numbers stem from one particularly nasty start during his Astros tenure, in which he pitched a little over five innings and gave up six runs and eleven hits.
On the other hand…
Happy to See Him Go
Alex Gonzalez
In 62 appearances, Gonzalez only managed a downright pathetic OPS of .404. This might have something to do with the fact he struck out fifteen times (24%) and hit into four double plays. He did manage a home run and four RBIs, but generally, going 8-for-58 is not advised if you're actually trying to win anything. If you're trying to make Andy Pettitte look good, of course, then these numbers'll do rather well. Not sure if this was Gonzales' intention, though.
Darin Erstad
.184/.184/.204 with a .388 OPS, combined 16 strikeouts and no walks in 49 appearances. Ow.
The Baltimore Orioles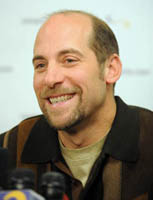 Admittedly, the Orioles have been making everyone look good for the past ten years except themselves, so it's not that much of a surprise that Andy is 27-6 against them for his career. He's maintained a career 3.52 ERA against them and racked up nearly 150 strikeouts in about 250 innings, good for a 5 k/9 and a 1.64 K/BB. Not spectacular, but it did well for him, for sure. That's our Andy.
John Smoltz
We will not have to listen to another postseason of Smoltz biting the inside of his mouth as he talks about Pettitte's playoff prowess. You'd think the guy took a hard playoff loss to Andy at some point in his career. Jeez.