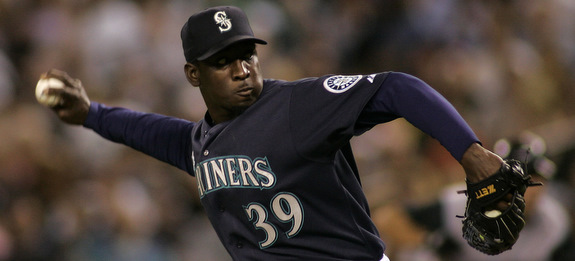 About two weeks ago we learned that Rafael Soriano has something in common with Mariano Rivera beyond being a really awesome relief pitcher: he also throws a cutter. Mike Fast at Baseball Prospectus dug through the data and found that prior to 2010, Soriano would use the cutter almost exclusively against right-handed batters and go after lefties with a little two-seamer away, which sounds good in theory but it wasn't really working for him. Lefties tagged Soriano for a .313 wOBA before last season, which is better than league average but far too high for a guy that's supposed to be an elite reliever.
That all changed in 2010, perhaps with some help from the Rays coaching staff or just an adjustment on Soriano's part. Fast found that Rafi started throwing his cutter to left-handed batters more than he had in the past, something we can now visualize thanks to the great new heat maps feature at FanGraphs…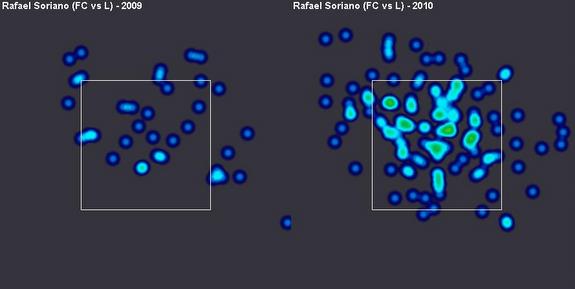 I'm certain there are some classification issues, with a few cutters being classified as sliders and vice versa by the PitchFX system, but the margin for error isn't that big. MFIKY clearly threw more cut fastballs to lefties last season, and the early returns on the strategy were good. He held lefties to a .267 wOBA against and cut down on their line drive rate by almost ten percent compared to 2009. Of course we're talking about a really small sample of data here (he faced just 118 LHB in 2010), so let's not take this stuff to heart just yet.
The side effect of going with the cutter instead of the sinking two-seamer is the lack of ground balls. Soriano coaxed an infield pop-up out on a whopping 17.9% of the balls lefties put in play last year, and a regular old fly ball 45.9% of the time. An infield fly ball rate that high isn't something that's sustainable; he had been around 10% in 2007 and 2009, his two previous full and healthy seasons. The fly ball rate in general is high, which is Soriano's forte, but the spray chart shows that he didn't give up too many deep fly balls last year (that's balls in play from Tropicana Field in 2010 overlaid onto Yankee Stadium). Not every fly ball has to be to the warning track.
Soriano won't be as good as he was with the Rays in 2010 with the Yankees in 2011, and that's fine. He's going to give up a few more homers because of the ballpark, but he should be an excellent weapon out of the pen as long as he stays healthy. The thing to keep an eye on is that cutter against lefties, and whether or not he continues or maybe even increases the usage of the pitch. Perhaps Mariano Rivera could help him improve even more by showing him how effective the pitch can be when it's thrown in their hands. At the end of the day, the results are what matters most, but Soriano appears to have found a process that worked for him last summer.