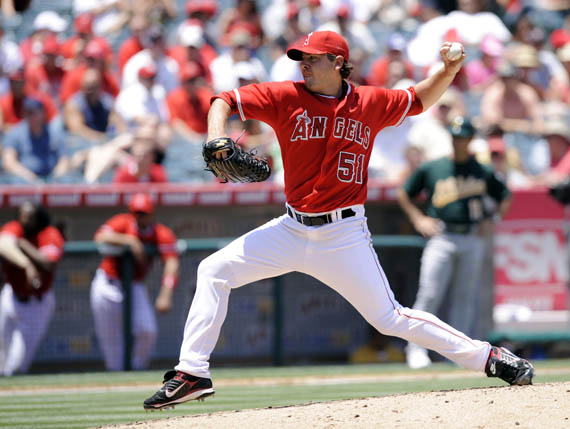 It's seems like we've been doing this forever, looking at vaguely mediocre (sometimes downright bad) pitchers and trying to come up with legit reasons that these guys actually deserve a spot on the team. I don't know about all of you, but I'm really, really getting tired of this. If Cashman (or anyone else on the Yankees) could just pull a fifth starter out of his closet right about now, I think we'd all really appreciate it. Personally, I wouldn't even be mad at him for holding out this long. He was just waiting until he was sure he needed to break the emergency glass. So that's what he meant about preaching patience.
Sadly, this doesn't look like the case, so it's back to the depressing reality that if you're still on the market right now, you're not very good at all. Rosenthal reported the Yankees are tossing around names of some possible lefties. Stephen's already covered the Padres, so I thought I'd look beyond of the pitcher-friendly walls of Petco Park and see what else is out there. Luckily, I don't have to move away from the west to find other possibilities.
Perhaps Joe Saunders? Saunders was drafted by the Phillies in the fifth round in 1999 but didn't sign, and the Angels nabbed him in 2002 as 12th overall pick. He did well in the minors, although he missed all of 2003 with a shoulder injury between his low A and high A stints. By 2005, he was pitching in AAA, and spent three years bouncing between AAA and the big club, making 13 starts for the Angels in 2006 and 18 in 2007. In 2008, he finally broke into the Opening Day Angels rotation and rewarded the Angels by throwing nearly 200 IP with a 3.41 ERA and a 4.36 FIP, along with a career-low 1.212 WHIP. His 2009, sadly, was not half as impressive, seeing an increase in his ERA, FIP, and BB/9, with a drop in strikeouts. When he performed at his 2009 and not 2008 levels in 2010, the Angels traded him to Arizona for Dan Haren. Saunders' short stint in Arizona helped his numbers (especially his K/BB, which went from 1.45 to 2.63), but it's hard to say how much of that was from a whole new crop of batters unfamiliar with him and how much was actual improvement on his part.
Even with Saunders' All-Star 2008, his numbers have remained fairly consistent. He's picked up between four and five strikeouts and two to three walks per nine IP each year. What concerns me is the 43.7% of groundballs he got in 2010, a huge decrease from his earlier numbers. Also, Saunders has been moving to progressively more and more hitter-friendly parks, so we'd be looking at an even bigger growth of his HR/FB% if the man was pitching in the bandboxes that the Yankees play most of their games in. The only thing Saunders gives us for sure besides these average-to-mediocre numbers is innings – since his shoulder injury in 2003, the lowest IP he's thrown so far is 186.
Maybe there's someone better floating around on the west coast?  Gio Gonzalez, for one, is perfectly accustomed to being moved around. He was drafted by the White Sox in the first round (38th overall), but was traded to the Phillies as a player to be named later when the ChiSox picked up Jim Thome. The Phillies than traded him back to the White Sox for Freddy Garcia, and the Sox sent him away again, this time to the A's with Ryan Sweeney for Nick Swisher.
As a Bay Area resident, I saw this guy throw a couple of games, and to my non-statistical eyes, he looked good. 2010 was Gonzo's first full season, and he didn't disappoint, starting over thirty games with an ERA of 3.23 and a FIP of 3.78. His problem is and has always been his walks: his career-low BB/9 is 4.1, which certainly isn't anything to be happy about, and it came with his career-low K/9 of 7.7, a huge decrease from his 2009 total of 10 k/9. There's also the problem of the cost: the A's could conceivably ask for plenty for Gonzales, who has potential and many years of team control left even if he's still trying to get a handle on throwing strikes at a major league level.
These guys both line up as solid 'mehs,' for the coveted position of fifth starter of the Yankees. They're coming from weak divisions into the AL East, which is always a cause for concern. Not only that, but even assuming that both pitchers find their best stuff, there's no denying the obvious: their stuff is just not that good. Baseball, please come back so we can stop writing about all these mediocre possibilities we don't really want. Thank you.