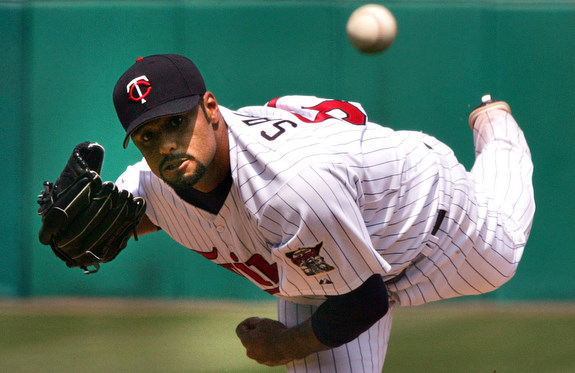 It's been a long, long time since we campaigned to Save The Big Three. That was three offseasons ago, when the Yankees (and Red Sox) were talking to the Twins about acquiring two-time (shoulda been three-time) Cy Young Award winner Johan Santana. The rumored package was Phil Hughes, Melky Cabrera, Mitch Hilligoss, and Jeff Marquez, though Minnesota was supposedly holding out for Ian Kennedy. Think the Cliff Lee or Andy Pettitte stuff is too much this winter? That was nothing compared to the non-stop Johan rumors, around the clock coverage of a trade we never wanted to happen. Three years ago today, it all came to a merciful end when the Mets officially acquired Santana for what amounted to a package of spare parts.
We were happy, many were not. The Yankees were in clear need of pitching help, moreso than they are right now, and there was Santana, an ace in his prime waiting to be had. Brian Cashman gambled that he could keep his prized young players (though four of those five guys are long gone) and simply buy CC Sabathia as a free agent the next offseason. It was a ballsy and absurdly risky move, but that's exactly what happened. Less than two years after the Johan non-trade, Sabathia, Hughes, and the rest of the Yankees were parading down the Canyon of Heroes, world champs for the 27th time. They took their lumps along the way, missing the playoffs in 2008, but here they are today with both Sabathia and Hughes headlining their rotation while Johan recovers from major shoulder surgery across town. I don't think Hollywood could have written a better script.
Here's your open thread for the evening. The Isles, Nets, and Knicks are all playing, but talk about whatever you want. Go nuts.