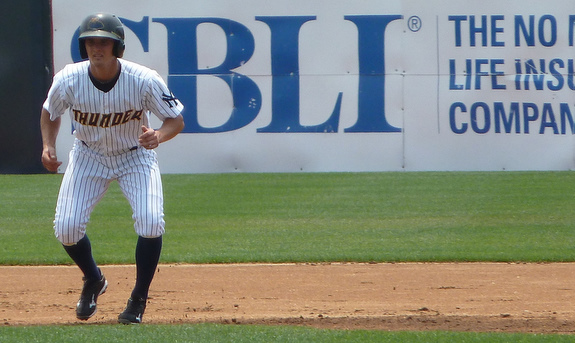 Dan Brewer | OF
Background
Raised just outside of Chicago in Brookfield, Illinois, Brewer comes from an athletic family and has three siblings that played sports at the collegiate level. He starred in three sports at Lyons Township High School, playing both baseball and football all four years while wrestling for the first three. Named to the All-Conference First Team three times and twice receiving All-State honors (once First Team, once honorable mention), Brewer helped the Lions to IHSA Class AA State Championship as a sophomore, and hit .460 with 13 homers and 57 runs driven in as a senior.
Brewer was not considered much of a prospect at the time and failed to crack Baseball America's list of the top 30 draft prospects in the state before the 2005 draft. He went undrafted and instead followed through on his commitment to Bradley, where he immediately became an impact player. As a true freshman in 2006, Brewer played second base and led the Braves in batting average (.347), on-base percentage (.405), slugging percentage (.556), hits (68), runs (42), doubles (20), triples (three), homers (five), stolen bases (eight), and multi-hit games (20). He was named All-Conference and finally put himself on the prospect map with a strong showing in the Central Illinois Collegiate League after the season. Baseball America ranked him as the seventh best prospect in the circuit that summer.
Moved over to shortstop as a sophomore, Brewer again led the team in homers (ten) and steals (20) while finishing third on the club in AVG (.313) and OBP (.393) while placing second in SLG (.540). He again took him All-Conference honors, then headed to the prestigious Cape Cod League after the season. Brewer spent the summer with the Hyannis Mets, earning a place on the All-Star Team by hitting .297 (12th best in the pitcher friendly circuit) with a team high 11 doubles and 30 RBI. He was second on the team with seven homers, and was named the 30th best prospect in the league by Baseball America.
Brewer changed positions again as a junior, this time moving to the outfield. He again took home All-Conference honors (that's three years at three different positions, if you're keeping score at home), leading the Braves in homers (six), steals (19), and SLG (.551). He finished second in AVG (.341), OBP (.436), and doubles (15), and for the first time in his career he drew more walks (28) than strikeouts (26). Brewer became the first player in school history with 20 career homers and 40 career steals, and by the end of the season he had climbed into Bradley's career top ten in triples (nine, 4th), hit by pitches (19, 4th), stolen bases (47th, 7th), runs (142, 7th), doubles (47, 7th), and total bases (325, 9th).
Baseball America named Brewer the sixth best prospect in Illinois for the 2008 draft, and the Yankees happily selected him with their eighth round pick, number 260 overall. He signed almost immediately for $125,000.
Pro Career
Assigned to Short Season Staten Island after signing, Brewer posted a .378 wOBA in 230 plate appearances for the Baby Bombers and helped them to the best record in the league at 49-26. The Yankees moved him to Low-A Charleston to begin the 2009 season, though he wasn't there for long. He put up a .415 wOBA in 241 trips to the plate and was bumped up to High-A Tampa, where he finished the season with a .358 wOBA in 253 plate appearances.
Brewer spent the entire 2010 season with Double-A Trenton, posting a .345 wOBA that doesn't tell the whole story. He stumbled into the All-Star break hitting just .239/.328/.384, bottoming out at .223/.328/.369 during the month of July, but then rebounded to hit .321/.377/.447 after the break. Brewer led the Thunder in games played (136), at-bats (508), runs (83), hits (137), doubles (34), and steals (29) while placing second in RBI (84) and total bases (207). His ten homers were third most on the club.
Scouting Report
A solid all-around player, Brewer's tools all play up because he's a smart and instinctual. His right-handed swing generates good bat speed and allows him to hit for surprising pop, though he will occasionally sell-out and starting using an uppercut to try to hit more homers. He'll strikeout in bunches when that happens. Baserunning savvy makes Brewer a stolen base threat (76.3% success rate in 80 attempts as a pro) even though his speed is characterized as good rather than blinding.
Brewer played all over the field in college and has manned all three outfield spots as well as first and third base as a pro, though he's considered an outfielder going forward. He handled center with aplomb last season when injury forced him to the position for a few weeks. Brewer plays the game hard but not recklessly, and he's been incredibly durable dating back to high school.
Here's video of Brewer ripping an RBI single from last September. You can see some more on Mike Ashmore's YouTube channel.
2011 Outlook
The Yankees don't have much outfield depth at the Triple-A level, and Brewer is expected to head there this summer. Depending on what happens with the big league team's final bench spot, he could find himself playing centerfield on an everyday basis. Otherwise he's slated for right.
My Take
I've liked Brewer since the day they drafted him, though he lacks a standout tool and could end up being pigeon-holed as a 'tweener. He's not much more than a spare outfielder for the Yankees, though he's a better bet than someone like Jordan Parraz (or Chad Huffman was last year) because he also offers speed and enough defense to handle center. Brewer will be eligible for the Rule 5 Draft after the season and is playing for a 40-man roster spot, though he could end up as trade bait if he produces at Triple-A. Either way, I'm a fan and the Yankees need guys like this for depth. They've gotten a great return for their money and draft pick so far.