As we count down the days and weeks leading up to the season, we're going to preview the 2011 Yankees by looking at each of their core players and many, many more. A new preview will go up every day, Monday through Friday, from now until Opening Day.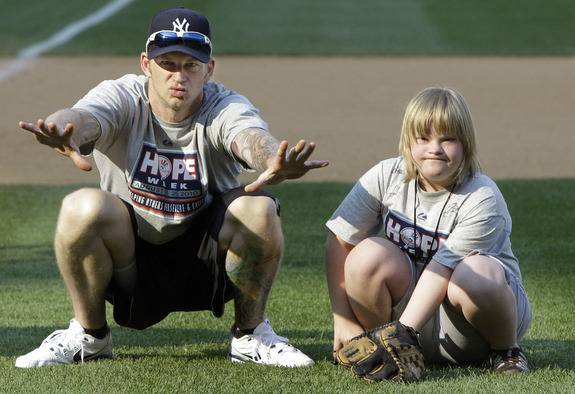 As far as disappointments go, it's tough to beat what A.J. Burnett did last season. I give him credit for making 30 starts and throwing 186.2 innings, though very few of those starts and innings were quality outings. A.J. set new career worsts in batting average against (.279), swing-and-miss rate (7.9%), strikeout rate (6.99 K/9), ERA (5.26), FIP (4.83), and xFIP (4.66). In the history of the New York Yankees franchise, even going back to when they were the Highlanders, that ERA is the highest by any pitcher who's thrown at least 175 IP in pinstripes in a single season. Burnett wasn't just bad, he was historically bad.
After whiffing on Cliff Lee and watching Andy Pettitte call it a career this winter, the Yankees need A.J. to be the $16.5M a year pitcher they're paying him to be, now more than ever. Burnett has already altered his mechanics at the behest of new pitching coach Larry Rothschild, eliminating the swing of his front leg and instead driving it towards the plate. Whether or not the adjustments help in the regular season remain to be seen, but the early results in Spring Training are encouraging.
Best Case
For a guy like Burnett, it feels like the sky is the limit. His fastball still hums in at 93-94 mph with what looks like zero effort, and his curveball can be so good at times that it makes you wonder how anyone ever gets a bat on it. When prompted by the catcher, he'll also throw a decent changeup just to mix something else in. The best season of A.J.'s career came during his final year in Toronto, when he amassed 5.5 fWAR and led the American League in strikeouts (231) and was third in innings pitched (221.1). Not only was he striking out well over a batter per inning, but he was also generating a ground ball on close to 50% of balls in play (48.5% to be exact).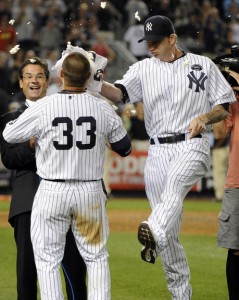 The best case scenario has Burnett being that guy again, so we're talking about a strikeout an inning with a healthy dose of ground balls. Getting his curveball – a pitch that averaged 14.3 runs above average from 2005 through 2009 but dropped off to 3.9 runs below average in 2010 – back on track is on part of that process, as is finding the two inches of horizontal movement his fastball lost during the 2009-2010 offseason. Perhaps the new mechanics can help, and hey, perhaps they can make his stuff even better.
Burnett's always been plagued by command issues, but that doesn't necessarily mean walks. His 1.21 HR/9 last season was his worst in four years and the second worst of his career, though that goes hand-in-hand with the added ground balls. Left-handers also gave him as especially tough time (4.78 FIP compared to 3.78 career). It's easier said than done of course, but correcting these flaws (which really started to manifest themselves last season) will help get A.J. back into five-win form, an ace worthy of his paycheck.
Worst Case
Could it possibly get any worse than it was last season? Unfortunately, it can. For all his struggles, Burnett did manage to rack up 1.3 fWAR thanks mostly to his bulk innings, providing more value to his team than guys like Jeff Niemann (1.2 fWAR), Jon Garland (0.8 fWAR), and Randy Wolf (0.7 fWAR). A continued decline in strikeout and ground ball rates will bring him ever closer to replacement level, as will another increase in his homerun rate.
At 34-years-old, it's likely that A.J.'s fastball velocity will continue its slow and steady decline, meaning the days of reaching back and throwing a fastball by a hitter in a jam are a thing of the past. Given his #LowPitchingIQ, all the refined mechanics in the world might not be able to help Burnett if his stuff continues its descent into mediocrity. As was the case with Phil Hughes yesterday, the 2010 version of Javy Vazquez is a fine approximation of what Burnett's worst case scenario might look like.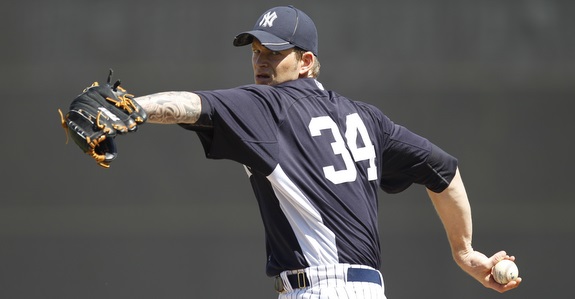 What's Likely To Happen
Who knows? That pretty much sums up this part of the preview. A.J. is as unpredictable as they come; on his good days he'll look like the best pitcher on the planet, on his worst you'll wonder how he ever made it out of A-ball. He certainly doesn't make it easy, that's for sure.
It's been all of two Spring Training starts, but Burnett said that his more compact delivery feels natural, so he doesn't find himself thinking about it on the mound, which I suppose is progress. The lost velocity is very real, however he still averaged 93.1 mph with the heater in 2010. Even if he loses another mile an hour (getting down to 92) this season, that's plenty enough for a big league starter. No excuses there. The curveball … I don't know what the hell is going on there. After years of being a dominant pitch (at +71.8 runs above average from '05-'09, the best in the game by more than 12 full runs), I have a hard time believing it just fell right off and become a below-average pitch in what amounts to an offseason. I expect some improvement there.
Call me (cautiously) optimistic, but I think we'll see a Burnett that is better than what he was in 2010 this season, but perhaps not as good as he was in 2009. That would put him right around a 4.50-4.60 FIP, so let's split the middle and call it 4.55. That would be the third worst full season of his career, but spread out over 30 or 31 starts*, you've got a two, two-and-a-half win pitcher. Would you take that out of A.J. this year? I would, but perhaps my expectations are too low.
* Funny how we aren't really concerned about Burnett's durability anymore, huh? He's proven himself in that department over the last three seasons, that's for sure.