As we count down the days and weeks leading up to the season, we're going to preview the 2011 Yankees by looking at each of their core players and many, many more. A new preview will go up every day, Monday through Friday, from now until Opening Day.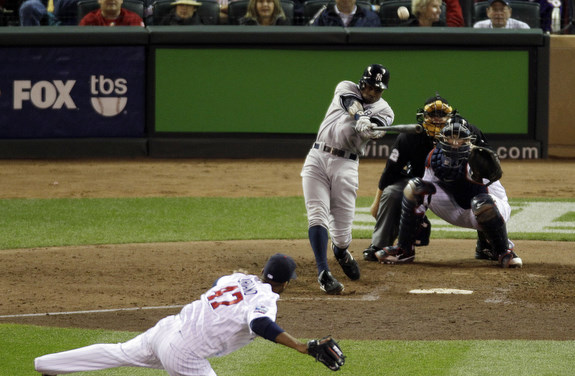 It was the best of times, it was the worst of times for Curtis Granderson in 2010. Not necessarily in that order, either. He was brought to town for a number of reasons, one of which was to help replace the left-handed power the Yankees let walk in the form of Hideki Matsui and Johnny Damon, which he did, by and large. It wasn't always pretty though.
Year two of the Granderson era is promising because of the way he finished year one. His improvement after working with hitting coach Kevin Long is well-documented, but we still have no idea if it's a) real, and b) sustainable. Grandy has already smacked an opposite field homer in Spring Training, which is generally much ado about nothing, but it stands out a bit because he's hit zero of those in the last two regular seasons. February and March are the time for blind optimism, what can I say.
The Grandyman was the team's best player in late-August and September, and would have been their best player in the postseason if it wasn't for Robbie Cano's superhuman efforts. What could 2011 have in store?
Best Case
The best case scenario for Granderson is incredibly exciting. We've already seen him produce at a seven-plus win pace, which he did back in 2007 with the Tigers by hitting .302/.361/.552 (.395 wOBA) with 38 doubles, 23 triples, 23 homers, and 26 steals all while playing phenomenal defense (+14.9 UZR) at an up-the-middle position. It's been three full seasons since Grandy had that monster campaign, but he's far from old (turns 30 in about two weeks) and still has that kind of talent.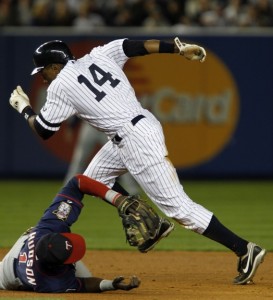 To hit on that best case scenario, the improvements he showed after working with Long would have to prove to be real and permanent. Granderson hit .274/.378/.570 (.417 wOBA) with 15 homers in just 230 plate appearances (counting playoffs) after he got together with the hitting coach compared to just .239/.306/.415 (.310 wOBA) with ten homers in 336 plate appearances before. Maintaining a .417 wOBA pace over a full season is extremely tough to do, but based on how dominant Granderson was down the stretch, a .390-ish wOBA in 600+ plate appearances doesn't seem out of question in the best case scenario.
Within that overall improvement came considerable improvement against southpaws, long Granderson's bane. He hit just .206/.243/.275 with just four extra-base hits against lefties in just over 100 plate appearances before the fix, even worse than the .217/.270/.324 line he produced against them in 2008 and 2009. After working with K-Long, Granderson tagged lefties to the tune of .286/.275/.500 in 64 plate appearances, not all that far off from his performance against righties. If his platoon issues have been corrected, even just somewhat, holy cow.
Granderson's defense has never really been a question. He'll occasionally take a bad route on a ball hit in front of him, but overall he's an above-average defender in center (+5.3 UZR last season) that could be even better after having a year to adjust to his new ballpark. Even if turns in a similar defensive effort with a .390 wOBA in a full season's worth of playing time, we're talking about Granderson being at least a six win player and a guy that should get some MVP love.
Worst Case
As exciting as Granderson's best case is, his worst case scenario is just as ugly. The improvement following the work with Long could prove to be nothing more than small sample size noise, easily negated after the league has had an offseason and Spring Training to revise their scouting reports and game plans. Left-handers could continue to flummox the lefty swinging center fielder, who sees his strikeout rate and walk rates continue to head in opposite directions for the third straight season. That .310 wOBA he produces in the first half or so of 2010? Turns out that is Granderson's true talent level.
On the other side of the ball, those funny routes continue to be an issue, and the dam eventually cracks. Grandy turns into a below average defensive outfielder, forcing the team to move him to left and insert Brett Gardner in center. A below average defensive left fielder with below average offense is … wait for it … a below average player, basically a fourth outfielder. Andruw Jones would see more and more playing time to compensate for Granderson's shortcomings, overexposing him. Without the boost from playing a prime position, Grandy is little more than a one win player in the worst case scenario.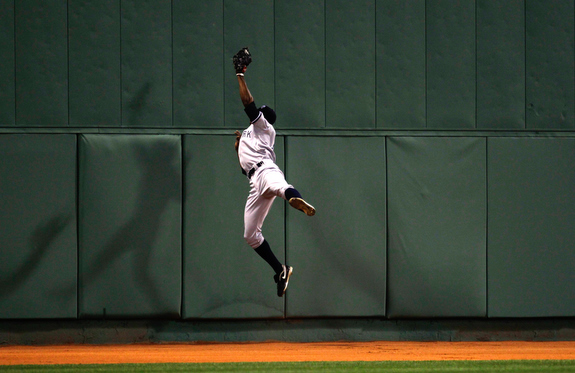 What's Likely To Happen
As much as we'd like it to be, the #cured version of Granderson probably isn't the real version. Fourteen homers in a month-and-a-half is a 56 homer pace over a full season, and that's just not going to happen. Even the most optimistic of Grandy lovers can agree on that. Joe broke down Granderson's underlying skills last month, forecasting a .275/.365/.490 (~.375 wOBA) batting line in 2011, almost identical to what he did with the Tigers in 2008. The only full-time center fielders more productive offensively than Grandy that season were Grady Sizemore (.384 wOBA) and Carlos Beltran (.380), two guys that are now shells of their former selves due to injuries.
While I do believe the late-season improvement is real and sustainable, I still have a hard time expecting more than .265/.340/.480 (~.355 wOBA) out of the Grandyman, which is better than his 2010 effort but not quite as good as what Joe expects (and what 2008 produced). I should mention that I'm a sucker for low expectations, I guess you can't be disappointed if you don't expect much in the first place. At his age, there's no reason to expect Granderson's defense to fall off a cliff, so I think his floor in 2011 is basically his 2010 self with a pretty strong likelihood of even more. If he manages to stay healthy and put together a four-plus win season, I'll be thrilled. Anything more is gravy.