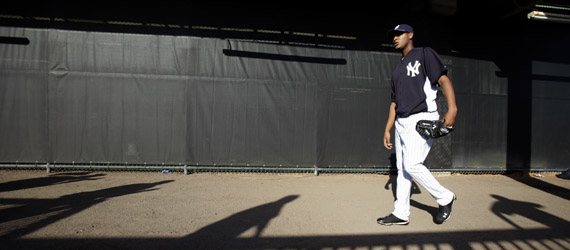 I think Ivan Nova should be in the rotation. At the beginning of Spring Training, I was just sort of hoping for him because of the prospect hugger in me (though I would trade ManBan for Felix, for the record!), but the more I see of him, the more I like the notion of him breaking camp as the fourth or fifth starter. Anyone notice that during the offseason, all we talk about is being excited about not having to talk about pitching, and then we just keep talking about it? What can you say, it's a hot-button issue. Joe reviewed the fourth and fifth starters yesterday, but I'd like to talk specifically about Nova and why the rotation is right for him.
First off, it's important to note that Nova still has two remaining minor league options, so even if he starts with the big club, it's easy as pie to ship him over to Scranton to work on his stuff. If Nova goes up and down more than once in a season, it still only uses up one option. If he stinks in April and we send him down, and then we need him in June, that's not a problem at all. Additionally, if our rotation problem resolves itself somewhere between the 2011 and the 2012 seasons, the options are there if we need to move Nova around to rework the back end of our rotation. Maybe it's a bit early for projections, but I wouldn't mind seeing a Ryan Dempster-Manny Banuelos  combination for 4-5 in 2012 and Nova as the longman or stewing in Triple-A in case of injury. Excuse me while I get a little ahead of myself.
Another thing is, out of the three possibilities (I refuse to believe Mitre will get the job with everyone doing this well), Nova's token problem can be patched the easiest. That's not to say that fixing Nova's issues will be easy, but between Colon's diminished stuff, Garcia's injury history, and Nova's inability to get through a lineup twice, I'd take Nova's problem. This decision is even easier to make based on the extremely high potential of our bullpen. Needing the bullpen to go five innings every five days isn't something you want, of course, but in the worst-cast scenario, it's hardly the most terrible thing that could happen. If Nova goes out there and gives us 120 pretty good IP (30 starts at 4 innings a piece), it's still better than Garcia pitching in four games and blowing out his shoulder again, or Colon doing his best Sidney Ponson imitation.
Now, a lot of these things could be covered just as well by Nova working out of the bullpen as a longman or other relief role. By sticking him in the bullpen, we minimize the damage he could potentially cause, we give him major league experience, and we take advantage of his major league stuff. While I can see the good side of this, I personally don't think it's the way to go. There's no way to say if shifting a pitcher between the bullpen and the rotation actually messes with them, but I'd rather not take that chance. I'd be more comfortable with Nova in the bullpen if I knew that the Yankees had absolutely tried as hard as they could to fit him into the rotation. Some players, obviously, are going to be relievers all their lives. Some players are just not cut out for the rotation. But Nova's proven that he at least has starter potential, and I don't know if his seven starts in 2010 count as 'tried as hard as they could.' For Nova to not be in the rotation right off the bat should only be the result of a bad Spring Training (not happening) or a total meltdown, rather than the general mediocrity we saw out of him in his first year.
Additionally, Nova pitching those starting innings might give other clubs some (more) ideas about him; the Nova-as-a-trade-chip angle is not a new one. I'm pretty sure that no one is interested for trading for Bartolo Colon, though perhaps signing him to a bloated contract will catch Tony Reagins' eye. Garcia is equally unappealing for other clubs. If the Yankees pump Nova up as a starter, his trade value could pull in a better haul than if he's performing as a longman. The hype machine is obviously not as important as winning, but if Nova is just as good as Garcia or Colon, there's no reason not to use him, if nothing else than to pump up his trade value.
This decision would be easier if, straight out of the Spring Training gate, two pitchers had performed stunningly and one had fallen by the wayside. This isn't the case, so we're left looking at all our options and trying to figure out the pros and cons of each one. In the end, my Yankees rotation has Nova and Garcia, with Colon in the bullpen in case one of our actual starters goes down with an injury. If nothing else, it gives us a reason to keep an eye on Spring Training games besides all our awesome prospects and Jorge Posada turning double plays at first base.