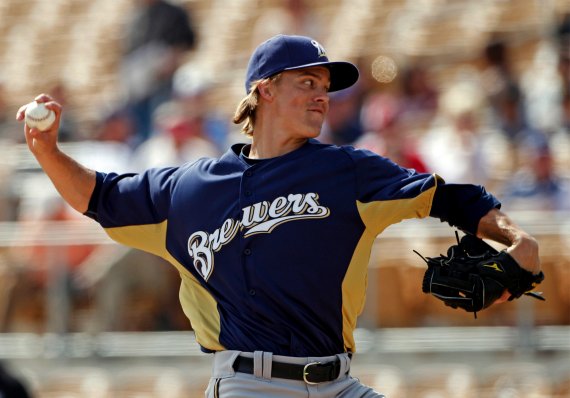 From the outset of the off-season one thing was clear: the Kansas City Royals were going to trade their ace, Zack Greinke. While Greinke didn't officially request a trade until sometime in December, it was pretty clear that he was unhappy in Kansas City, where he had endured a number of losing seasons and was in line for at least one, and probably two more before he reached free agency. When Greinke's request became public, the Royals moved quickly.
Having missed out on the off-season's top free agent, Cliff Lee, the Yankees became natural suitors for Greinke. Yet there were questions about his ability to handle the pressure of New York. It was common at the time to associate Greinke's social anxiety disorder with an inability to pitch in the big city, but it's tough for anyone who doesn't know Greinke to make such a determination. Instead, Greinke's own words that gave others pause. It was widely reported that he told friends that he couldn't play in a big market such as Boston or New York.
Once it became apparent that the Royals would grant his trade request, Greinke apparently had a change of heart. SI's Jon Heyman tells the story. It all started at the Winter Meetings.
But when he and Yankees general manager Brian Cashman met clandestinely in Orlando (Greinke's hometown) at an off-site location during the winter meetings, Greinke's desperation not to endure yet another losing season in Kansas City was such that he is said to have tried to convince Cashman that he wanted to come to New York. And that he could actually thrive in New York.

However, people who were briefed on that meeting said Cashman ultimately decided that Greinke's first thought about New York was probably correct — that it wasn't the best spot for him. Greinke told people the day he accepted his Cy Young Award in New York City that he didn't think he could ever live in New York, and kept telling friends the same. But as the days dwindled this winter, he made his surprise plea to Cashman to make him a Yankee.
This passage makes it appear as though the Yankees didn't make much of an effort to acquire Greinke when the Royals got serious about trading him. Cashman came away with an opinion, based on a personal impression, and the team agreed with him. I'm not sure if it was the correct decision, but now we know the process behind it.
Greinke could end up in New York yet. The Brewers have gambled significantly on the 2011 season, and if they fall out of the race by July they might consider trading off some of their players in an attempt to rebuild. Greinke could fetch them a decent bounty, since he would have a year and a half until free agency. Again at that point, after the 2012 season, Greinke could again seek out the Yankees as suitors. He'll be just 29 years old for the 2013 season.
It's still more likely that we never know what could have been between Greinke and the Yankees. For some that's fine and good. His social anxiety disorder causes enough concern that it's not worth the money, or prospects, to obtain him. Others, though, will always wonder how the socially anxious, but fiercely competitive Greinke would have fared in New York. (For a great take on that, read Joe Posnanski's article on Greinke from this winter.) The man put his mindset in perspective with just a few words: "It's fun to win." That's what we want to hear from current and future New York Yankees.