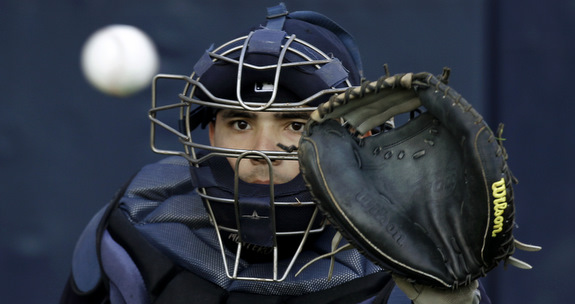 All throughout the offseason, the Yankees have maintained that Russell Martin is the starting catcher, saying so rather unequivocally on numerous occasions. They haven't been so committal when talking about the backup catcher's spot though, saying that Jesus Montero and Austin Romine were in direct competition with the incumbent Frankie Cervelli. For the most part we've (or at least I've) blown that off as standard Yankees-speak, saying there was a competition when there were really wasn't just to keep everyone motivated. Nothing wrong with that, and there are plenty of reasons to stick with Cervelli in 2011.
However, as I mentioned on yesterday's podcast, the more I hear Joe Girardi and the coaching staff talk in Spring Training, the more I think Montero has a legit chance to win the job. Does that mean he's the favorite? No, of course not. But it certainly sounds like he's got a non-zero chance to break camp with the big league team. So the question becomes: would the Yankees being doing the right thing by going with Montero as the backup catcher? Let's do this old school, with a pros and cons list…
The Pros
The obvious difference between Cervelli and Montero is the offense. Cervelli's best single season at any level was his .278/.384/.396 (.366 wOBA) performance with High-A Tampa in 2007. Montero's worst single season was his .280/.366/.421 (.373 wOBA) effort with the rookie level Gulf Coast League Yankees in 2007. If you want a full season league, it was last year's .289/.353/.517 (.375 wOBA) performance with Triple-A. Cervelli has eight (!!!) career homers in five total years. Montero hit 15 homers after being almost traded for Cliff Lee last July. I think we can all agree that Hey-Zeus could outhit Frankie with a rolled up newspaper.
Aside from the offense, one benefit that is perhaps being overlooked is that Montero would get to work with Joe Girardi and Tony Pena on a daily basis in the big leagues. Obviously it's his defense that's holding him back right now, and although former big league catcher/Triple-A Scranton hitting coach Butch Wynegar has done a fine job tutoring the team's best prospect behind the dish, Girardi and Pena could impart some serious catching knowledge on the kid. It's not uncommon for a club's best instructors/coaches to be at the big league level. Montero might not catch everyday in the show, but he'd be able to work with those two while catching bullpen sessions and what not on a daily basis.
Remember, the Yankees broke Jorge Posada in over a period of several years, they didn't just throw him to the wolves and make him the everyday backstop as soon as he was called up. Posada started 52 games behind the plate in 1997, then 85 in 1998, then 98 in 1999 before starting 136 games at catcher in 2000, a number one backstop's workload. Montero could be broken in in a similar fashion with Martin serving as he caddy. Perhaps 50 starts in 2011, 80 in 2012, and then 120 in 2013 (the season after Martin will be able to leave as a free agent) would work.
The Cons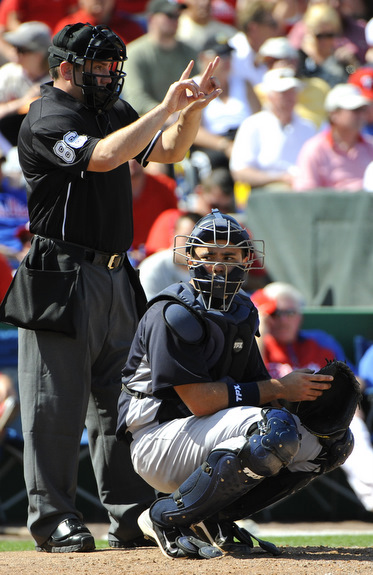 At just 21 years old, Montero could certainly benefit from playing every single day at the Triple-A level. Remember, his track record of performing there is basically 50 games long. The first 73 contests weren't so kind to him. And that's just offensively. Playing everyday would do nothing but help his defense, no matter how hopeless it might look. Catching bullpens and listening to Girardi and Pena is one thing, getting behind the dish in game situations is another all together.
There's also a chance that playing sparingly with stunt his development offensively. I don't think that's the case, but we can't discount it. Playing two or three games a week isn't the same as playing five or six times, Montero might have trouble maintaining a rhythm. A demotion back to Triple-A might hurt his confidence as well. Same deal for Cervelli, we can't forget him. A trip to the minors might hurt his development and/or trade value, who knows. That's obviously not a priority, but it's part of the pro/con equation.
One final thing to remember is that there's a very real financial gain to be made by keeping Montero in the minors for the first two months of the season. Forget about the arbitration clock stuff, the Yankees can afford whatever raises he'd be due, but the difference between Montero becoming a free agent after 2016 and after 2017 is having him on the Opening Day roster or called him up in late-May/early-June. Those two months in 2011 will give the Yankees an extra six or seven months of Montero down the road at the below market price, when he should be in the prime of his career.
The Verdict
For all we know, the talk of the backup catcher competition might just be that, talk. The same way Bubba Crosby was going to be the center fielder in 2006, or the way the team wouldn't give up a first round pick to sign a reliever this winter, it could just be an act. But if not, if the team is legitimately giving Montero a chance to unseat Cervelli as the backup backstop, well I think I'm pretty cool with that.
I wasn't always though, I was pretty gung-ho about starting Jesus in the minors just so that he could play everyday and gain what I felt was invaluable experience, but I'm starting to believe the benefits of having him in the show with an apprenticeship under Martin, Posada, Girardi, and Pena are very real. Girardi recently said the biggest step in becoming a big league catcher is "earning the trust of your staff," something Montero can do gradually than all at once. Learning to call a game and prepare beforehand via video and scouting reports … that's all part of the big league package. I'm sure the team could find 250 or more plate appearances for him throughout the season, I doubt that'll be a problem.
"I think the way you look at it is two-fold," said the skipper over the weekend. "Is he ready to play up here, and can he help you win games? If those two things line up, then there's a pretty good chance we'll take that player." Unless he falls on his face or Cervelli does his best Albert Pujols impression in camp, I'm all aboard the "Montero for backup catcher" bandwagon.