A pitching heavy mailbag this week, and none of the guys are currently on the Yankees' 40-man roster. Go figure. Remember to use the Submit A Tip box in the sidebar to send in your questions.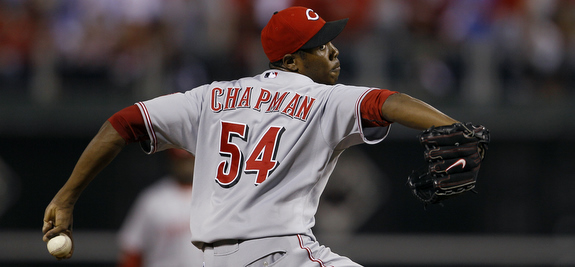 Emilio asks: In your article [a few weeks ago], you explain that the Yankees rank high up there in international signings. Yet, they didn't sign Chapman. It is inconceivable that a franchise that values pitching and must consider a replacement for the great Mariano would let this powerful young pitcher go to the Reds. Much of the money that Cincinnati gave Chapman was deferred. Given your knowledge of these signings and what goes on within Yankee management, please explain why the Yankees didn't go after Chapman. He would be on the major league roster right now. He is better than Feliciano and Logan.
Inconceivable? I hate the use of strong language with stuff like this, when we have no idea what happened behind the scenes. I mean really, is it that inconceivable that they might have watched him throw, didn't fall in love with the 100+ mph heat because they saw an arm and body unable to handle the long-term stress and didn't want to gamble upwards of $30M on it? Come on, it's not that far-fetched.
Anyway, based on what we know, sure they should have gone after him, but not as a replacement for Mariano Rivera, who cares about that. Saying he's better than Feliciano and Logan doesn't really do anything for me either, if you're looking to spend that much money on a LOOGY, you're doing it wrong. You don't waste an arm like that in the bullpen, they could have had Aroldis competing for a rotation spot right now. Brian Cashman denied the report of a $54M+ offer (unsurprisingly), but I also don't believe him when he says they never made an offer.
There's no point in dwelling on it now, they can't go back in time to sign him.
MattG asks: How's this for a better-than-Mitre­™ trade target? Nelson Figueroa. As a swingman that won't hurt you in the bullpen or the rotation, Figueroa could be nice insurance, and should become available if Jordan Lyles breaks camp with the Astros.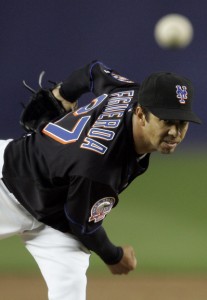 I have an irrational love for Figueroa, mostly because I had him for a while in The Show a few years back and he was awesome for me. Something about his delivery in the game made it extremely easy to be accurate with the pitching meter.
Anywho, Figueroa's a pretty generic finesse right-hander, sitting 87-89 with the fastball and throwing five pitches – four-seamer (35.2%), cutter (13.3%), changeup (13.1%), slider (21.8%), and curveball (15.4%) – pretty regularly. He's been surprisingly solid over the last three years (3.84 ERA, 4.19 FIP, 4.52 xFIP), though he's thrown no more than 93 innings in any of those seasons. Figueroa's not really a ground ball guy (41.3%) nor is he a fly ball guy (39.4%) or a strikeout guy (6.13 K/9). He's a classic 'tweener, a Four-A type that doesn't do anything well but has survived this long because he's just good enough. I'm not sure he's better than any of the Yankees' fourth and fifth starter candidates right now, and at 36 years old (soon to be 37), the guy is a grenade with the pin pulled.
Tom in Georgia asks: Who were the best "little" left handers to pitch for the Yankees? My picks (and I saw them all) are Bobby Schantz, who once pitched 279 innings for the Phillies at 5'6″ and 130 pounds, and was pretty damned good for the Yankees in the '50s, Whitey Ford, 5'10", 178 pounds, and Ron Guidry, 5'1″1, 161 pounds. In these days of 6'7″, 250 pounds+, would any scout ever even look at these guys, much less sign them, or would they just tell them to take up soccer?
This is where the B-Ref Play Index comes in handy. The ten best left-handers no taller than 6-foot-0 in Yankees history (by bWAR) are…
Whitey Ford, 5-foot-10 (55.3 WAR)
Ron Guidry, 5-foot-11 (44.4 WAR)
Herb Pennock, 6-foot-0 (29.2 WAR)
Eddie Lopat, 5-foot-10 (21.5 WAR)
Fritz Peterson, 6-foot-0 (17.4 WAR)
Al Downing, 5-foot-11 (13.5 WAR)
Bobby Shantz, 5-foot-6 (5.9 WAR)
Shane Rawley, 6-foot-0 (4.8 WAR)
Ray Fontenot, 6-foot-0 (4.0WAR)
Hank Thormahlen, 6-foot-0 (3.8 WAR)
Unsurprisingly, just one of these guys pitched for the Yankees after 1985, and that was nothing more than the twilight of Guidry's career. As for the best 6-foot-and-under left-handed starters in baseball history…
Warren Spahn, 6-foot-0 (93.4 WAR)
Eddie Plank, 5-foot-11 (76.3 WAR)
Tom Glavine, 6-foot-0 (67.0 WAR)
Carl Hubbell, 6-foot-0 (64.4 WAR)
Ford
Scouts like size for many reasons, most famously because it (theoretically) portends strong future durability and stamina. Whether or not that's true is not for me to decide, but at least it sounds reasonable. Taller pitchers also make it tougher on the batter, since they throw the ball on more of a downhill plane. Short lefties aren't as scrutinized as much just because there's a premium on southpaws. If you're a short righty like Ian Kennedy or Pedro Martinez, you better have some skills.
The Yankees have their own little lefty coming up the pipeline in Manny Banuelos, but history is not on his side. Just 56 left-handers have accumulated at least 20 career WAR while standing less than 6-feet tall (a decidedly arbitrary criteria), and only seven of them (Mike Hampton, John Franco, Teddy Higuera, Billy Wagner, Jamie Moyer, Johan Santana, and Glavine) started their careers after 1980. Randy Wolf should join them in a season or three, and Fernando Valenzuela missed the cutoff by a year. That's not to say Banuelos can't do it, because he's obviously very good and every pitcher is their own individual person with their own individual career paths, but it just goes to show that it's not easy.