Over the weekend, the Yankees announced that Ivan Nova and Freddy Garcia will be their fourth and fifth starters when the season opens while Bartolo Colon shifts to the bullpen and does the long man routine. I don't think anyone has an issue with Nova being in the rotation, he showed enough in his cameo late last year and continued to impress in camp. Given the alternatives, there was no reason not to give him one of the open spots. That last spot is a little more up for debate.
The decision was made with heavy influence from the 157 innings Garcia mustered for the White Sox last year. That part is pretty clear. They weren't the best innings (4.77 FIP), but hey, a typical fifth starter is 14% worse than league average and Garcia wasn't all that far off from that mark last year (16.9%). Colon didn't pitch at all last season and has managed just 101.1 IP in the bigs since 2007. The Yankees need reliability at the back of the rotation and their decision reflects that based on each guy's recent history.
However, my thinking about the fifth starter's spot is a little different. We know that both Garcia and Colon have battled some major, major shoulder issues in the last few years, and I think we all expect both guys to break down at some point this season. Ironically enough, we consider them band-aids for the rotation. At some point, we'll just rip them off and throw them away. So anyway, my thinking is that when you have two guys this close to the end of the line, two guys that slip right off the cliff at any moment, their recent histories don't mean all that much. At some point you have to look at what you have in the here and now and ignore what happened last year or over the last three years or whatever.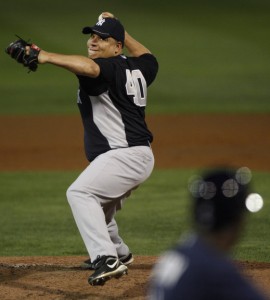 Colon, by any measure, beat out Garcia (and really Nova too, for that matter) for a rotation spot in camp. We know that Spring Training stats mean nothing, but if you're the kind of person that puts value in them, then you probably know that Colon's 17 strikeouts leads Yankees pitchers this spring, and he walked just one batter in 15 IP (four runs). Garcia, on the other hand, had another ugly spring in a career full of them, allowing nine runs in 13.2 IP. He did strike out a dozen and walked just two, but he gave up a hit per inning. At a time when he had to pitch well, he was underwhelming.
Just looking at the stuff, and it was painfully obvious that Colon was better. He's not the guy he was in his prime, when 96+ mph fastballs were the norm, but he was consistently at 92 and touching 94 on occasion with his four-seamer while his sinker sat just below that. His offspeed offering – whether you want to call it a changeup or splitter or forkball or junkball is unimportant – did the job of keeping hitters off balance. Garcia's kitchen sink approach featured a lot of fastballs in the 80's and various breaking balls just off the plate. The kind of breaking balls that get hammered if they aren't located properly. Based on what we saw in camp (an albeit limited sample), Colon has much more margin for error right now. That isn't to say he has a lot, but it's more than Garcia.
Chances are I'm making too much of nothing, but I would have started the season with Colon in the rotation to get as much out of him as humanly possible before his arm explodes. He's throwing the ball better than Garcia is right now, and I would have milked it for all it's worth. Then again, it's not my neck on the line, and we are talking about two guys brought in to be placeholders. The Yankees will eventually find someone better and move on, and we'll all look back at this fifth starter/long man debate and laugh. But for now, I would have done things differently.