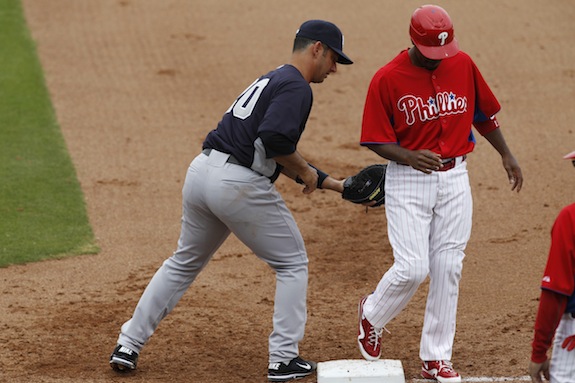 It was not a particularly exciting day for the Yanks down in Clearwater as they faced the Phillies. With Yogi giving everyone a pre-game scare, the Yanks' bats were held in check by Roy Halladay and the Phillies. Coming off of a rocky outing, CC Sabathia threw five shut-out innings, giving up just three hits, and Halladay matched him with six zeroes.
The Yanks' bullpen however couldn't keep the game close. Robert Fish — one of the Rule 5 guys not long for the Yanks — gave up three runs in an inning, and unfortunately, Mark Prior was victimized as well. He threw just 0.2 innings and allowed three runs, but one earned, on a hit and two walks. Justin Maxwell dropped a well-hit ball for a two-run error with two outs in that frame. Prior did record another pair of strike outs though and made it unscathed through another appearance.
Now, some notes:
Jorge Posada played first in this game and turned a nifty double play on a line drive. The Yanks are determined to keep him from behind the plate.
Meanwhile, Jesus Montero went 0 for 3 as the DH and is now hitting .158 on the spring. Two of those ABs were against Roy Halladay though. I wouldn't get too worried at all.
Colin Curtis will be out for a month as he rehabs a dislocated shoulder. (Feinsand).
The Yanks play two tomorrow. Ivan Nova goes against the Blue Jays in Dunedin while Phil Hughes draws the Braves in Tampa.
Anyway, open thread. Go nuts.