Every season has storylines, some happier than others. Last year we got to watch Robbie Cano take his game to another level and become an MVP candidate while Phil Hughes came into his own as a starter. That all happened while the Javy Vazquez redux was a spectacular flop and Derek Jeter suddenly looked mortal. The upcoming season will be no different, so let's look at a few of the bigger storylines…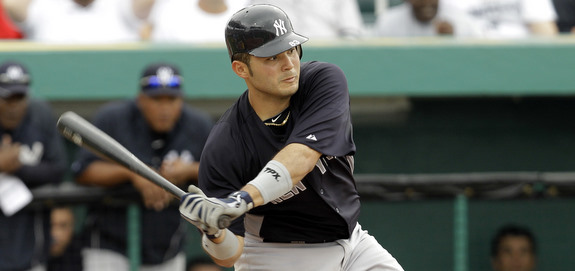 Jesus Montero's Inevitable Arrival
At some point this season, whether it be Opening Day or May 15th or August 1st, arguably the best offensive prospect in the minors will join the Yankees. In what capacity? I don't know, could be anything from backup catcher to part-time DH to starting catcher to righty bat off the bench, but I do know he'll be in the Bronx before long. Montero's bat is ready for the show right now, but the Yankees have some depth behind the plate and no real reason to take him north if they don't think he's ready. His arrival will be highly anticipated, and that's putting it lightly.
Hughes' Continued Development
Last year, in his first full season as a starter in the AL East, Hughes put up solid totals of a 4.19 ERA, 4.25 FIP, and 7.45 K/9 in 176.1 IP. He did stumble down the stretch and in two of his three playoffs starts, but at age 24 there's still plenty of room for improvement. Free from innings limitations and aware of his changeup problem, Hughes is poised to continue his ascent. The Yankees are counting on the right-hander to be one of their top three starters in 2011 as opposed to the interesting fifth starter he was at this time last year, so the pressure's on.

The Mother of All Bullpens
There seems to be a wide range of opinions on the Rafael Soriano signing, but everyone agrees that he improves the team's late-game pitching situation significantly. He also pushes Joba Chamberlain and David Robertson into traditional middle relief/fireman roles, which isn't all that bad when all three guys have one of the 22 best strikeout rates in the game over the last three seasons. Pedro Feliciano adds a veteran, workhorse lefty specialist to join the hard-throwing Boone Logan. And then you have Mariano Rivera to cap it all off. Joe Girardi has a ton of relief options this year, most of them high strikeout players that can get out of jams without the help of their defense.
Cano's MVP Push, Part Deux
The Yankees second baseman went from complementary player to centerpiece in 2010, hitting .319/.381/.534 (.389 wOBA) and finishing sixth in the league with 6.4 fWAR. Still just 28 years old, Cano is in the prime of his career and capable of making another run at the MVP crown, which would go a long way towards helping the Yankees secure a playoff berth and maybe even the AL East crown.
Jeter's Pursuit of 3,000
In the long and glorious history of the New York Yankees, no player has ever recorded 3,000 career hits. Lou Gehrig was the franchise hit leader for the better part of a century with 2,721 knocks, but Jeter surpassed him in 2009 and is within shouting distance of the hallowed milestone. The Cap'n will start the season just 74 hits away from 3,000, so he'll get there in 2011 barring a major injury. Jeter picked up his 74th hit last year on June 6th, the team's 57th game of the season, so the first few months of the season will feature some pretty awesome history.
* * *
Personally, I'm looking forward to seeing what Hughes has in store for an encore, even more than I'm looking forward to Montero's arrival. Jeter's chase will probably be a million times more hyped than his pursuit of Gehrig's record, and that's fine by me, it was definitely a lot of fun (lame Michael Kay calls aside). And, of course, who doesn't like watching Cano do his thing or a bullpen full of hard-throwing strikeout fiends?
What 2011 storyline are you most looking forward to?