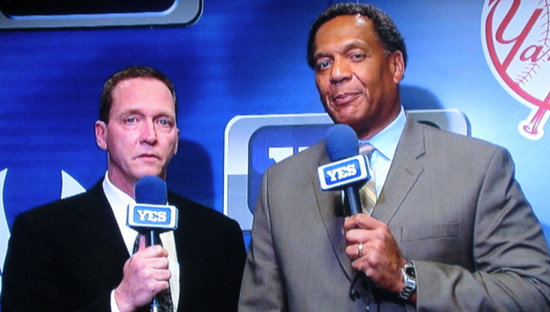 After a year-long hiatus from the YES Network, David Cone returns to the booth to call tonight's game in Toronto. I don't know about you, but Cone was easily my favorite YES announcer during his time here, and I welcome him back with open arms. I look forward to many FanGraphs references, occasional inappropriate language, and better insight than any of the other color guys. No offense to those guys, but today is a great day for Yankees' fan. Welcome back, Coney.
Here's the lineup, which is still lacking a certain third baseman…
Derek Jeter, SS
Curtis Granderson, CF
Mark Teixeira, 1B
Robinson Cano, 2B
Nick Swisher, RF
Eric Chavez, 3B
Jorge Posada, DH
Russell Martin, C
Brett Gardner, CF
A.J. Burnett, SP
Ready for the curveball? Tonight's game is not on YES, it's on My9 instead. First pitch is scheduled for a little after 7pm ET. Enjoy, I know I will.
Injury Updates: Although he's not in the lineup, Alex Rodriguez did take batting practice before the game, which is obviously a good sign. If his oblique issue was that bad, he wouldn't be swinging a bat … Frankie Cervelli has been playing in Extended Spring Training and could begin an official minor league rehab assignment by the weekend … Colin Curtis is expected to miss the rest of the season after having surgery to repair his injured shoulder. That sucks. He hurt it diving for a ball in Spring Training.
Shameless Plug: Make sure you check out Russ Salzberg's call-in show that airs live on the web every Wednesday from 11am-2pm. Click the link to find the phone number and the rest of the info.