The draft is just ten days away, so between now and then I'm going to highlight some players individually rather than lump a few together in one post.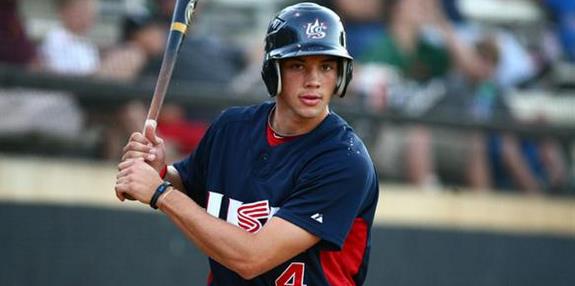 Blake Swihart | C
Background
After helping Rio Rancho High School to the New Mexico state championship as a sophomore, Swihart transferred to the nearby and brand-new Cleveland High School, where he supposedly has a 4.0 GPA. His showcase performances with Team USA, the Area Code Games, and the AFLAC All-American Game are the stuff of legend, as he's routinely wowed onlookers over the last few summers. He is committed to Texas.
Scouting Report
Swihart is a rare breed. He's a true switch-hitter with the potential to have power and be above-average from both sides of the plate. He spent the spring focusing on his development by alternating sides of the plate from at-bat to at-bat regardless of the pitcher's handedness. The 6-foot-0, 170 lb. Swihart is a very good athlete that spent most of his high school career bouncing around the infield before moving behind the plate in earnest just last year. His arm is strong and his footwork is good, but he's raw defensively and just needs more experience. If catching doesn't work out for whatever reason, third base and right field are legitimate fallback options. Here's some video.
Miscellany
In yesterday's chat, Keith Law said that Swihart "keeps telling teams he has no interest in signing this year," which is probably just a way of manufacturing leverage as one of the draft's best high school prospects. KLaw and Baseball America rated him as the 17th and 19th best draft prospect in their latest rankings, respectively. Swihart has significant upside but still has a lot of work to do, and some team will surely offer him life changing money to see that he does that work under professional instruction and not some college coaching staff. The Yankees would have to hope that those bonus demands scare some teams into looking elsewhere if they hope to land Swihart with the 51st overall pick.