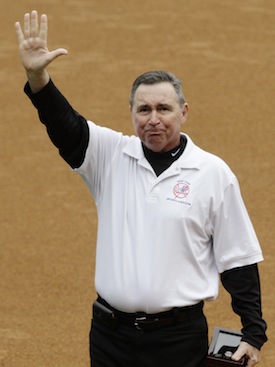 Gene Monahan, the longest-tenured trainer in the game, will step down at the end of the season, the Yankees announced today. Monahan, who missed Spring Training last year to undergo extensive treatment for cancer, has been with the organization since 1962 and has served as the club's head trainer continuously since 1973.
"Gene Monahan embodies all the very best virtues that this organization strives to uphold," Hal Steinbrenner said today in a statement. "His devotion to his craft, passion for the game of baseball and tireless work ethic are only a few of the qualities that have made him a bedrock within this franchise for nearly 50 years. Gene has made a lifetime's worth of sacrifices and contributions in order to best serve the Yankees, and our entire organization will always be grateful."
Monahan got his start with the Yankees while still a senior in high school in Fort Lauderdale. In 1962, he served as the club's bat boy and clubhouse attendant and then began a journey through the organization. He started out as a trainer with the Class-D affiliate in Fort Lauderdale, and throughout his time with the Yanks, he worked toward a degree in athletic training from the University of Indiana. He made the jump to Double-A in 1965, and after four years there, he was promoted to Triple A Syrcause. He and George Steinbrenner both arrived in the Bronx in 1973.
As the longest-tenured head train in the game, Monahan has been honored of late. He and assistant trainer Steve Donohue were named "Best Athletic Trainers" by the Professional Baseball Athletic Trainer Society last year. He is also a member of the New York State Athletic Trainers' Association Hall of Fame.
Last spring, as the Yanks' trainer battled cancer of the throat and tonsils, Wayne Coffey of the Daily News profiled his life and career with the Yankees. After 49 years with the club confronting countless injuries and his own personal battle, Monahan deserves all the rest he can find in retirement. The organization won't be the same without him.