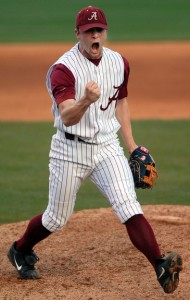 Last night's seventh inning escape job was just more of the same for David Robertson, who seems to have made a habit out of wiggling his way out of such jams. "If I'm stepping off, it's usually because the crowds are loud," he said after the game. "I need to calm myself down because I don't want to become erratic." That's something that just comes from experience, so he knows the routine by now.
In honor of Robertson's continued success in the fireman role, let's take a look at the three greatest escape jobs of his career using WPA. I limited the sample to only games when he entered in the middle of an inning to clean up someone else's mess. He doesn't get any credit for wiggling out of his own jams here.
3. August 15th, 2009 (box & video)
In many ways, this was when Fireman David Robertson™ truly emerged. The Yankees were in Seattle, leading the Mariners by two runs thanks to some surprisingly solid work by starter Sergio Mitre (no, really). The Experience started the sixth inning by striking out the corpse of Ken Griffey Jr., but Russell Branyan (single), Jack Hannahan (walk), and Rob Johnson (single) all reached base to end his day. Joe Girardi summoned Robertson to hold the line.
Jack Wilson and Ryan Langerhans were the two batters due up, and although they aren't exactly the most intimidating duo, inheriting a bases loaded jam in your 60th career appearance isn't exactly easy. Wilson battled for eight pitches, eventually swinging through a fastball for strike three. Langerhans worked the count full and took a fastball down in the zone for what looked like ball four, but the home plate ump called it strike three and the inning was over. Generous call, yes, but it's still a strike some 21 months later. Robertson's WPA for the game was +0.160 (he started the next inning), or +0.140 for the two strikeouts.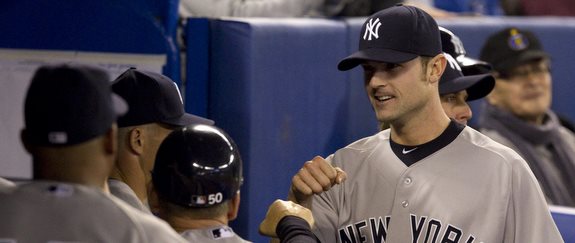 2. April 15th, 2011 (box & video)
This one is pretty recent, it happened just a few weeks ago. The Yankees were in Toronto to take on the Blue Jays, but starter A.J. Burnett was having a rough go of it against his old club. He started the sixth inning with the Yanks up by two, but a leadoff single (and a steal) by Aaron Hill followed by a Jose Molina pop-up and a Corey Patterson walk put the Jays in business. Edwin Encarnacion doubled in one run and put runners at second and third with one out, but a Jayson Nix walk loaded to the bases. Exit Burnett, enter Robertson.
The lineup had just turned over, so Jose Bautista was two batters away at the time. It was either get Yunel Escobar and Travis Snider or (figuratively) die trying. Robertson had a similar yet different approach against both batters; he fed Escobar seven straight fastballs before Toronto's shortstop swung and missed for strike three, then he gave Snider four straight curveballs for another swinging strikeout. That resulted in this gem…
It's hypnotic, isn't it? Robertson used one pitch exclusively against each batter to record to the threat-ending strikeouts, stranding Joey Bats in the on-deck circle. He faced just the two batters, but his WPA was a stout +0.254.

1. October 9th, 2009 (box & video)
Surely you remember this one. It was Game Two of the 2009 ALDS, and the Yankees and Twins were tied at three in the 11th inning after Alex Rodriguez hit a game-tying, two-run homer off Joe Nathan in the bottom of the ninth. Damaso Marte did some great work in the World Series, but he allowed consecutive singles to Joe Mauer and Jason Kubel to lead off the 11th before Robertson was called in. Mauer should have doubled earlier in the at-bat, but that's another post for another time.
Instead of coming in and doing the strikeout thing, David needed some help on this one. Michael Cuddyer singled on a hanging curveball to loaded the bases with none out, taking away any margin of error. Noted hacker Delmon Young lined a first pitch curveball right at a perfectly positioned Mark Teixeira for the first out, bringing Carlos Gomez to the plate. He also swung at the first pitch, a fastball in on his hands, grounding it to Tex who got the force play at home. Brendan Harris was all that was left between escape and certain doom, and he lifted a 1-1 fastball into center field for a routine fly out to end the inning and the threat. At +0.341 WPA for the game (+0.461 for the three outs), this was Robertson's masterpiece, his Mona Lisa.