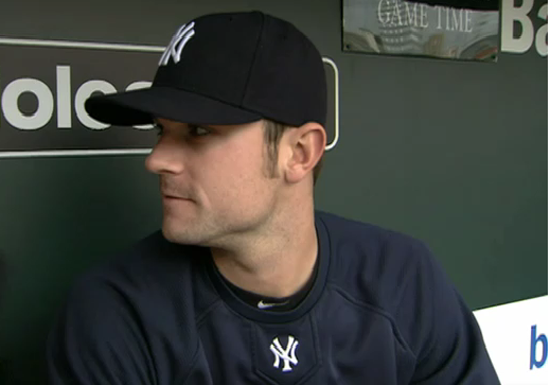 For those of you who know me (or at least follow me on Twitter), you may know that I am extremely, extremely fond of David Robertson. Is it the socks? Yes. Is it that 14.26 k/9? Yes. Is it the curveball? Yes. Is that way he likes to get slotted into jams and work himself out of them? Yes. But really, it's all of that and more combined. What's even better is how good he's been for the Yankees. It's really, really easy to like a guy when he comes out into a second-and-third-no-outs jam in the seventh and leaves without giving up a single run.
Here at River Ave Blues, that last reason is why we like him as a blog. Robertson's proven to be an extremely effective fireman for the team, reaching out to pull any other pitcher's ass out of the fire on any given day. He's especially excelled in that role this year, so far posting career highs in every category: GB%, K/9, LOB% are the nicest ones to look at, all with a BABIP even a bit higher than his usual. This all means one thing: either Robertson is going to have a career year, or there's a really dark cloud waiting to envelope him somewhere later on in the season. I'm going with the former and there's nothing anyone can say or do to convince me otherwise.
Robertson's one failing is his abysmally high walk rate, which currently stands at 7.64, sky-high over his career notch of 5.06 and last year's total of 4.84. That walk rate is what's keeping him from turning that stellar K/9 into an equally impressive K/BB ratio. Robertson's holding onto an impressive 2.87 FIP even with all those walks, and if he could just knock some of them off….
Anyway, the point is that what do you get when you are put into that second-and-third-no-outs jam and then you walk a guy? Additional leverage. And what does Robertson have a lot of this year? High-leverage situations. I wonder how much he makes his own fireman situations just as much as he covers up for everyone else's. Now, I'm pretty sure he doesn't do this intentionally (though it would be funny, awesome and terrible if it was on purpose), but does David Robertson inflate his average leverage index (aLI)? If he does, it's his own walks that are causing him to be such a capable fireman, and if so, it's not really something we should be loving him for.
Robertson's aLI for this year is 1.55, which means he's coming in more and more in those high leverage situations (1.5 is defined as "high"), second only to Mo (and Noesi, but I'm excluding him based on small sample size). The leverage of at-bats when he comes in is about 0.97 when he comes and 1.46 when he comes out, which is more of a result of him coming out in late innings than anything else. What we're looking at is what happens in between.
At this point in the season, the fireman's had five appearances with aLI of 2.5 or higher, which is pretty freakin' high. His highest aLI this year so far was the bases-juiced jam he got AJ Burnett out of on April 19th in Toronto, with an aLI of 4.60. No walks there; that's pure David Robertson magic. His next-highest aLI was 3.69 against the Royals on the 10th of May. Robertson relieved Freddy Garcia in the seventh with no outs and men on first and second. He got Aviles to fly out before letting Frenchy steal third. Current LI: 2.9. However, he loaded up the bases by walking Matt Treanor, bumping the leverage up to 4.4, code-red high-lev. He struck out the next two batters, making himself look awfully good and using the walk to inflate his own aLI. Another prime example would happen in the very next game, where he started the eighth inning with the Yankees up 2-1 over the Royals. The LI of a clean 8th up by one is 2.2, pretty absurdly high to begin with, and Robertson walked a guy, struck a guy out, walked another guy and struck another guy out, pushing the LI of the situation up to an abysmal 4.0. Rather than follow the pattern, Robertson gave up the game-tying hit before getting out of the inning. Wouldn't it have been nicer if Robertson could have secured the win, kept the strikeouts, and gotten out clean? Keeping the walks off the bases would have kept the leverage of the situation to a relatively tiny 2.1 and would have stranded the tying run at first. Fallacy of the predetermined outcome, I know, but still.
It doesn't take a rocket scientist to know that Robertson should cut down on the walks, but the fact that he's continued to be so successful regardless of all the free passes he gives out (nearly a walk per inning) really speaks to how good his stuff is. Obviously, the most important part of Robertson's job is to go in there, make outs quickly, keep runs from scoring, and throw as few pitches as possible. That being said, the fewer free passes the man gives out, the smaller his aLI is. I'd rather be complimenting him on clean innings and his high leverage ability, after all, and it's not like an 8 BB/9 only comes around and hurts you when there's a base open. No matter what his aLI is, a high BB/9 will continue to get him in trouble regardless of how houdini-esque he can be.