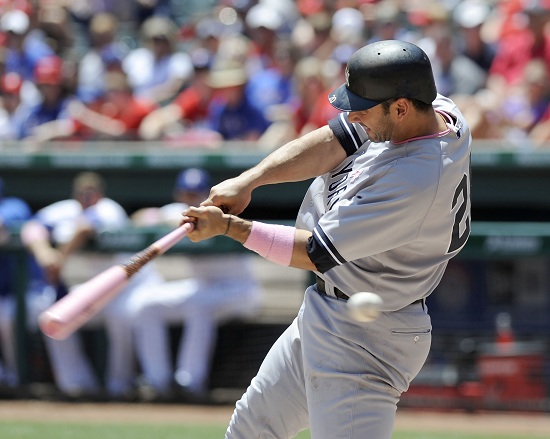 This morning, I was talking with the wonderful and amazing Joe Pawlikowski (also known as my boss), and he brought up a very valid point to me: there are only really two fan-related sides to the Jorge Posada story, and they are not at all exclusive to Jorge Posada.
The Yankees (and Yankees fans) have been blessed by players who are consistently great all the time, and have the money to retain these players for, theoretically, as long as they want. The upside is that the team builds a core of players that they can reliably depend on to provide a potent offence. When you've got guys who come in every year and tear the snot out of the ball, it's something you never have to worry about. It's stress off everyone in the organization's shoulders. The additional great thing is that you have fans that grow up with these players, building both the team and the player as a brand. As a result, you have a great player who contributes to the team, an easy answer to the question of who plays every year, and a person who the fans adore.
But.
Time is not kind to athletes. Players who perform at extraordinary levels for extended periods of time are expected to, day in and day out, perform at that level. They are expected to be immune to absolutely everything: situations off the field ("Everything sucks in my life right now.") or the very fact that everyone – yes, even Albert Pujols – slumps. There's nothing the players or the coaches or anyone can do about that.
A struggling franchise player puts teams into two individual camps, and depending on how long and how public and how dramatic that struggle gets, those camps get more and more divided. Now, correct me if I'm wrong on these two camps:
Camp 1: A franchise player should get special treatment due to how well they've performed thus far. This includes (but is not limited to), an extended period of time to work themselves out, a fat contract, and the ability to, effectively, do what they want (within reason).
Camp 2: All players should be treated the same when they struggle, regardless of who they are.
Like I said, these two camps aren't exclusive to Posada. These are the same groups that have been rallying for (or against) a drop in the lineup to the great and mighty Derek Jeter. These are the same groups that wanted one or five years on Derek's new contract, five or twenty million dollars. I wonder if these people who fall into either camp took similar stances in regards to Bernie, who ended his career batting 6th, not cleanup. Granted, 6th isn't the nine-hole, but it was probably still a demotion to him.
I don't think going either way makes you more or less of a fan (and what a 'good fan' and a 'bad fan' is might be a post for another day), but I think it's interesting to see where people fall.  People in camp one look over at people in camp two and say that they can't stick by the guys who've done great and, statistically speaking, are better than their numbers and are ticketed for improvement. People in camp two say that those in camp one are too emotionally attached to these players to do what they think the team needs to do regarding them to improve the team.
Personally, I'm torn up on the matter. On one hand, no one can deny how poorly Posada is doing, even though I think it's a terrible slump and he'll figure himself out soon, and moving someone batting an absolute pitiful .165/.272/.349 to the ninth spot isn't an unreasonable thing to do. MLB 9-hole hitters average .209/.262/.295 (including pitchers!) and have wracked up a thousand strikeouts already (AL only: .246/.310/.360). On the other hand, Jorge Posada is a quintessential New York Yankee, and it doesn't take a giant leap of faith to see how being moved to ninth could be perceived as an insult, even given the circular lineup that the Yankees use day-in and day-out.
Which side do you fall on? For Jeter? For Posada? And if you fall on different sides for two different players, why?
(Side note: This absolutely terrible team that includes both Posada and Jeter and can't hit with RISP still leads the AL in runs/game, OBP, and SLG, and is second in walks and OPS+.)