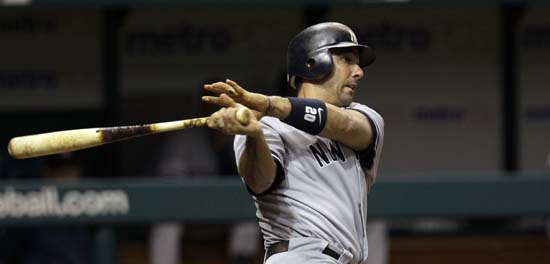 Psssst. Guys.
Don't look now, but Jorge Posada is actually getting on base. I know, it's hard to believe, right? I was under the impression the guy was going to be batting .160 all year and would never hit another extra base hit*, ever again. That's what ESPN told me, at least. But I looked up some of his splits today, and he's actually getting some hits. Now, I know statistics are only for people in their parents' basements, but I just couldn't help but notice some things:
Last 7 days: .333/.500/.556 with two strikeouts (12 PA), .400 BABIP
Last 14 days: .316/.480/.421 with four strikeouts (25 PA), .429 BABIP
April/March: .125/.232/.374, .065 BABIP
May: .261/.393/.348, .353 BABIP
Obviously, we're dealing with some small samples, but if there's anyone who's saying that Posada's done from his horrific start, they should probably also take into account Posada's current (relatively speaking) hot streak. A lot of this is fueled by the fact that his BABIP has risen from a phenomenally, almost impossibly bad .081 to an only moderately terrible .188. Posada's been a clear example of how regression towards the mean works: while the man is due for some decline (that's what happens when you're 40 years old), the chance that he's going to go from hitting .248, last year's average, to .160, is not impossible but not exactly likely. Yeah, you can't predict baseball, but you can safely make some assumptions. The lowest single-season BABIP by any player (min 250 PAs) in the past ten years was Mark McGwire's .171 in 2001.** While it's possible Posada could do worse than that, it's probably not likely, and you're more safe in thinking there will be some bloop hits dropping in for him eventually.
I'm sure that his slow improvement will, at least in the bigger media outlets, be associated with the whole 9th hole drama, whatever you want to call it, but honestly I don't think it has anything to do with that. I just think that Posada was slumping, and now he is not. The fact that the Yankees can't hit with RISP and all their other associated problem just made the struggles of their 40-year-old catcher-turned-DH more evident. There's been so many narratives flying around Posada it's hard for me to keep them all straight. He's 40. His contract is up this year. He will never catch again. He's adjusting to the DH. He's prideful. He has a temper. And so on.
If Posada follows his career track, his strong May will be swallowed up by a terrible June, which is usually his worst month. Curiously enough, his numbers between the first half and the second half are almost exactly alike, so his season month-by-month will either continue to play this terrible on-off game or will smooth out somewhere in between.
Whether Posada gets into the Hall of Fame or not, I don't think a season in decline is going to change the opinions of the voters. And although the Hall of Fame voters' opinions can have some…. interesting twists, I think having a final season in the decline isn't something that should be the game-changer in the voting on Posada. Plus, there are some players that had some pretty bad seasons and still got in. So, Posada fanboys and girls, if your dream is to have him in the Hall of Fame, you're probably still safe. If you're a Posada hater, well, you're wrong.
*Did you see him try to stretch that single into a double? Apparently he didn't think he was ever going to have another XBH either.
**McGwire hit hit 29 home runs in 94 games and had a .187/.315/.492 line that year. His OPS+ was 105. Heh.