As if the first two games of this series hadn't been painful enough, the baseball gods and Mother Nature conspired to push back the start of Thursday's series finale by more than three hours with some thunderstorms. That only delayed what felt inevitable; the Red Sox completing their second three game sweep of the Yankees in the Bronx of the season. It's the first time they've done that since 1912. They weren't even the Yankees back then, they were still the Highlanders. Heck, it was so long ago there were only 48 states in the union.
Beat By The Bottom Of The Lineup
For the first six innings of this game, CC Sabathia was absolutely cruising. He allowed just two hits and two walks to the first 22 men he faced, needing just 82 pitches to record 18 outs against a great offense. He even hit David Ortiz with a pitch, which gave all the internet tough guys something to high five about. And then came the seventh inning.
It started off with David Ortiz, who slapped a single past Robinson Cano. Then Jed Lowrie shot a ball down the first base line only to have it a) take a weird bounce off the wall, and b) be misread by Nick Swisher, leading to a run scoring triple. That turned a 2-0 game into a 2-1 game with a man on third and no outs. Carl Crawford grounded out to third and failed to get the runner in, but Mike Cameron picked him up with a double in a 3-2 count to tie the game. Then the wheels really came off.
Jason Varitek singled. Jacoby Ellsbury singled (Cameron scored). Marco Scutaro lined out. Adrian Gonzalez singled (Varitek scored). David Robertson came in. Kevin Youkilis singled (Ellsbury scored). Ortiz doubled to cap the rally off (Gonzalez and Youkilis scored), so clearly the bean ball made him uncomfortable. Then finally Lowrie grounded out to end the seven run inning. The bottom of Boston's lineup set up the big inning and the middle of the order completed it. Just brutal.
Leftovers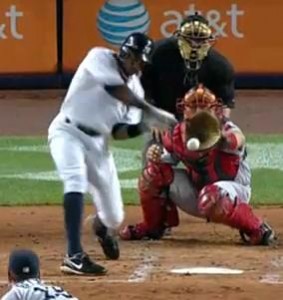 I remember when the Yankees used to beat the ever-loving crap out of Josh Beckett every time they faced him. It was glorious. This year? Ten hits, five walks, and two runs in 21 IP. He's stuck out 25 and beaten Sabathia all three times they've squared off. Aside from a hitting Derek Jeter and allowing a two run homer to Curtis Granderson to open up the game, he was pretty much flawless.
Not for nothing, but twice in the series did a Yankees' batter fail to run out a ground ball down the line. Swisher did it the other night on a ball he thought was going to go foul and then Jorge Posada did the exact same thing in this game. Seriously, given the way those two have hit this year, they should be running out every damn ball no matter how foul they think it'll be. Lack of hustle, failing to run out a routine ground ball is complete garbage. Show you care.
Jeff Marquez finally made his Yankees' debut, seven years after they drafted him, three years after they traded him, and one day after they claimed him off waivers. Good for him, I guess.
WPA Graph & Box Score
MLB.com has the box score and video highlights, FanGraphs has the other stuff.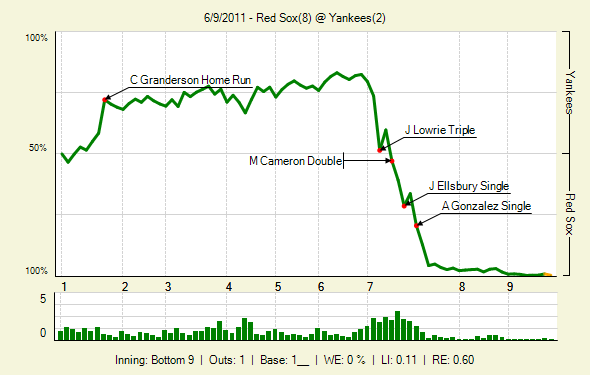 Up Next
The first place (but fading!) Indians come to town for a wrap-around four-game weekend series starting Friday night. Don't worry, I'm sure Ivan Nova will stop the bleeding. Fausto Carmona goes for the Tribe.