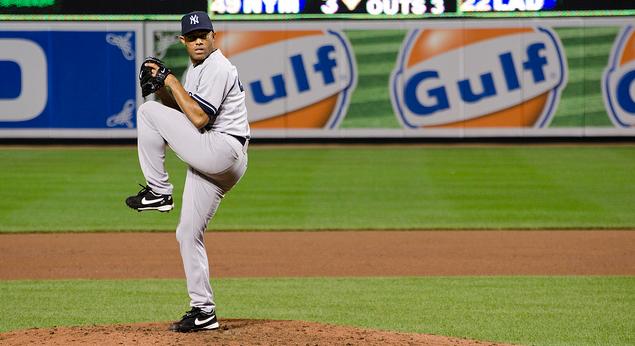 Mark asks: Considering that Mo was talking it up like an "old timer" this past weekend and previously stating that this contract will be his last, what internal options do the Yankees have for a closer? What potential free agents look intriguing?
The answer to this is simple: Mariano Rivera is never going to retire and will just close games for the Yankees for all eternity. Until I'm dead at the very least, I don't really care what happens after that.
In all seriousness, this is the question no one wants to answer. Rivera will be 42 years old after the season and has just one more year on his contract. The smart money is on him calling it a career after the 2012 season, which is going to completely and totally suck. This "old timer" is still better than the other 29 guys doing the same job. There are basically three places Mo's heir can come from, so let's break them down…
Currently On The Yankees

There's three obvious candidates here: Rafael Soriano, Joba Chamberlain, and David Robertson. Soriano is making the big bucks, Joba's been touted as Mo's replacement almost since the day he was called up, and Robertson's the most effective of the bunch. Unless he continues to avoid 1-2-3 innings like the plague and/or continues to visit the disabled list, I bet Soriano gets first dibs at the job just because he has the Proven Closer™ tag. He'll be 33 during the 2013 season, the last one on his contract and what we're assuming is the first year post-Rivera.
Joba's elbow reconstruction really complicates things. It's typically a 12-month rehab but it's not uncommon for it take 18 months before a pitcher gets back to where he was before the operation, specifically with their command. Just look at Joe Nathan. Joba had his surgery earlier this month and figures to be back with the Yankees next June. If it takes those six months to get back to being the guy he was last year and early this year, then we're talking about the start of the 2013 season. Inserting him into the ninth inning might not be as cut and dry as it once seemed.
Robertson has been stupid effective this year (1.67 FIP and 1.3 fWAR in just 31.1 IP) but his walks continue to be a concern. His unintentional walk rate sits at 4.88 men per nine innings at the moment, which is worst than all but two current closers: Brian Wilson (uncharacteristically bad year) and Kevin Gregg (awful). Yes, it's even higher than Carlos Marmol's. Perhaps Robertson could get it down to sub-4.00 BB/9 by 2012, but he's always walked a ton of guys. It would be pretty surprising for such drastic improvement. A long shot could be Hector Noesi, who some like better in a relief role because of his fastball command. I'd rather see him start, but what do I matter. We probably shouldn't rule out Phil Hughes either.
In The Farm System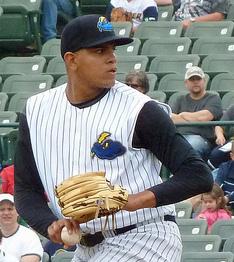 The Yankees best pure relief prospect at the moment is probably Chase Whitley, though you can make a case for Ryan Pope, Tommy Kahnle, Dan Burawa, or George Kontos. They're all pretty interchangeable. Of course the vast majority of closers are failed starters*, so pretty much all the upper level starters have to be considered. That includes Adam Warren, D.J. Mitchell, David Phelps, Dellin Betances, Craig Heyer, and even Manny Banuelos. And, of course, there's always personal fave J.B. Cox. (kidding)
As far as I'm concerned, Betances and Banuelos should continue to be groomed as starters regardless of what's going on at the big league level. They're clearly the most talented of the bunch and selling out even part of their future to help the big league team now  isn't the wisest thing to do. The Yankees don't exactly have the best track record in this department though.
Mitchell still struggles with lefties and Heyer fits the middle reliever mold because his stuff isn't anything special. I think Warren could hack it as a starter at the back of a big league rotation, but he'd also fit well as a reliever because he's got command of one above-average pitch (the fastball) and could focus on his top secondary pitch in relief. The same applies to Phelps, though I like his chances to start a little better (assuming this latest shoulder injury isn't anything serious).
I'm leaving Andrew Brackman out of the discussion entirely because he's a complete disaster at the moment. He's got to get minor leaguers out consistently before we worry about where he fits long-term with the big league team, if at all. Phil Wetherell is probably the only (signed) 2011 draftee that would even be a blip on the radar, but going from short season ball to closing at the big league level in less than two years is unprecedented. Pat Venditte, Kevin Whelan, Pants Lendleton … yeah, that probably won't happen.
Outside The Organization
The free agent market offers a ton of big name closers after this season, but the problem is that Rivera is retiring after next season in our hypothetical situation. The post-2012 free agent class isn't all that pretty, with Leo Nunez and Brandon League representing the best of the bunch. Huston Street, J.J. Putz, and Joakim Soria all have contract options that may or may not be exercised. Mike Adams, Sean Marshall, and Hong-Chih Kuo will also be free agents, and although they haven't closed before, they're all hyper-effective relievers that could probably do the job. Kuo's injury issues this year (and, well, his entire career) make him a huge question mark though.
Who knows that the trade market will offer, but by then both Joel Hanrahan and Chris Perez will be into their arbitration years and making some decent money. Perhaps more than the Pirates and Indians will be willing to pay a guy to work 70 IP a year, respectively.
* * *
I'm pretty confident in saying that whoever replaces Rivera will have the worst job in the world because they'll have to live up impossibly high standards. It's almost better to be the guy that replaces the replacement, and that might be where Soriano fits in. He could step in for a year then give way to some one better, or maybe even do so in the middle of 2013 if he doesn't get the job done. Someone's going to have to take the heat, might as well be the one without a real super long-term future with the Yankees.
No matter what happens from here on out, we're approaching the end of Mariano's reign in the ninth inning, and I can assure that it will be worse than you can ever imagine. After watching the other 29 clubs over the last few years through the magic of MLB.tv, and I safely say that Mariano Rivera-less save situations are terrifying. No team has a closer for ten years these days, if someone lasts five years in the role it's a minor miracle. That makes Mo's career all that more impressive.
* Off the top of my head, the only current closers that were groomed in the minors as closers are Wilson, Street, and Mark Melancon.