One of the biggest stories of the Yankees' first half has been Curtis Granderson's emergence as not just an import piece of the offense, but as a legitimate MVP candidate. He's currently at 4.7 fWAR and 3.6 bWAR, the sixth and 12th best in baseball, respectively. An important part of his success has been the complete 180 he's done against lefties, tagging them for a .394 wOBA this season after producing just a .264 wOBA against southpaws from 2007-2010. Grandy's nine homers are the most by a left-handed batter off left-handed pitchers in baseball, three ahead of Jay Bruce and at least four more than everyone else.
As weird as this sounds, it's been a while since Curtis took a lefty deep. This shot off Brett Anderson on May 31st was his last homerun off a southpaw, a span of 35 team games. Through May 31st, Granderson was hitting .323/.373/.823 off lefties, but since then just .162/.256/.216. His strikeout rate against southpaws went from 25.8% to 43.2%. Now before you freak out, remember we're talking about an extremely small sample here. Curtis has just 112 plate appearances against lefties this year, and just 37 have come since that homer off Anderson. That's nothing. I'm not concerned that Grandy has reverted back to his pre-August 2010 form against lefties, but I do want to see if same-side hurlers have been pitching him differently of late.

The table on the right shows the pitch selection left-handers had been using against Granderson before that homer off Anderson and what they've been throwing him since. He's still seeing the same number off fastballs, though the distribution of offspeed pitches is a little different. Curtis is seeing way more sliders and curveballs than before, but also way fewer changeups. Because of the small sample, this could mean anything. It could mean that lefties have stopped throwing him changeups, or it could just mean they haven't faced many left-handed changeup pitchers. The important thing is that the ratio of fastballs-to-offspeed pitches is the basically the same. If they'd stopped throwing him hard stuff all together, well that would be a problem.
With some help from Texas Leaguers, let's look at where pitchers had been attacking Granderson from the start of the season through that May 31st game we keep referencing …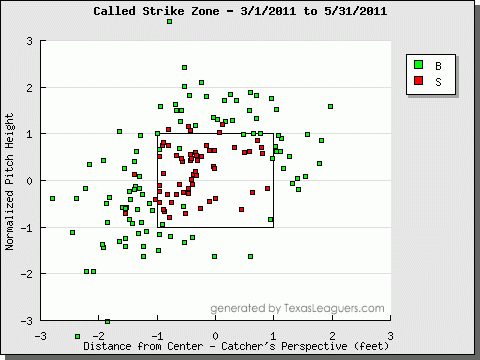 That's from the catcher's view, so there's a huge gaping hole down and in. Just about everything is down and away, which is not uncommon in left-on-left matchups. Granderson took just four pitches total down and in (and in the strike zone) during the first two months of the season, and there's a pretty good chance they weren't even supposed to be thrown there in the first place. Now let's look at the strike zone plot since June 1st…
There's still a bit of a hole down and in, but it's not nearly as big. Granderson does hang out over the plate a little bit, so it could be that lefties are trying to get in on him to keep him from extended his hands. This is the called strike zone, so it could also be that Curtis is simply taking more of those down and in pitches from lefties. The swing plots do back that up a bit, though there just isn't enough data to say anything definitive right now.
Granderson has struggled against left-handers of late, the first time he's done so since the fix The Fix™ last August. The Yankees are going to see a bunch of lefties in the coming weeks, with series against the Blue Jays (Ricky Romero, Jo-Jo Reyes), Rays (David Price), Athletics (Gio Gonzalez, Josh Outman), and Mariners (Jason Vargas, possibly Erik Bedard) coming up. That'll give us a chance to see Curtis take some more hacks against same-side pitchers, which will hopefully give us a better idea of whether this latest slump is just a fluke, or if the early season success was the outlier.