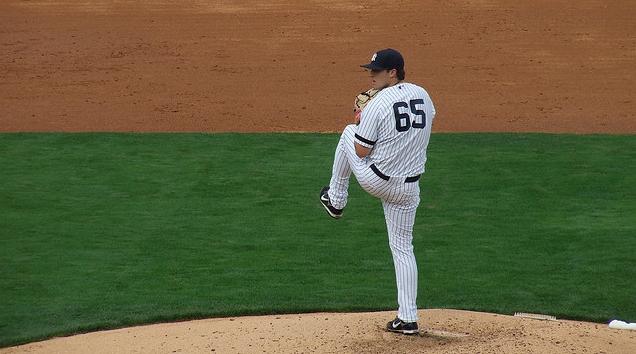 It's been nearly three months since Phil Hughes started a game for the Yankees, but he makes his return from what was ultimately described as shoulder inflammation tonight against the Indians. He sandwiched two strong rehab outings around a so-so- one, but the results really don't matter. His fastball was reportedly back and the brain trust decided Hughes at his present state was a better option than Ivan Nova. I'm just happy he's back. Phil's always been a personal fave, but I didn't need to tell you that. Here's the starting nine…
Derek Jeter, SS
Curtis Granderson, CF
Mark Teixeira, 1B
Alex Rodriguez, 3B
Robinson Cano, 2B
Nick Swisher, RF
Jorge Posada, DH
Russell Martin, C
Brett Gardner, LF
Phil Hughes, SP
First pitch is scheduled for a little after 7pm ET and can be seen on YES locally and ESPN nationally. Enjoy.
Notes: Mariano Rivera will get today off, but he told reporters that he will "definitely" be ready to go tomorrow … The Tribe activated Matt LaPorta from the disabled list today, but Asdrubal Cabrera is out of the lineup after rolling his ankle last night. Net gain for the Yankees.
Site News: We're working on fixing some database bugs, so the site might be a little sketchy tonight, in that it might go down periodically. Just a heads up.