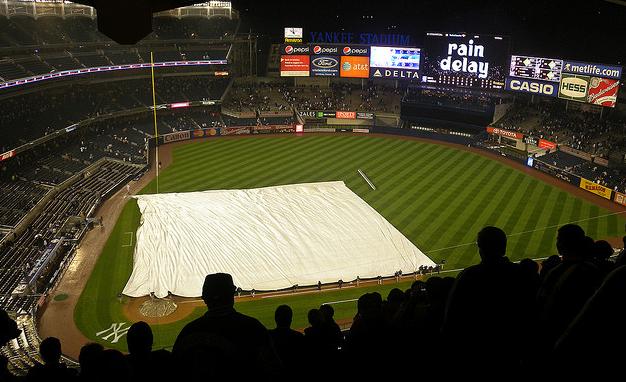 Rain? Check. My9 broadcast? Check. Nothing else to see here folks, that's all you need to know. Here's the lineup…
Brett Gardner, LF
Derek Jeter, SS
Curtis Granderson, CF
Mark Teixeira, 1B
Robinson Cano, 2B
Nick Swisher, RF
Eric Chavez, DH
Russell Martin, C
Eduardo Nunez, 3B
A.J. Burnett, SP
Like I said, it's a My9 broadcast. The game is supposed to start at 7pm ET and the tarp is not on the field, but it's still kinda sorta drizzling in New York, so we'll see how the night goes. Enjoy.
Injury News: Alex Rodriguez ran the bases for the first time since his knee surgery today, in addition to the usual work (batting practice, fielding grounders, etc.) … Pedro Feliciano threw 42 pitches off a mound today and is scheduled to throw batting practice on Friday … Damaso Marte threw 32 pitches off a mound … Ramiro Pena is getting back in the swing of things, swinging a bat today for the first time since having his appendectomy … Sergio Mitre is going to see Dr. James Andrew about a pinched nerve in his shoulder, and surgery is likely. That really sucks, I hope everything goes well.
Angels Rotation News: Remember when I said that Hisanori Takahashi was going to start for the Halos on Wednesday? That's wrong. They're calling up Double-A right-hander Garrett Richard to make the start, skipping him right over Triple-A. Throwing the kid right into the fire, eh?