Nothing gets the bitter taste of a four-game losing streak out of your mouth like a winning streak, and the Yankees are officially on a winning streak after topping the Mariners on Monday. Sure, it's only a little two-gamer, but a winning streak is a winning streak.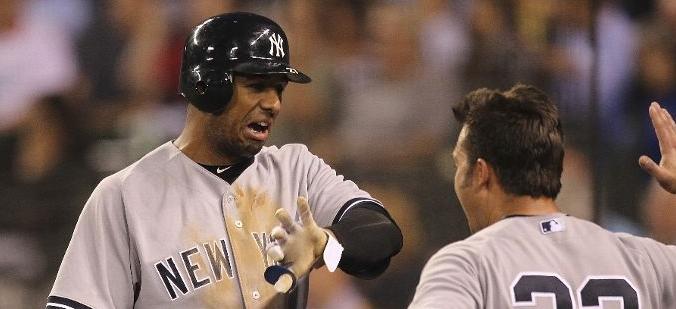 Getting To The King
Coming into this game, the Yankees had scored a total of eight runs in their last 49 innings against Felix Hernandez. They scored six runs in six innings off him tonight. The driving force behind the offense? How about Chris Dickerson. In his third big league start of the season, Dickerson singled Brett Gardner to third before he came around to score on Derek Jeter's groundout, then an inning later he capped killed a five-run rally with a long two-run homer to right. It was no cheapie, there was no doubt it was gone, and it even looked like it had a chance at the second deck. Chris Dickerson, of course.
Before that, the Yankees scored three runs on a Mark Teixeira solo homer, an Eric Chavez sacrifice fly, and a Gardner double. At one point between the third and fourth innings, the Yankees had seven hits in the span of eleven batters (four extra base hits) against Felix. Two of the four outs scored runs as well. We saw some signs of life from the offense on Sunday, and the bats continued to wake up against arguably the best pitcher in the world. Sometimes it takes a bit piece like Dickerson having a huge game off the bench to get things going, baseball's weird like that. Six runs and nine hits off Hernandez is pretty much the best of best case scenarios.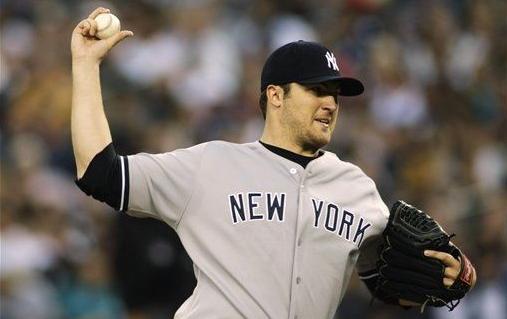 Typical Phil
It was a pretty typical start for Phil Hughes, meaning quite a bit of baserunners (eight), a ton of foul balls (25 out of 99 pitches) … and a quality start. Believe it or not, seven of his eleven starts since coming off the DL have qualified for the ol' quality start, meaning six innings or more and three runs or less. Don't ask me how, but it's true. Quality starts aren't a good predictor of future success, but they are games the Yankees can win, I know that much. Chances are Phil's line would look quite a bit worse against a better team, but I feel like I say that after each one of his starts.
All the stuff we've talked about all season still stands, Hughes needs to get his command right, he needs to be more efficient, and he needs to fully incorporate a third pitch. A show-me changeup won't cut it. It did tonight, luckily.
Leftovers
The Yankees really blew things open in the seventh, when Robinson Cano shot an opposite field double over the left fielder's head with the bases loaded. It came on the tenth pitch of the at-bat, after he fouled off balls four, five, six, and seven. You know Robbie though, it just works. The man is hitting .471/.429/1.235* this season with the bases loaded. That'll work.
* Since I know several of you will ask, his OBP is lower than his AVG because of sacrifice flies. They count as plate appearances (and towards OBP) but not at-bats (and towards AVG). One of baseball's many weird statistical quirks.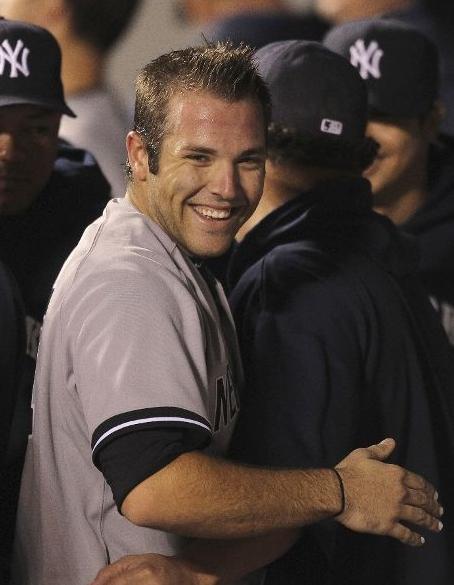 In his first career start behind the plate, Austin Romine picked up his first career base hit, a legitimate line drove single to right off Danny Cortes. There's a pretty decent chance that that will be the last first-hit ball Gene Monahan ever marks up. The longtime trainer is retiring after the season, and every other non-pitcher on the active roster has already picked up their first hit.
As for the rest of the offense … Jeter had one hit, Curtis Granderson had two hits (breaking out of his slump?), Tex had a single to go with the homer (breaking out of his slump?), Cano had three hits, Swisher one hit, Gardner two hits (breaking out of his slump?), Dickerson the two hits, and Romine the one hit. The Yankees did not draw a single walk, only the fourth time they've done that in 146 games this season. Boston has done it three times, the only club with fewer no walk games.
After teasing us by warming up both Andrew Brackman and Dellin Betances, Joe Girardi went with Scott Proctor (two runs in two innings) and Luis Ayala (one inning) to run out the clock after Hughes exited. I don't even know why they bother calling these kids up, Girardi never uses them. Did the same thing last year. They're better off keeping them in the minors and saving the service time. Seriously. I suppose the good news is that Boone Logan warmed up at one point, so his dead arm must be a thing of the past.
Also, where were the replacements once the score got out of hand? I mean, Swisher's been battling elbow tendinitis, couldn't he have gotten a few innings off with an eight (eventually six) run lead? Granderson could use some time off his feet, no? Nothing wrong with giving Jeter a few innings off, right? Oh well, what's done is done.
The Rays won again, this time beating the Orioles. They picked up half-a-game on the idle Red Sox, and are now just three back of Boston for the wildcard. The Yankees remain seven games up on Tampa for the wildcard, and they moved to four games ahead of the Sox for the AL East lead. That's the largest lead they've had all season. If they go 8-8 in their final 16 games, Boston has to go 12-4 to tie (the Sox would win the division in that scenario by virtue of winning the season series). The magic number to clinch a playoff spot is just ten.
Box Score, WPA Graph & Standings
MLB.com has the box score and video highlights, FanGraphs has some other stuff, and ESPN the updated standings.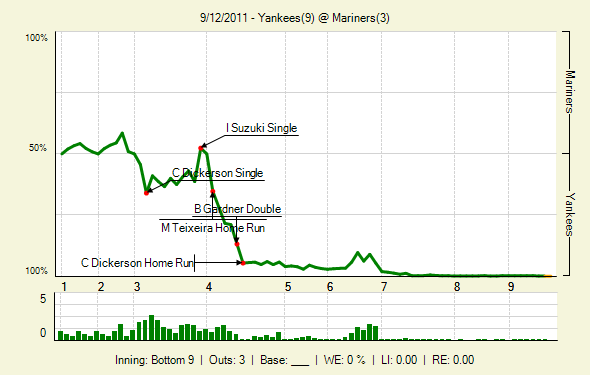 Up Next
Game two of this three-game series will be played on Tuesday night, when A.J. Burnett gives it a go against the lefty Charlie Furbush.