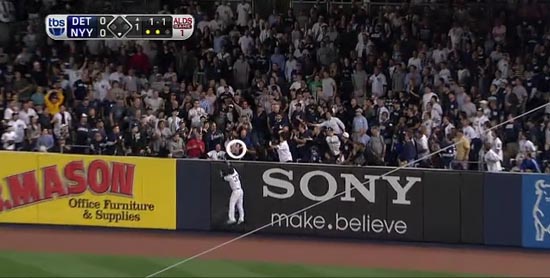 The "too many homers" narrative was one of the most common ones to the plague the Yankees this year, staring from game 1 (home runs from Granderson and Teixeira) and dragging all the way through the season. The Yankees eventually finished first in home runs with 222 and second in total runs with 867, meaning that roughly 25% of all the runs the Yankees scored were via the longball. While this seems like a lot, the fightin' Baltimore Showalters had 191 home runs and 708 runs, pulling almost 30% of their runs from dingers. I guess that's what happens when you employ Mark Reynolds. Yankees fans have spent most of the year making fun of this narrative and defending the team from it.

However, it was the long ball that both carried and sunk the Yankees in this short series. The right field short porch that has been so constantly vilified (but only when the Yankees hit homers in there), allowed Delmon Young, Miguel Cabrera, and Don Kelly to launch it out of the park. Two of those homers, Kelly's in game 5 and Cabrera's in game 2 would help sink the Bombers entirely. According to Hit Tracker Online, Delmon Young's homer in the first part of game 1 would have been a homer in only one park: you guessed it, New Yankee Stadium. Cabrera's was a homer in only two, while Don Kelly's would have gone out in five different stadiums. Nick Swisher and Curtis Granderson (Game 2) both would have left the park in seven different stadiums, while Delmon Young (a la game 5), and Robinson Cano (both times) hit it big enough to go out in every park.

It would have been nice if the Yankees could have take advantage of their own homer-friendly park (and Derek Jeter certainly tried), but in lieu of that, a clutch hit would have helped, in either Comerica or New York. Could the Yankees not get the hits with runners in scoring position at the most unfortunate time this year?

Game 1

Yankees: 2-for-12 w/ RISP, one homer (Cano)
Tigers: 4-for-7 w/RISP, one homer (Young)

Yankee Stadium Specials: one (Detroit)
Yankee hits w/ RISP that weren't homers: (2: Cano, Gardner)

Game 2

Yankees: 0-for-7 w/ RISP, two homers (Swisher, Granderson)
Tigers: 3-for-10 w/ RISP, one homer (Cabrera)

Yankee Stadium Specials: one (Detroit)
Yankee hits /w RISP that weren't homers: 0

Game 5

Yankees: 2-for-9 w/ RISP, one homer Cano)
Tigers: 1-for-9 w/ RISP, two homers (Kelly, Young)

Yankee Stadium Specials: 0 (You could argue Don Kelly's was, but I'm going to say no.)
Yankees hits with RISP that weren't homers: 1 (Cano, though this did not score a run)

It's morbidly entertaining to me to see that another team can take advantage of a stadium feature that the team was constructed to use for their advantage, and then use it to thoroughly beat the Yankees. I'm not complaining about the short porch, just saying that it helps and harms in equal measure. The two runs Cabrera scored in game 2 were all that decided the game, and the tentative YS Special of Don Kelly's dinger decided the series in the end. Plus, in Yankee Stadium, the Yankees went a total of 4-for-28 with runners in scoring position with a bases loaded walk, with only one of those hits being a home run (Cano), and one of them not scoring a hit at all. That really says it all.



PS: Does anyone have an official qualifier for what makes a Yankee Stadium Special? Footage? Exact row?