The offseason is officially right around the corner, which means lots of trade speculation and free agent rumors and all that fun stuff. We might as well get a jump on things by discussing something Joel Sherman mentioned yesterday, that the Pirates "have prioritized finding a catcher this offseason." Pittsburgh recently announced that they plan on cutting ties with the injury-plagued duo of Ryan Doumit and Chris Snyder, opening up their catcher's job. Former fourth overall pick Tony Sanchez hit a speed bump by posting a weak .306 wOBA in 469 plate appearances at Double-A this summer, and the rest of their catching crop (Mike McKenry, Jason Jaramillo, and former Yankee farmhand Eric Fryer) are nothing to write home about.
Since the Yankees actually have some catching to spare, young catching at that, it makes them a potential trade match with the Buccos. We know the two teams seriously discussed a Frankie Cervelli-Brad Lincoln swap before the trade deadline, plus Brian Cashman and Neal Huntington have gotten together for three trades in the last four years, so it stands to reason that there's a decent working relationship in place there. The question is what do the Pittsburgh have that fills a need for New York?
Obviously, it's all about pitching for the Yankees, starting pitching in particular. They're not going to get a starter for Cervelli, not after yet another concussion, but there's also Austin Romine to consider. He's definitely a trade chip as well. The problem is that the Pirates don't have much pitching to offer, and in fact they're going to be in the market for some this winter just like the Yankees. Dig through their 40-man roster, and there's only two arms worth even a second though: Charlie Morton and James McDonald. This is coming from a guy that loves Jeff Locke too.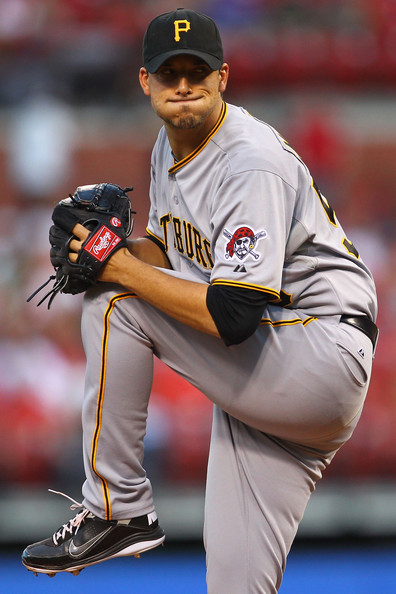 By almost every metric, Morton was Pittsburgh's best pitcher this past season. He managed a 3.77 FIP across 171.2 IP because he didn't give up any homers (0.31 HR/9, lowest in MLB), the result of him reinventing himself as a sinkerballing Roy Halladay look alike (58.5% ground ball rate). He only struck out 110 batters in those 171.2 IP (5.77 K/9), and 23 of those 110 strikeouts came against pitchers. His unintentional walk rate (3.77 uIBB/9) isn't anything special either. Morton's still pretty young (28 in November) and cheap (MLBTR projects a $2.2M salary his first time through arbitration this winter), so there's always a chance he could improve as he gains more experience with his new Halladay-esque delivery.
Huntington flat out stole McDonald from the Dodgers, getting five years of him (and another prospect!) for two months of Octavio Dotel at last year's trade deadline. He's a much different pitcher than Morton, more of a strikeout (7.47 K/9) and fly ball (38.9% grounders) guy. He gave up a ton of homers last year (1.26 HR/9) and compounded the problem by walking a lot of guys (3.89 uIBB/9). His career numbers, not that he's been around all that long, are almost identical to what he did in 2011. McDonald just turned 27 and is still in his pre-arbitration years, and although I've liked him ever since he was being mismanaged in Los Angeles, he's not going to step in and unquestionably solidify the rotation. Neither of these guys will really, especially not in the AL East.
Having an abundance of MLB ready or near-MLB ready catching is a definite luxury the Yankees enjoy, and it figures to be their primary currency when making trades. There's no reason to sell low on Cervelli (following the concussion) or trade away Romine for questionable pitching help, or even bullpen help at this point. I can see why the Pirates would have interest in some of the Yankees young backstops, but they're not going to want to trade one of their better starters for catching help (not necessarily straight up, just as framework for a deal I mean). There's not enough incentive for the Yankees to make a move given what Pittsburgh has to offer.