A couple hours from now, the Texas Rangers will make the first attempt in franchise history to win the World Series. They're one win away from title, one year after beating the Yankees in the ALCS to send the team to their first ever Fall Classic. With young players all over the roster and a smart, progressive front office, the Rangers are quickly emerging as one of baseball's powerhouses. The Yankees have been one of those powerhouses for more than a decade now, but that doesn't mean they can't take a look at the Texas squad and learn a few things. Here are four ways the Yankees can mimic the Rangers, each with the possibility of having a big impact.
Don't Take The Catching Depth For Granted

Yesterday we heard that the Pirates are prioritizing a catcher this offseason, leading to speculation about the Yankees being a possible trade match. With Russell Martin entrenched behind the plate for at least another year and Frankie Cervelli, Jesus Montero, and Austin Romine all that Triple-A or above, the Yankees have the luxury of depth at a position where most teams have none.
Three seasons ago, the Rangers were the team with that catching depth. They had Gerald Laird at the big league level, plus Jarrod Saltalamacchia, Taylor Teagarden, and Max Ramirez all on the cusp of the show. Laird was traded that offseason for no one in particular (Guillermo Moscoso and a Single-A pitcher that still hasn't made it out of Single-A) as Texas dealt from what they felt was a position of strength, but less than two years later, that depth was gone. Ramirez couldn't catch, Salty couldn't stay healthy, and Teagarden couldn't hit. They ended up trading for Bengie Molina at least year's deadline before signing Yorvit Torrealba to a two-year deal this past winter.
Catchers, probably more than any other position, can experience growing pains early in their career. It's not just hitting and standing in the right spot or throwing to the right base, it's learning a pitching staff and dealing with nagging injuries. Matt Wieters has all the talent in the world and he's struggled with it. Catching depth has a way of disappearing quickly, so the Yankees shouldn't take what they have in Martin, Montero, Cervelli, and Romine for granted. That's not to say they can't or shouldn't trade any of them, but they can't just trade one of them for the sake of making a trade. A deal would have to bring real improvement to the MLB roster, not prospects.
Turn A Reliever Into A Starter
The Rangers were lacking quality pitching depth last season, so they made a radical move that no one thought would work. They turned long-time reliever C.J. Wilson into a starter. After 232.2 relief innings from 2006-2009 (4.06 FIP), Wilson gave his team 204 pretty awesome innings in 2010 alone (3.56 FIP). He took another step forward this season, throwing 223.1 IP with a 3.24 FIP. The move worked so well that the Rangers did it again with another reliever, Alexi Ogando. After throwing 41.2 relief innings with a 3.05 FIP in 2010, Ogando gave Texas 169 IP with a 3.65 FIP in 2011.
Like the Rangers last year, the Yankees have a glaring need in their rotation and an obvious solution to the problem: Joba Chamberlain. The right-hander got his feet wet as a starter in 2009 (4.82 FIP in 157.1 IP), but the Yankees pigeon-holed him back into a relief role after that season and have gotten 100.1 IP with a 3.14 FIP since. Now that he's rehabbing from Tommy John surgery, it's the perfect time for Joba to move back into the rotation. He can stretch out at his own pace, the team can control his progress without worrying about winning games, the whole nine.  Joba probably won't return soon enough to make an impact as a starter in 2012, but he'd be ready to go on Opening Day 2013. It makes too much sense not to happen, but we all know it won't.
Find Undervalued Assets Overseas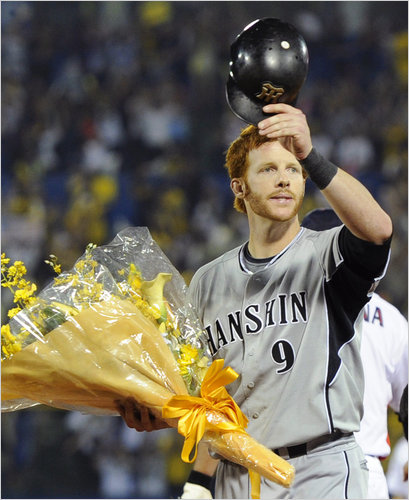 A few weeks after deciding to move Wilson into the rotation, the Rangers went overseas to re-sign a player they originally drafted way back in 1999: Colby Lewis. Lewis couldn't stick in the big leagues earlier in his career, bouncing around from team to team before landing in Japan for two years. He figured things out while pitching for the Hiroshima Carp, developing a willingness to challenge hitters and posting a pair of excellent seasons. Lewis has been rock solid for the Rangers (4.04 FIP) and durable (401.1 IP) over the last two years, and he's been the team's best pitcher this postseason. All of that came at the cost of a two-year contract worth $5M total, plus a $3.25M club option for next season.
The Yankees are sure to be in the mix for Yu Darvish, but he's not exactly going to be a bargain. Hisashi Iwakuma is another Japanese starter that will be available this offseason, but he's a true free agent after failing to reach an agreement with the A's last winter. Here's what I wrote about the right-hander then, and he might be a potential low-cost option for the Yankees. Another option could be the right-handed hitting outfielder Matt Murton, a stathead fave that's been the league's best hitter the last two years, even breaking Ichiro's hit record. He's still relatively young (turned 30 this month) and has always mashed lefties (.304/.374/.480 and a .370 wOBA vs. MLB LHP), so perhaps he deserves consideration as an Andruw Jones replacement. Hey, the Yankees have his brother Luke in their minor league system, there's already a connection in place. Japan isn't just about big money posting fees, there are other ways to use that market, ways that can be a lot more efficient than regular old MLB free agency.
Let The Kid Who Can Hit, Catch
If the World Series ended today, which is might, Mike Napoli is the odds on favorite to be named Series MVP. He's been on-base seven times in the five games, including two homers and the big go-ahead double in Game Five. He's also driven in nine of their 19 runs. All of this is after he posted a .444 wOBA in 432 plate appearances during the regular season. Over at LoHud yesterday, Chad Jennings posted an excerpt of Napoli's scouting report from Baseball America's 2005 Prospect Handbook…
Napoli has a polished, professional hitting approach and obvious power. He has natural loft in his swing and drives the ball well from center to the opposite field … The biggest question surrounding Napoli is whether he'll be able to catch at higher levels. His catch-and-throw skills are adequate, but his flexibility and footwork are poor. He doesn't move well behind the plate — or on the bases, for that matter — and several Cal League observers didn't think he'd be able to serve as a backup catcher in the majors.
The Yankees have their own Mike Napoli, at least in the sense that they have a right-handed hitter that can mash but plays questionable defense behind the plate. That's Montero, who figures to get the majority of his at-bats at DH next season because Martin will be the primary catcher. Martin will be a free agent after the season though, opening the door for Montero to be the primary backstop in 2013. The Yankees lived with Jorge Posada's poor defense for all those years because his bat made up for it, and that's the kind of player Montero is. Getting huge offense from a position that typically offers none is a gigantic advantage, even if you're sacrificing something on defense.
* * *
We could play this game all day if we wanted. The Yankees should avoid throwing guaranteed money at reclamation project pitchers (like Brandon Webb), they should turn Derek Jeter into a super-sub like Michael Young as his skills erode (this would be more plausible if they had someone other than Eduardo Nunez Scissorhands to play short full-time), so on and so forth. I used the Rangers as an example in this post because the similarities are striking and they are the hot topic team at the moment, but in reality, the Yankees should be learning from every team in the league.