Got five questions this week, but two are pretty short. Remember to use the Submit A Tip box in the sidebar whenever you want to send in questions in the future.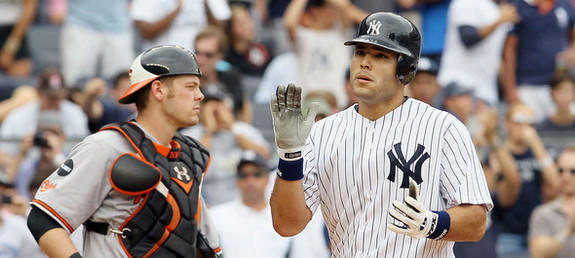 Mark asks: Could Montero be taught how to play 3B? A-Rod seemingly will need to become the Yankee's full-time DH eventually. Do you know of any player that converted to 3B with his body type and lack of athleticism?
The official site lists Jesus Montero at 6-foot-3 and 235 lbs., and you can count the number of regular third baseman that size on one hand: Scott Rolen (6-foot-4, 240), Alex Rodriguez (6-foot-3, 230), Ryan Zimmerman (6-foot-3, 230), Mark Reynolds (6-foot-2, 220), and Danny Valencia (6-foot-2, 220). Montero's a touch bigger than Valencia and he's definitely not in the same class athletically as A-Rod, Rolen, or Zimmerman. That's for sure. Reynolds moved to first base late this season, so I'm not sure he counts.
Most guys that move to third base after their fourth or fifth pro season are failed shortstops or second baseman, middle infielders moving down the defensive spectrum. Brandon Inge did the "catcher turned third base" thing, but he's only 5-foot-11 and 190 lbs. Realistically, the only place Montero can move is to first base or DH. If they want to try the outfield, then I wish them luck. It won't be a quick or painless transition. A-Rod looked perfectly fine on defense in the ALDS, more than fine actually, it was his bat that slowed. I don't think we have to worry about him in the field just yet.
Tucker asks: Despite the obvious loss that would be felt by Damon Oppenheimer's potential departure, could there be some benefits towards having him elsewhere? He knows the Yanks system so if he goes to a team, such as the Angels, could we expect some trades?
We see this happen all the time, guys leave one organization to become the GM elsewhere, then they start stockpiling players they drafted or had with their original team. Dayton Moore's loaded up ex-Braves in Kansas City (Kyle Davis, Brayan Pena, Jeff Francoeur), Jack Zduriencik brought in a number of ex-Brewers after hooking on with the Mariners (Russell Branyan, Bill Hall, Brad Nelson), and it seems like every trade Ed Wade has made as GM of the Astros has been with the Phillies (Hunter Pence, Roy Oswalt, Brad Lidge). The examples go on and on.
Is there a benefit to this know? Maybe. On one hand you can argue that the new GM is overvaluing the players he knows, but on the other hand you can say that he knows them better than anyone and is digging up the hidden gems. I would definitely expect some trades, but I don't think Oppenheimer (or Billy Eppler for that matter, since he's up for the same job) would just give his new players to his old team out of the goodness of his heart.
Shaun asks: Just a quick question, do you think the yankees would negotiate with CC Sabathia before he opts out of his contract or would they wait? I think they waited with A-Rod at the time and took a hard stance with him. I'd argue that they would need CC more than they needed A-Rod at the time.
I agree with you about needing Sabathia now more than they needed A-Rod then, but let's not forget how awesome Alex was four years ago. Anyway, I'm sure they would be open to negotiating with CC at some point soon, even though the company line is to wait until the contract is over. That would eliminate the hassle of the open market, and as we heard last night, the Rangers are prepared to get involved. Let's put it this way, the Yankees have nothing to lose by talking to him about an extension beforehand.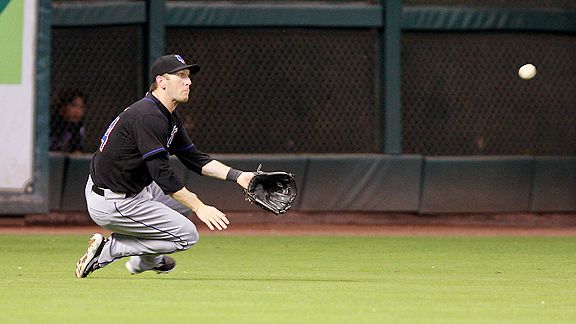 Kevin asks: What about an A.J. Burnett for Jason Bay swap?
We've gotten this question a number of times, and apparently it all started with some MSM article that was published during the summer. I'm not quite sure what the goal is here, is the plan to put Bay in right and trade Nick Swisher for a pitcher? Swish alone won't fetch a legit number two starter just because he's a year away from free agency. The net result would end up being Burnett, Swisher, and prospects for Bay and an unknown number two starter.
Burnett's terrible, you don't have to tell me that, but so is Bay. As an added bonus, he's now injury prone as well. This isn't just a CitiField thing either folks; since joining the Mets, Bay has a .358 wOBA at home and .296 on the road. I don't but into the idea that getting him back on the contender with somehow reinvigorate him, and I can't imagine the Yankees will fall for that either. The deal also doesn't work in the Yankees favor with regards to contracts. Bother are locked up for the next two years (Bay at $32M, Burnett at $33M), but Bay has an easily vesting option for 2014 (Omar Minaya's specialty). All it takes is 500 plate appearances in both 2012 and 2013 or 600 plate appearances in 2013 alone. You'd end up trading for the guy, then hoping he doesn't play much the next two years to prevent the option from kicking in. No win situation.
As terribad as A.J. is, the Yankees aren't exactly in a position to trade pitching for offense, even if the corresponding move is to trade Swisher for an arm. There would be no winners in this trade, so I'd rather stick with the devil I know rather than the devil I don't.
Dan asks: Which roster player(s) would you trade for a legitimate #2 starter?
This depends on our definition of number two starter, but I'd trade pretty much everyone other than Robinson Cano, Curtis Granderson, CC Sabathia, and Jesus Montero for that kind of pitcher. When I think of a number two starter, I think Matt Garza, Jamie Shields, Matt Cain, John Danks … guys like that. That's just me though, you're welcome to feel differently.