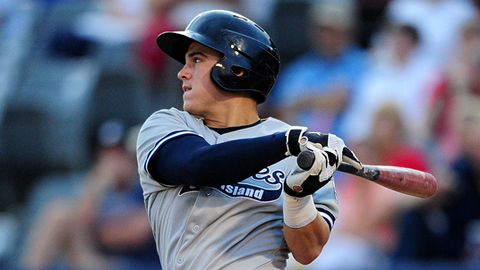 Tyler Austin | 1B, 3B
Background
A Georgia kid, Christopher Tyler Austin attended Heritage High School in Conyers, about a half-hour outside Atlanta. He was a fixture at showcase events and in various travel leagues, and was a high-end recruit for Kennesaw State. Baseball America (subs. req'd) ranked him as the 24th best prospect in the state prior to the 2010 draft, but noted that he could come off the board as early as the fourth round. The Yankees were patient and able to nab Austin with their 13th round pick, the 415th overall selection. He signed for $130k close to the signing deadline, over-slot but actually a bit of a bargain.
Pro Career
Austin signed rather quickly in 2010, but his season was cut short after a pitch broke his wrist in his second professional game with the Rookie Level GCL Yankees. The Yankees held Austin back in Extended Spring Training to begin the 2011 season, then reassigned him to the GCL Yanks when the season started in late-June. He wasn't long for that league though; after posting a .390/.438/.622 batting line with three homers and eleven steals in 20 games, the Yankees bumped him up to Short Season Staten Island for the remainder of the season. Austin battled a minor wrist problem, but he still managed to hit .323/.402/.542 in 27 games while helping the Baby Bombers to the league title.
All told, Austin hit .354/.418/.579 with 18 doubles, two triples, six homers, and 18 steals (in 18 chances) in 201 plate appearances in 2011. Baseball America subsequently ranked him as the eight best prospect in the NY-Penn League. The Yankees sent him to Instructional League after the season.
Scouting Report
Listing at 6-foot-2 and 200 lbs., Austin is a bat-first prospect. He was drafted as a right-handed hitter with big power to the pull side, but the Yankees have done a good job of getting him to use his strength to drive the ball to all fields. An advanced approach and the ability to not only recognize, but turn on offspeed pitches makes Austin a dangerous middle-of-the-order type of bat. He's athletic and surprisingly quick, but the gaudy stolen base total this season has more to do with instincts than raw speed. Chances are he'll slow down as he gets older.
The Yankees drafted Austin as a catcher, but quickly put an end to that experiment and have used him at both first and third bases as a pro. He's got the arm for third, but he must get more experience at the position and work on his footwork to avoid letting the ball play him. The corner outfield could also be an option since he runs well. Here is Austin's MLB.com draft video, and here's another clip from YouTube.
2012 Outlook
With the short season leagues sufficiently dominated, the Yankees will move Austin up to Low-A Charleston to start next season. He'll likely play third base full-time, unless the Yankees get aggressive with 2011 first rounder Dante Bichette Jr. and send him to Charleston as well. Either way, it's time for Austin to deal with the grind of a full season league.
My Take
The Yankees have done a really nice job of finding high school players with at least one standout tool in recent years, and Austin fits the bill as a power hitter with plate discipline. He's not a zero with the glove either. I'm a fan because he fits the Yankee mold of power and patience, especially at such a young age, and the big performance is always nice to see as well. He's probably too good to be considered a sleeper, but I definitely don't think he's generating as much buzz as he should. I'm excited to see what Austin will do with a full season's worth of at-bats next year.