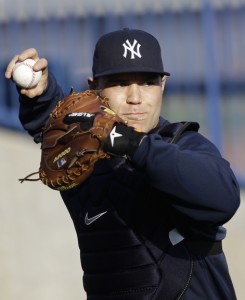 Over the last few months, the sabermetric community has made a number of advances in the area of catcher defense. Studies by Max Marchi and Mike Fast on pitch framing and a study from Bojan Koprivica on pitch blocking have begun the process of quantifying the more difficult to measure elements of a backstop's defense. While these studies are still in their infancy and are likely to be tweaked and altered in the coming months and years, they do provide us with one reasonable concrete lesson: Good defense from a catcher is likely more important than we had previously thought when trying to measure catcher value.
In the past, catchers tended to be put into one of two groups: good defender or weak defender. Sure, you had one or two Gold Glovers at the top and a handful of guys who were execrable enough to be known as terrible at the bottom, but the vast majority of catchers were placed into those two groups. Without any way to truly quantify defense, these broad categories had to suffice, and this resulted in most people evaluating catchers based on their offense. Catcher defense was thrown in at the end of conversations as an aside, possibly with caught stealing numbers and some passed ball data, but little tangible data that would shift an evaluation in either direction. Only those known as excellent catchers would get any sort of boost from their perceived defensive value.
Now, with these new studies, we can begin to quantify catcher defense, and use that to reevaluate the worth of a catcher who performs well behind the dish. As I noted above, one lesson that can be taken from these studies is that defense behind the dish is quite important. Let's use Russell Martin as an illustration.
While I am far from the biggest proponent of WAR, these new metrics are expressed in terms of runs saved, making WAR a convenient way to weigh the impact of Martin's defense. Before considering defense, Russell Martin was worth 3.1 wins last season (FanGraphs). However, once you add 1.5 runs saved by controlling the running game, 0.1 runs saved blocking pitches, and 15 runs saved by being among the best at framing pitches (Fast's research consistently places Martin near the top of the league in this area), you suddenly have an incredibly valuable 4.6 win player. While the first instinct of many is to flinch at the idea that the "unmeasurable" aspects of catcher defense can add that much value, it is important to note that the very best defenders gained at most two wins due to their gloves. That is not much different than the value added defensively by the best at other positions, and catchers are involved on almost every pitch.
The suggestion here is not that Russell Martin is a 4-5 win player, but that he is a very good defender and that has definite value exceeding what some of the value metrics would suggest. Accepting that hypothesis leads me to my point: If the Yankees do not believe that Jesus Montero is their catcher of the future, it would make sense for them to offer Russell Martin a 2-3 year contract extension, either now or at the end of the 2012 season.
While he certainly showed improvement relative to 2009-2010, Martin had a decent but unspectacular season offensively, such that his value is probably not incredibly high at this point. Although he has a reputation as a solid defender, he is not known as one of the best in the sport, which makes it unlikely that he would get a major salary bump on the open market due to his glove. Essentially, if he was a free agent at this moment, he could market himself as a adequate offensive catcher with a solid glove, which is relatively unsexy and would not bring him a major financial windfall.
Being that the market almost certainly will not value his defense quite as much as it should, the Yankees could have the opportunity to lock Russell up at a reasonable rate relative to his value. They could wait until after the 2012 season to sign him, although they might want to avoid the possibility that his price goes up either because 1) he bounces back to 2006-2008 levels offensively, or 2) teams begin to see him as a great defensive catcher. While the latter seems like a long shot, another season of the Yankees getting good performances out of retread pitchers could shine a light on the work that Martin does behind the plate.
Of course, there are downsides to signing Martin to an extension a year early, such as a major injury or a significant decline with the bat that would turn the contract into an albatross. Couple those risks with the fact that the team rarely hands out extensions, and I would bet on the Yankees waiting until after this season to address Martin's contract. That said, once he does sign on for a few more years, he should provide enough defensive value to help any contract avoid disaster status. Russell's glove is undervalued, and unless the Yankees believe they already have their catcher of the future knocking on the door, he would serve as an good option to fill the position for the next few seasons.
(Thanks to @jaydestro for inspiring this post)