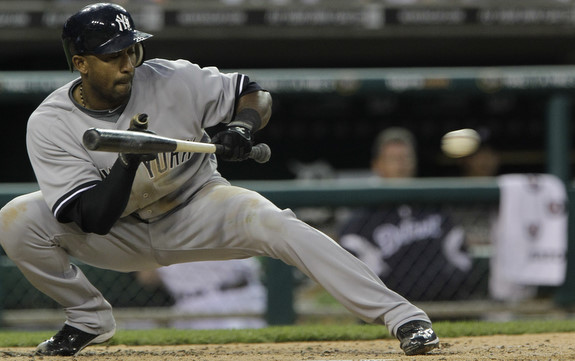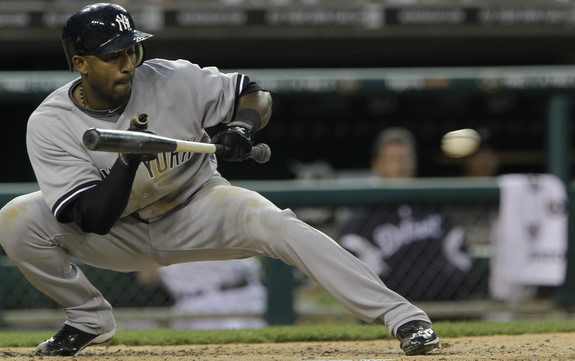 As we get close to wrapping up our season review, we're inevitably left a few players that don't fit into our rather vague What Went Right/What Went Wrong categories. Unsurprisingly, these guys are bit pieces, essentially spare parts on the roster.
Eduardo Nunez
After a brief cameo in September 2010, the Yankees handed Nunez their utility infielder's job out of Spring Training in 2011. The off-day and rain-out heavy April kept Nunez glued to the bench during the season's first month (just six plate appearances), but he started to get more and playing time as the weather warmed up in May. He had five hits (including two doubles) in his first three starts of the season, but he carried a weak .214/.254/.339 batting line into mid-June, though that covered just 61 plate appearances.
Nunez became a pretty important piece of the Yankees' puzzle in mid-June, after a calf injury shelved Derek Jeter for more than three weeks. The backup infielder had two hits in each of his first two games as the starting shortstop, and he ended up hitting a robust .339/.381/.525 in 65 plate appearances as the Cap'n's replacement. When Alex Rodriguez hit the shelf with a knee injury before the All-Star break, Nunez was again pressed into everyday duty, this time at third base. He hit .252/.310/.336 in 117 plate appearances while filling in for A-Rod.
All told, Nunez hit .265/.313/.385 in 338 plate appearances, swatting five homers and stealing 22 bases in 28 tries (78.6% success rate). That's pretty much what you expect from a utility infielder. His defense was atrocious however, specifically his long-time problem with making the throw to first base (from short or third). He committed 20 errors (almost all throwing) in 789.2 defensive innings, which projects to about 37 errors over a full 162-game season. Nunez had his moments, and I figure he was the Yankees' best backup infielder in quite some time.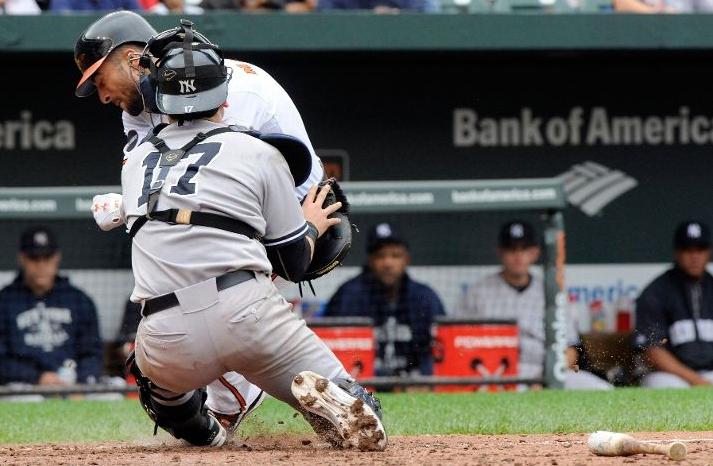 Frankie Cervelli
Reportedly, the Yankees were holding an open competition for the backup catcher's job in Spring Training, though it stood to reason that Cervelli had a leg up over Jesus Montero, Austin Romine, and Gus Molina just because he was the incumbent. A broken foot (suffered on a foul ball) delayed the start of his season by a month, but he came back with a bang. In his third game of the season (May 8th), Cervelli swatted a grand slam to dead center off Cody Eppley to turn a 6-5 game into a 10-5 game, helping put an end to an ugly four-losses-in-five-games stretch.
Cervelli played pretty regularly as CC Sabathia's personal catcher throughout the summer, and carried a .274/.333/.340 batting line into a late-August series against the Red Sox. After hitting just two homeruns in the first 541 plate appearances of his big league career, Frankie went on a tear and clubbed three homers in the span of eight days as August turned into September. I also remember one ball that looked like a no-doubter off the bat, but was caught at the wall after being knocked down by the rain and wind in that ugly, rainy 11pm ET start game against the Orioles. No idea where it came from, but Frankie was showing some serious pop late in the summer.
Unfortunately, a concussion ended Cervelli's season in early-September. He was involved in two collisions at the plate on September 8th, giving him his third concussion in the last four seasons. That forced Romine into backup catcher duty, and makes Cervelli a bit of a question mark going into next season. Concussions are nothing to sneeze at, especially several of them in a relatively short period of time. The late power surge raised Frankie's season batting line to .266/.324/.395 with four homers in 137 plate appearances.
Boone Logan
The Pedro Feliciano signing managed to turn into a disaster before Opening Day, which meant Logan was the team's sole left-handed reliever for the majority in the season. He struggled early in the year, carrying a 5.40 ERA into mid-May. Even worse, lefties were hitting .364/.440/.591 with more walks (three) than strikeouts (two) in their first 26 plate appearances against him. Logan received some advice from A-Rod during an interleague series in mid-June, at which point same-side batters were still hitting .300/.391/.425 off him.
The pep talk marked a bit of a turn around for Boone, who held lefties to a .234/.286/.484 batting line the rest of the way. He did a much better job of getting them out, but he was giving up far too many extra-base hits. After surrendering just one extra-base hit (a triple) to lefties in 2010, he gave up 12 in 2011 (seven doubles, one triple, four homers). That's the same number of extra-base hits they had off Sabathia, who faced more than twice as many left-handed batters. All told, Logan finished the season with a solid 3.46 ERA (9.9 K and 2.2 BB/9), but lefty specialists don't get judged by overall numbers. Left-handers hit .260/.328/.462 in 118 plate appearances against Boone this season, and that's simply not good enough for the primary lefty on a contending team.