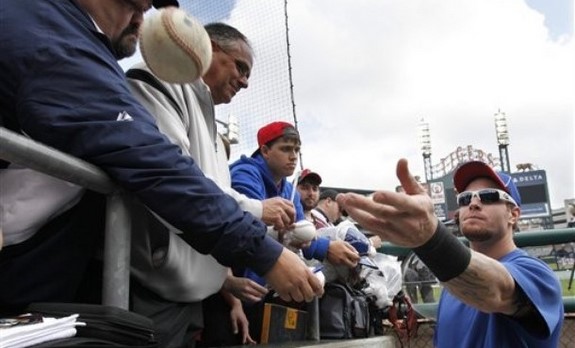 Mike asks: What kind of contract Josh Hamilton could get when he's a free agent next year?
I wrote about Hamilton last year right around the holidays, so this is a good chance to go back for an update. The now 30-year-old outfielder followed up his 2010 MVP campaign by having the second worst year of his career, at least offensively. That's relative to his lofty standards of course, because in no world is a .371 wOBA and a 129 wRC+ bad. He hit .290+ with 30+ doubles and 25+ homers for the third time in four years, and continues to be rated as a strong outfield defender by the advanced metrics.
The other thing Hamilton did in 2011 was get hurt, yet again. He missed more than a month early in the season after breaking his arm sliding into home plate, and he played through a sports hernia in the playoffs before having surgery after the season. Hamilton has been on the DL five times since resurfacing in 2007, including at least once in each of the last three seasons. Ailments include gasteroenteritis (2007), a wrist sprain (2007), fractured ribs (2009), a sports hernia (2009), more fractured ribs (2010), and then the broken arm and second sports hernia this year. He's also been day-to-day with various leg problems (hamstring, knee, Achilles) about a dozen times since coming back into the league. Only once in his five-year career has he managed to play more than 135 games in a season, only twice more than 125 games.
Hamilton's past is well known, and it's fair to question how he'll age after all he's put his body through. This isn't just an injury prone player now on the wrong side of 30, it's an injury prone player with years of drug and alcohol abuse taking a toll on his body now on the wrong side of 30. The risk level is astronomical. Hamilton's a great, great player on both sides of the ball, but he's unable to maximize his talent because he can't stay on the field all season. I know his left-handed pop would look great in Yankee Stadium, but signing a player like this would be a classic old Yankees move, if you catch my drift. Anyway, that wasn't the question.
I think a nine-figure contract is out of the question for Hamilton next winter, even though his raw production probably warrants a payday like that. The Jayson Werth (seven years, $126M) and Carl Crawford (seven years, $142M) contracts seem excessive, but the Josh Willingham (three years, $27M) and Michael Cuddyer (three years, $31.5M) contracts seem too light. Perhaps the Jason Bay (four years, $66M) and Torii Hunter (five years, $90M) deals serve as a decent middle ground, four or five years and something like $16-18M per season. Sounds somewhat reasonable, no?
I don't know what the Yankees are going to do in right field after next season, when Nick Swisher becomes a free agent with no obvious in-house candidate to replace him, but I sure hope Hamilton isn't on the short list of solutions. Him and Andre Ethier, who will also be a free agent, are two guys I'm very much against signing. I'm sure the Yankees can fashion a platoon that's as reasonably productive as those two guys over 162 games for a third of the cost on a one-year commitment. Hamilton's a great hitter, but it's a safe bet that his best years will be behind when by the time he hits the open market next winter. You don't want to be the one on the hook when his body finally goes overboard and completely breaks down.