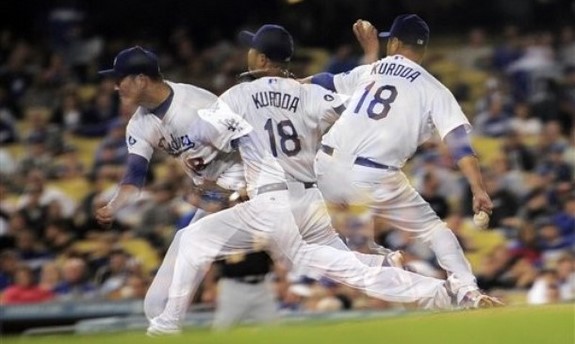 The name Hiroki Kuroda is no stranger to these webpages. We spent quite a bit of time talking about him at the trade deadline a few months ago, but the Yankees have liked him long before that. They had interest in him when he hit trade waivers in August of 2010, then again after the season as a Cliff Lee backup plan. Kuroda agreed to re-sign with the Dodgers during the exclusive negotiating window, so he never actually hit the open market last winter.
This offseason, Kuroda is absolutely on the market. Despite his well-known affinity for Los Angeles, but the Dodgers opted to spread the wealth around and sign Juan Rivera, Mark Ellis, Adam Kennedy, Matt Treanor, and Chris Capuano rather than bring back their veteran right-hander. Kuroda is now a man without a home, though he is not a man without options. The Hiroshima Carp — his employer from 1997-2006 — have a standing offer on the table, and in a weak pitching market, big league clubs figure to line up with offers as well.
Ken Rosenthal reported over the weekend that Kuroda is willing to sign pretty much anywhere after the Capuano deal effectively ended his tenure in Chavez Ravine. He's looking for $12-13M per year according to Buster Olney, which is essentially what he's made in each of the last three seasons. When Edwin Jackson and Mark Buehrle are two of the three best pitchers on the free agent market, yeah, Kuroda starts to look real good at the price. Since he's 36 years old (37 in February), it won't have to be a long-term deal either, so that makes him even more desirable.
I broke down Kuroda's game at the deadline, so there's no sense in repeating it all again. Just click the link for a refresher. I will add one thing though; after posting a 50.7% ground ball rate from 2008-2010, Kuroda got a ground ball just 43.2% of the time in 2011. As a result, his homerun rate jumped from 0.73 HR/9 (8.4% HR/FB) from 2008-2010 to 1.07 HR/9 (11.3% HR/FB) in 2011. None of his other peripheral stats changed, he didn't lose any velocity, didn't drastically change his pitch usage … the number of fly balls just spiked. That can be a bit scary when you're talking about a pitcher this age, especially one who had the comfort of pitching in the pitchers' park in a pitchers' league.
Ultimately, I think it's going to come down to someone offering him a two-year deal. I'm certain there will be a ton of one-year offers out there, so it'll probably be that guaranteed second year that puts someone over the top. The Red Sox had interest in Kuroda at the deadline and have again have interest in him this offseason, but apparently they'll have to move some payroll around to make it work. Perhaps Bobby Valentine's history in Japan will give them a leg up, who knows. The Rockies, Angels, and Diamondbacks have all expressed interest in Kuroda this winter, and those last two clubs are pretty damn close to Los Angeles.
We know the Yankees already have a lot of money tied up in their roster and aim to trim their 2014 payroll for luxury tax purposes, but it would be very tough for them to find another pitcher of Kuroda's caliber on a short-term deal. I don't love the idea of a two-year pact, not with the significant decrease in ground balls, but two years for Kuroda sounds a whole lot better than three years for Buehrle, four-plus years for either Jackson or C.J. Wilson, or a prospect package for one year of John Danks.