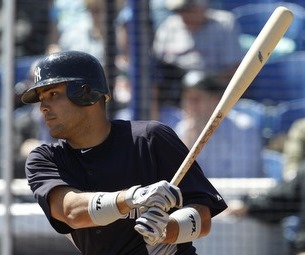 Comparisons have been a part of baseball since long before the internet showed up and made everyone an expert. Players are routinely compared to one another, and this happens with prospects more than anyone else. Fans like to see comps because they want to know how good their favorite minor leaguers will be in the future, but comps often distort the truth more than anything. I used to think Austin Jackson had some Mike Cameron in him, but holy crap was I wrong with that one. Cameron hit 28 homers in Double-A one year, which is two fewer than Jackson hit in his entire minor league career. Comps need to go more than position and skin deep, if you catch my drift.
The most common comps you'll see are the lazy ones, like my Jackson-Cameron laugher. Lefties from New England get dubbed a Tom Glavine type, soft-tossing righties are the next Greg Maddux, short-ish players that lack tools but play hard are a David Eckstein clone, so on and so forth. Some comps are forced, meaning the two players have one or two things in common — one of them is almost always appearance — but nothing else. I gave up on comps a while ago because ultimately it's a disservice to both fans and the players, as we end up disappointed when Jesus Montero turns into a really good player but not the historically great Miguel Cabrera.
That said, comps are unavoidable and we see them every day. The Yankees top three prospects have each had a comp tag applied in recent years that's stuck around, but none of the three are all that accurate. The players may look the same, but that's not enough to make a comparison valid in my opinion. Let's dig in…
Jesus Montero
Comp: Carlos Lee
Why It Fits: Handedness and body type
Why It Doesn't: The big thing here is that Lee is a dead pull hitter, with just 16.0% of his career balls in play going to right field. Here's his spray chart from the last three seasons (via Texas Leaguers), which really drives home the point. Montero, as you know, is more of an opposite field hitter. Lee also walked (5.3%) and struck out (11.0%) less in the minors that Montero has (7.8 BB% and 16.5 K%). It would be a success if Montero winds up having a career as long (13 seasons) and productive (.355 wOBA and 114 wRC+) as Lee has, but they'd go about it in very different ways.
Manny Banuelos
Comp: Johan Santana
Why It Fits: Smallish lefties, best pitch is changeup
Why It Doesn't: Banuelos is primarily a fastball-changeup guy like Johan was once upon a time, but his third pitch is a curveball while Santana's was a slider. Sliders are more effective against same side hitters while curves are a bit more universal, typically used against both righties and lefties regardless of the pitcher's handedness. Secondly, Banuelos' changeup isn't as good as Johan's. It just isn't. Santana's changeup is one of the best ever, and it's a stretch to use that as a basis of comparison for anyone.
Dellin Betances
Comp: Daniel Cabrera
Why It Fits: Super-tall hard throwers with big stuff and walk problems
Why It Doesn't: This comp is the most accurate of the three in this post, but again we're talking about a slider pitcher (Cabrera) versus a curveball pitcher (Betances). Unlike Banuelos and Johan, that is their second pitch, not third. Cabrera was also injury-free in the minors, which Dellin most certainly hasn't been. There's also the makeup issue, as Cabrera was a notorious hot-head that had run-ins with coaches and teammates and intentionally threw at batters when things didn't go his way. Betances has never had that problem, not that we know of anyway.
* * *
Maybe I'm just being nitpicky, but I feel comps should go a little deeper than typically do. In case you haven't noticed, no one has ever become the next anyone. Every player is unique and they should be treated as such.