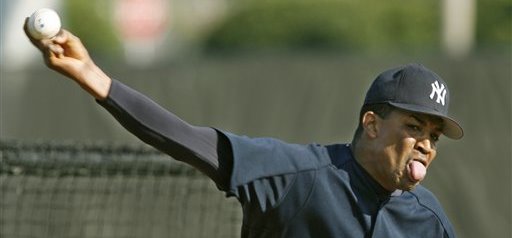 The mid-aughts' bullpens featured a lot of turnover, much more than we've seen out of the Yankees in recent years. Part of it had to do with Joe Torre, destroyer of arms, and part of it had to do with those pitchers not being very good in the first place. In an effort to beef up the relief corps, the Yankees signed Octavio Dotel to a one-year deal worth $2M with another $5.75M in incentives on this date in 2006. The only problem: Dotel was rehabbing from Tommy John surgery.
Obviously the Yankees knew that, but he was expected back by June, maybe even sooner since he was a reliever. Dotel was an established, close to elite reliever at the time, so they gambled that he'd strengthen their bullpen for the stretch drive. Things didn't go as planned, starting with a minor setback that delayed the then-32-year-old's return until mid-August. Once he did return, Dotel was pretty terrible, putting 29 men on base in ten innings, which led to 13 runs. Good idea, but it just didn't work out.
I think we all suggest moves like that every offseason, the ol' roll the dice on an injured star move. We heard quite a bit about Grady Sizemore this winter, and Rich Harden's name always pops up from time to time. Chien-Ming Wang was another popular one both this offseason and last. Those moves don't work out most of the time, though every once in a while they'll turn into a Bartolo Colon circa 2011 and make it all worth it.
* * *
Here is your open thread for the night. The Devils, Knicks, and Nets are all playings, though Time Warner customers are still without MSG because of the Dolans. I'm still paying for it, of course. Anyway, talk about whatever you want here. It's all fair game.