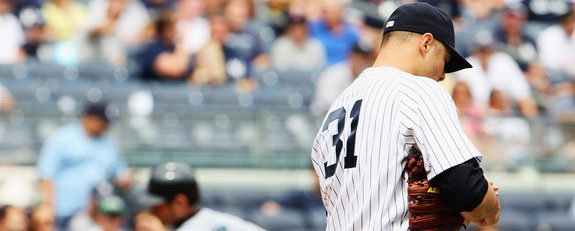 TYA/Yankeeist readers may recall a semi-regular offseason feature I always greatly enjoyed doing, "Bizarre Moves from Seasons Past," in which I'd examine a particular move or non-move the Yankees made and try to make sense of why they opted to go the way they did. For your reading enjoyment, here's the full roster of previous "Bizarre Moves" posts:
I'd been racking my brain for some new entries in this series, but kept coming up blank until it finally hit me why: Brian Cashman and the Yankees haven't really made any so-called "Bizarre" moves during the last few seasons. I won't go so far as to say the transaction record has been flawless, but, for the most part, the trades, free agent signings and non-moves made by Cash since the 2008-2009 offseason have been understandable/defensible. Sure, we can all decry the A.J. Burnett contract now — and it certainly had its detractors back when it was signed — but the 2009 Yankees needed pitching, and though it may have been an overpay, Burnett filled an important need on the team that season.
Off the top of my head, the only flat-out terrible moves made by Cash — and here I'm defining flat-out terrible as "completely obvious to the entire world that they wouldn't work out" — during the last couple of years were the additions of Randy Winn and Chan Ho Park. And even though they were pointless signings, it's still hard to kill Cash for trying to bolster the bullpen and bench on the relatively cheap. I think we can all agree that nothing better underscores Cash's restraint than his (non)activities during the previous calendar year (save Pedro Feliciano), which include remaining calm in the face of growing unrest regarding the pitching staff last January, and passing on unrealistic trades for questionable pitchers at last July's trade deadline.
However, as quiet as Cash has been, we also know he won't hesitate to pull the trigger on a deal when he thinks he's found a good one. Being that the Javier Vazquez/Boone Logan for Melky Cabrera/Arodys Vizcaino/Mike Dunn deal was the last blockbuster trade Cash orchestrated, I thought I'd take a look back at it from RAB's "Past Trade Review" perspective, as it really doesn't fall under the "Bizarre Moves" heading. One other note — in fairness, Mike and Joe were a bit hesitant about me reviewing this deal seeing as how the book is still out on Vizcaino, but I think we can take a look at how the trade worked out given the other players involved while keeping Vizcaino in the backs of our minds.
Anyway.
Not content to rest on the laurels of the franchise's 27th World Championship, Brian Cashman quickly went to work in the 2009-2010 offseason to bolster (stop me if you've heard this one before) the pitching staff, as the Yankees managed to win it all despite being just the second team in the last 20 years to utilize a three-man rotation throughout the entire postseason.
Noted workhorse and one-time Yankee Javier Vazquez — who Cashman had previously traded three players (Nick Johnson, Juan River, and Randy Choate) for in November 2003 following a superb season by Vazquez in which he struck out 9.4 men per nine, walked 2.2, and put up a pitcher triple slash 3.24 ERA/3.31 FIP/3.41 xFIP worth 6.0 fWAR, only to have Vazquez come apart at the seams in the second half of the 2004 season after an All-Star first half and subsequently get shipped out of town for Randy Johnson — was coming off a superb 2009 campaign with Atlanta, in which he racked up his fifth straight season of 200-plus innings (and 9th in the last 10 years), 2.87 ERA, and 9.77 K/9 and 1.81 BB/9, which led to a matching 2.77 FIP and xFIP, the latter of which led the entire National League.
With Brett Gardner showing that, at the very least, he was a reliable 4th outfielder if not outright platoon player, and the execrable Melky Cabrera coming off his 4th straight season of below-average offense (wRC+es of 98, 89, 69 and 94), the Yankees correctly made the no-brainer move of dealing from a position of strength in shipping the ever-underwhelming Cabrera to the Braves as the centerpiece of a deal that reunited Vazquez with the Yankees. Of course, Melky alone wasn't enough (1.6 fWAR in 2009) to get a player of Vazquez's caliber (fresh off a 6.5 fWAR campaign), and so the Yankees added the highly touted, right-handed, flame-throwing Arodys Vizcaino (who had just come off a 2.13 ERA/2.49 FIP season in 42.1 innings with Staten Island) and left-handed reliever Mike Dunn. The Braves also chipped in a lefty reliever of their own to complete the deal, sending Boone Logan to the Bronx.
After putting up a 4.91 ERA/4.78 FIP/4.51 xFIP in 198 innings (worth 2.2 fWAR) for the 2004 Yankees, there were high evenly tempered hopes that Home Run Javy's second tour of duty as a Yankee would turn out significantly better. Alas, it wasn't meant to be, as HRJ battled A.J. Burnett for much of the 2010 season to see who could be more historically awful. Javy wound up winning this ignominious battle with flying colors, putting up a 5.32 ERA/5.56 FIP/4.69 xFIP in 157.1 innings (worth -0.1 fWAR) and posting career-worsts in just about every major category.
However, for as wretched as Javy was in his second go-round with the Yanks, Melky was arguably even worse for the Braves, tying Carlos Lee for the least-valuable player in all of MLB in 2010. Somehow, both men found new employers for 2011 and each enjoyed an absurd amount of success relative to their 2010 failures, with Vazquez recording a 3.69/3.57/3.87 year in 192.2 innings (worth 3.2 fWAR) for the Marlins, while Melky had the year of his life in Kansas City, boasting a .305/.339/.470 slash in a season worth 4.2 fWAR. Suffice it to say, I don't think either player would ever have put those respective seasons up at any point as members of the Yankees. Melky maybe, but Vazquez pretty clearly needs the National League to be a successful pitcher. In any event, if you look at the trade primarily as a Melky-for-Javy swap, I'd still say the Yankees wound up ahead even with Javy's terrible season, as he out-fWARed Melky by 0.9.
What about the secondary components of the trade? For all the griping about Boone Logan, he's actually been pretty effective as the Yankees' sole left-handed reliever these last two seasons, putting up 0.7 combined fWAR across just over 80 innings (yes, I know fWAR is near-worthless in assessing relievers, but I'm using it anyway). Mike Dunn threw 19.1 frames for the Braves in 2010 (1.89 ERA/3.61 FIP) and walked 8.05(!) men per nine, before hooking on with the Marlins this past season and hurling 63 innings of 3.43 ERA/4.30 FIP ball, almost halving that absurd walk rate (though it still checked in at an unsightly 4.43 per nine) but not enough to provide positive value to the team (-0.1 fWAR). I'd say the Yankees got the better end of the left-handed reliever swap as well.
Unfortunately for the Yankees, while they may not regret losing Melky or Dunn, they almost certainly regret including Vizcaino — who ranked 16th on Baseball America's midseason Top 50 list this past season, and currently checks in as the Braves' second-best prospect overall on both BA's list and John Sickels', behind only Julio Teheran — in the deal, as Vizacaino rocketed through the Braves' system and reached the big league club this past August, throwing 17.1 innings of 4.67 ERA/3.54 FIP ball out of the bullpen with an 8.83 K/9. Vizcaino — still just 21 years old —  is expected to compete for a rotation spot on the staff come Spring Training. While the Yankees have their share of minor league pitching talent knocking on the door, having Vizcaino — who our own Mike Axisa would have slotted as #3 in between Manny Banuelos and Dellin Betances on his  Top 30 Yankee Prospect list — in the mix for a potential rotation spot would certainly make the team's 2012 starting rotation picture a bit less fuzzy.