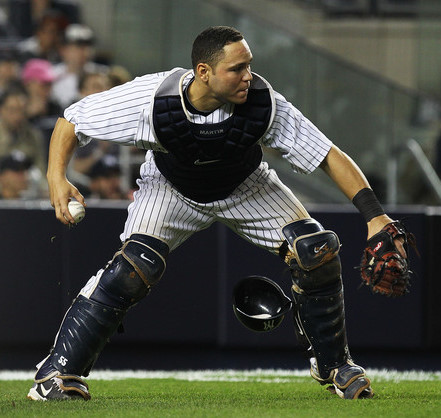 As I said on Saturday morning, the trade of Jesus Montero has some far-reaching implications for the Yankees organization. First and foremost they'll miss his offense, but he also factored into the team's long-term catching situation. Granted, very few people not employed by the Yankees actually think he can stick behind the plate long-term, but his name had to be included any time we discussed the team's future behind the plate. That has changed, obviously.
Thankfully, the catcher position is not an immediate concern. Russell Martin will be back as an arbitration-eligible player in 2012, projected to earn $6.7M by MLBTR's system before becoming a free agent after the season. He was exactly league average on offense during his first season in pinstripes (.325 wOBA and 100 wRC+), which means he was better than the average AL catcher (.307 wOBA and 91 wRC+). Defensive metrics are imperfect (especially for backstops), but he definitely helped prevent runs with his glovework. Martin will be the regular catcher in 2012, there was little doubt about that even before the trade.
I have to think Austin Romine was pretty thrilled to find out that Montero had been traded, allowing him to finally step out of his shadow and solidify his position as the team's catcher of the future, at least in theory. Even though he made his big league debut in September, Romine needs to get a couple hundred at-bats in Triple-A, which he should have received in 2011 but didn't because of Montero. He'll get those at-bats this summer while Frankie Cervelli backs up Martin, then hopefully force his way into the 2013 picture.
Further down the minor league ladder is J.R. Murphy, who made enough progress behind the plate in 2011 that staying at catcher long-term is no longer a pipe dream. Gary Sanchez is right behind him, but the reports on his defense have been pretty rough over the last year. Both guys can hit, more than Romine can, but they're also several levels away from the big leagues and we all know how much can wrong when you're talking about kids in Single-A. Both are a footnote in the team's long-term plans at the moment, so it's basically up to Romine to provide help behind the plate in the next few seasons. The only problem is that catching prospects tend to develop late, so his timetable might not line up perfectly with the team's needs.
Because of the large learning curve — a new pitching staff and new hitters to study — and the physical wear-and-tear associated with the position, it takes catchers longer to adjust to big league life than any other type of position player. The Buster Posey and Joe Mauer types that come up and provide immediate impact are the exception while Matt Wieters-like growing pains are the rule. Having a veteran caddy to ease the transition is certainly preferable to just rolling the dice and hoping for the best with the kid, especially when you're trying to contend. That veteran caddy for Romine could very well be Martin, who has expressed an interest in remaining with the Yankees beyond 2012.
"If you are asking me if I want to be here, yes, but they are in a nice position with the quality of kids they have," said Martin to George King back in September. Brian Cashman has praised his backstop since signing him last December, but also said a long-term contract "hasn't been discussed" as of a month ago. For what it's worth, Martin's agent did acknowledged that his client would consider a multi-year pact with the Yankees, and Moshe explored the merits of a such a deal earlier this offseason. In a perfect world, he'd take nothing more than two or three-year contract and help gradually usher in the Romine era, like Joe Girardi helped usher in the Jorge Posada era a generation ago.
The Yankees have a long tradition of great hitting catchers, but Montero won't be around to carry the torch. Murphy and Sanchez might be able to fill that role down the road, but we're several years away from that. Romine won't have that kind of offensive impact, but he has the tools to be a sound defensive backstop while being a non-zero with the stick in the future. That's a valuable player — especially at or near the league minimum — but the Yankees are going to have to make sure he's given adequate support. Martin on a medium-term contract extension makes some sense, but if he's not open to it, it would behoove the team to find a veteran backstop to ease their young catcher into the lineup.