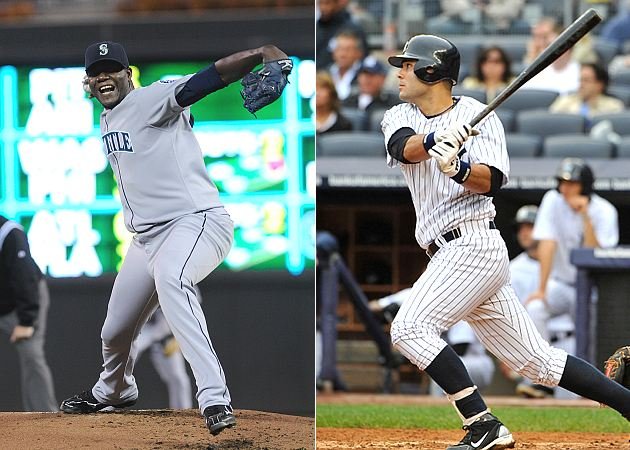 Like some of you (and some of us here at RAB), my head is still swirling from last Friday's trade escapades. Cashman, in vintage ninja-like fashion, redefined the Yankees landscape in what seemed like a matter of hours when he elected to ship Jesus Montero and Hector Noesi off to Seattle in return for Michael Pineda and Jose Campos.  Not only could the trade drastically influence the 2012 season, but it may reverberate for years to come on a number of different levels.
Frankly, I have not completely sorted out my thoughts on the trade yet; although, my initial response was some combination of bewilderment and panic. On the surface, the deal seems to make a great deal of sense for both teams though – the Mariners obtained a potential middle-of-the-lineup threat to aid their otherwise meager offense, while the Yankees theoretically acquired another potent arm to complement a rotation comprised of CC Sabathia and a bunch of question marks. Incidentally, both organizations received players that are very young and cost-controlled to boot.
While Hector Noesi and Jose Campos are certainly not the feature pieces of the deal, both offer some honest upside as well. Noesi will probably slot into the Mariners rotation and should deliver some decent production, especially in spacious Safeco Field. Similarly, Campos, a 19-year-old right-handed pitcher with a dazzling fastball, will likely qualify as a top ten prospect within the Yankees organization upon arrival. High-end bullpen pitching depth is never a bad thing, right?
Yet, general consensus here in Yankeeland seems to be that the deal was "good but not great" despite the fact that it clearly addressed some of the franchise's obvious concerns. Some of the luster of the move was certainly dulled by the fact that we, as fans, have been captivated by Montero for quite some time now. He was supposed to be the next homegrown superstar after all, who would grow up donning pinstripes and ultimately retire to the Hall of Fame as a True Yankee™.  So as great as Pineda could potentially be, the loss of Montero is still bittersweet.
As if sentiments weren't hazy enough already, Brian Cashman did his part to complicate the discussion further as he went on the record stating, "I gave up a ton [for Pineda]. To me, Montero is Mike Piazza. He's Miguel Cabrera."  Assuming for a moment that Montero does have that kind of ceiling at the MLB level (and boy that is a lofty assumption), what's that worth to a team exactly?  I suppose it depends on the team's needs first and foremost.  For what it's worth, WAR tells us that Miggy has been been an outstanding player (only once in the past seven seasons has he delivered a fWAR value below five).   There's only a handful of players in all of baseball who can deliver similar production consistently.
Even if Montero was relegated to designated hitter role early on in his career, at that level of production, he'd still contribute some serious value going forward. Consider David Ortiz; in 2011, he was valued at 4.2 WAR according to FanGraphs.  Also keep in mind that in 2011, there were only 24 pitchers total who could claim a WAR above four, and only 16 topped five.  Last season, Cabrera eclipsed the seven fWAR plateau —  a feat only pitchers Roy Halladay, CC Sabathia, and Justin Verlander could claim.  So in the spirit of gross over-simplification, our hearts and eyes told us Montero carried huge clout, a point which Cashman reiterated right after trading him to the Mariners for some kid not named Felix.
Now, I generally tend to value very good pitching beyond very good hitting simply because of supply and demand, a philosophy which makes it easier for me to accept Cashman's decision to pull the trigger (not that he needs my official endorsement). However, I also contend that elite talent (regardless of the role) should hold trump. The reason why elite talent is so tantalizing is because, by very definition, it's a rarity.  If Cashman was serious about Montero becoming a generational talent, I sure hope he has similar aplomb in Pineda's future as well.  Trading future Miguel Cabrera away for, say, Ricky Romero just doesn't satisfy me.*
Realistically speaking, at this point, Montero's a highly touted prospect who is still in the process of transitioning into the bigs. Although he had an exciting September, it's probably unfair to label him the next big deal until he showcases some consistency. As for Pineda, his strengths are obvious but he's also not without his flaws. We've all heard by now about his gaudy strikeout ratio.  We've also heard about his fly ball tendencies and the changeup that needs to develop. Nevertheless, he is definitely a very talented kid, and the Yankees were not likely to obtain that caliber of a player without giving up something comparable in return. Considering the value of other young cost-controlled quality arms, it would appear Cashman gave up a reasonable amount relative to the haul.
Cashman said that the trade will likely be a bust for the Yankees if Pineda doesn't develop a viable changeup and become a number one starter. Those are some hefty expectations (that we all probably feel in the pit of our stomach to some extent or another). Then again, I'm sure Seattle is saying the same thing. Montero needs to live up to the hype in order to justify the loss of a pitcher who could become a bonafide ace; moreover, he'll likely need to do it behind the plate for some folks to be truly content.  The uncertainty is the rub.  It's the reason I flinched at the trade initially, and it's also the reason I completely support the reasoning behind it now.
I know I wasn't alone in wondering whether the Yanks could have had the proverbial cake and been able to eat it too. It's plausible that the Yankees would still be dubbed the AL East favorite at this juncture if they had just signed Hiroki Kuroda and not made the trade additionally. Although the rotation would not have been as appealing in 2012 without Pineda's services, perhaps the differential in run support would have made up for it.  I think we were all prepared to face that reality with open arms.
In the long run, hopefully we'll wind up thanking Cashman for his foresight. Unfortunately, because baseball isn't played in a vacuum, such hypotheticals are not only abstract but at times haunting. Only Cashman truly knows the true game plan, and he gets to make the tough decisions while only we get the benefit of being able to scrutinize his moves without the torments of accountability.
In any event, the wheels are in motion and there is no real option other than to embrace the future. Hopefully, the team does not lose interest in some of the other quality arms on the free agent market come next season **. There's nothing more we can do but wait and see how this will pan out for the Yankees. For now, I'll trust in Cashman's judgment with optimism, say a fond farewell to the superstar-in-the-making we barely knew, and welcome with open arms the future face of the rotation.
* Please know that I'm not comparing Michael Pineda to Ricky Romero here.  The example was simply the first name that popped into mind for the sake of discussion.
** Just for the record, I do not expect the Yankees to skip out on elite pitchers next offseason should they be made available.
*** Apologies for my hiatus the past two months. Between work and wedding planning, my life has been rather chaotic. That said, I hope to regain normalcy in my daily routine soon and get back to posting at my typical frequency.  Cheers!