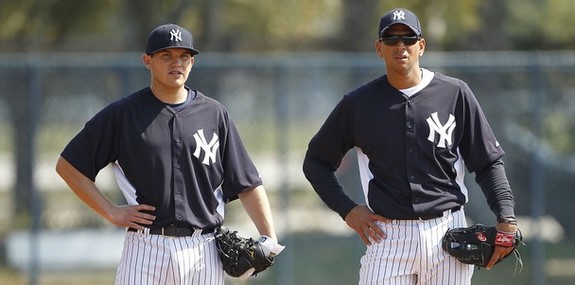 Being an infield prospect in the upper levels of the Yankees' farm system is a tough life these days. You know you're not going to take a job from Alex Rodriguez, Derek Jeter, Robinson Cano, or Mark Teixeira, so the only way you're going to make the show is as an injury replacement, a bench piece, or through a trade. Eduardo Nunez has handled the bench player thing reasonably well, but he has the advantage of being a middle infielder. Corner guys like Brandon Laird aren't so lucky.
The 24-year-old Laird briefly made his big league debut last July before getting an extended stay in September, reaching base seven times (four singles and three walks) in 25 plate appearances. He had a disappointing year with Triple-A Scranton, producing just a .310 wOBA and 16 homers in 489 plate appearances after winning the Double-A Eastern League MVP Award in 2010 (.383 wOBA and 23 homers in 454 plate appearances). Right-handed power (career .189 ISO in the minors) is his offensive calling card, not patience (6.4 BB%). Unless he stops chasing pitcher's pitches, he'll have a hard time tapping into that power at the big league level.
Defensively, Laird has made huge strides since being drafted and is considered a third baseman for the long-term. He's also played plenty of first base, and the Yankees have had him give left field a try over the last 18 months or so. The increased versatility helps his cause, because like I said, serving as a bench player is one of the few ways he'll be able to crack the big league roster in the foreseeable future. With Bill Hall signed and Eric Chavez potentially on his way back, the Yankees don't have any room for Laird at the moment. That's not necessarily a bad thing, he could use some more regular playing time at Triple-A to work on his selectivity.
The Yankees lack impact position player prospects at the Double and Triple-A level, but they do have a fair amount of infield depth with Laird, Ramiro Pena, Corban Joseph, David Adams, and minor league signing Jayson Nix. They have options if someone gets hurt at the big league level, and alternatives if they choose to trade Laird. He's a lesser version of Kevin Kouzmanoff, or at least the Kevin Kouzmanoff that came up through the Indians system a half-decade ago. The Tribe traded that Kouzmanoff with a handful of MLB at-bats to his credit because he was blocked at third by Casey Blake, receiving another blocked prospect in return (Josh Barfield, Jesse's son).
Given Alex Rodriguez's increasingly problematic lack of durability, it certainly makes sense for the Yankees to keep Laird around as insurance. Unlike the Penas and CoJos and Nixes of the world, he can at least hit for some power. Pulling the trigger on a blocked prospect-for-blocked prospect trade isn't a terrible idea either, but those deals aren't exactly easy to come by. Good luck finding a club in need of a third baseman with an outfielder to spare. Laird is stuck in a weird spot because of the players ahead of him on the depth chart, but he's got a few years to go before having to worry about Dante Bichette Jr. or Tyler Austin coming up behind him.