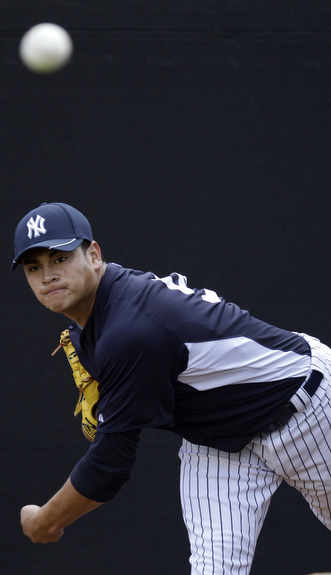 Spring prospect season is in full swing, starting yesterday with Keith Law's organizational rankings. It continued today with his list of the game's top 100 prospects (1-25, 26-50, 51-75, 76-100) and top ten prospects by team (all Insider req'd). The Yankees placed four in the top 100, which was unsurprisingly topped by Mike Trout, Bryce Harper, and Matt Moore. Manny Banuelos checks in at #23 (down from #12 last year), Mason Williams at #34, Gary Sanchez at #55, and Dellin Betances at #83. Jesus Montero is ranked ninth, one spot ahead of another old pal, Gerrit Cole.
"When he's right, he'll show an above-average fastball at 90-94 mph (but was a tick below that in 2011), an above-average to plus changeup and a solid-average curveball with good two-plane break," said KLaw about Banuelos, while noting that his trademark command was off last season. "Everything still points to Banuelos commanding the ball in the long term as he did before 2011, and much of the disappointment in his season is a function of our high expectations for him. He still projects as a solid No. 2, assuming his previous level of command returns."
Williams' ranking was a bit surprising, but in a good way. I'm pretty sure you won't see him that high anywhere else this year. "[The] most impressive part of [Williams'] game in 2011 was the quality of his at bats, which improved over the course of the summer," said Law. "[He's] barely begun to scratch the surface of his ability." The biggest thing for Williams going forward is his size, not necessarily his tools. He just needs to bulk up and add some muscle to avoid having the bat knocked out of his hands by high-end fastballs at the upper levels.
The preseason hype machine was out of control with Sanchez last year, which is why it's easy to think he had a disappointing season with Low-A Charleston. The attitude problems were disappointing, but the power and production certainly weren't. "Sanchez's first full year in pro ball had major positives and negatives — the bat is more advanced than anyone thought, and the glove is less so," Law said. "He can really hit with present above-average power and projects to hit 30 to 35 homers a year down the road, having demonstrated a solid approach for an 18-year-old in full-season ball … He could be a star."
Last but not least is Betances, who continues to look more and more like a reliever because he hasn't improved his command at all in five years as a pro. "He'll pitch in the low 90s but runs it up to 97 mph and would likely sit 94-97, if not better, in relief," said KLaw, adding that his curveball and delivery are inconsistent. The latter contributes to his strike-throwing problem. "He's 23 now, still not very experienced, but he has size and velocity you can't teach. The lack of progress and athleticism make a bullpen role more likely than a spot in the top half of a rotation."
Those four top Law's list of the top ten Yankees prospects, followed by a surprising name at number five: Tyler Austin. There's no write-up, but I have to think he believes in the bat and thinks Austin can stay at third base long-term to warrant a ranking that high. Jose Campos, Dante Bichette Jr., Austin Romine, J.R. Murphy, and Slade Heathcott round out the top ten. Ravel Santana is a top ten guy based on talent, but I have no problem with leaving him out given that devastating ankle injury. Law also published a list of ten prospects who just missed the Top 100 (Insider req'd), but no Yankees farmhands made the list. Just as a heads up, my Top 30 Prospects List is coming out next Friday, so hooray for that.
Update: ESPN NY has the full player comments for Banuelos, Williams, Sanchez, and Betances for free, so head over there to check them out.