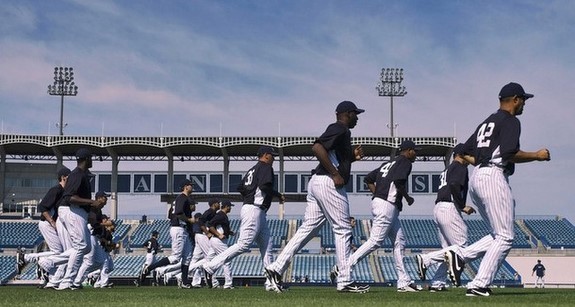 Spring Training is about more than just players getting into shape for the upcoming season, there are also roster spots up for grabs and jobs to be claimed. That isn't going to be the case in Yankees camp this spring, however. Less than three days into workouts, the club already has 24 of 25 roster spots accounted for following last night's Eric Chavez re-signing. Here, take a look…
Starting Lineup

(9)

Bench

(4)

Rotation

(5)

Bullpen

(6 of 7)
Derek Jeter
Frankie Cervelli
CC Sabathia
Mariano Rivera
Curtis Granderson
Eduardo Nunez
Hiroki Kuroda
David Robertson
Robinson Cano
Chavez
Ivan Nova
Rafael Soriano
Alex Rodriguez
Ibanez/Jones
Michael Pineda
Boone Logan
Mark Teixeira
Phil Hughes/Freddy Garcia
Cory Wade
Nick Swisher
Hughes/Garcia
Raul Ibanez/Andruw Jones
???
Russell Martin
Brett Gardner
The Hughes-Garcia battle for the fifth starter's job will end with one in the rotation and one in the bullpen, so the only serious, wide-open competition remaining is that last bullpen spot. The Yankees could go any number of ways with that spot, with plenty of candidates to serve as a second lefty (Mike O'Connor, Cesar Cabral, Clay Rapada), another multi-inning guy (D.J. Mitchell, David Phelps, Brad Meyers), or a typical one-inning reliever (George Kontos*, Matt Daley, Adam Miller, Manny Delcarmen).
* Kontos suffered an oblique injury yesterday, so he's going to be behind everyone else in this fight for the last bullpen spot.
Because both Ibanez and Chavez landed guaranteed big league contracts, there's no mystery. They're going to make the club barring injury, so Russell Branyan and Bill Hall are nothing more than insurance policies. The same can be said of Justin Maxwell and Chris Dickerson, who are both out of minor league options and must first clear waivers before being sent down. The former might clear, but the latter will definitely get claimed as a left-handed hitting fourth outfield type with speed and defense. Some team (likely in the NL) will find a use for Dickerson. Brandon Laird, Ramiro Pena, et al are headed back to Triple-A to open the season.
I don't think having close to the entire roster already set is much of a problem, though I would have preferred to see both Ibanez and Chavez get minor league contracts and compete for their roster spots in Spring Training. Even a fake competition would have been fine, you want guys to push each other. Competition is a healthy thing. That's not the case though, and the Yankees will go through camp trying to sort out their last bullpen spot and figure out who will be the fifth starter. All the other questions have already been answered.