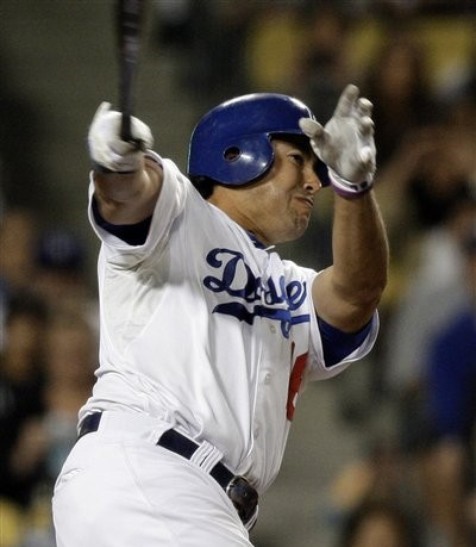 A few weeks ago, Brian Cashman indicated that trading for a DH-type bat was preferable to signing a free agent, though there aren't many of those guys out there to be had right now. We've talked about Jason Bay, Garrett Jones, Nolan Reimond, Lucas Duda, David Wright, Kyle Blanks, and Brandon Allen among others but one guy we haven't discussed is Andre Ethier of the Dodgers. That's mostly because the soon-to-be 30-year-old Dodgers star isn't actually on the market, though that's never stopped us before.
Jim Bowden kinda got the ball rolling with this ESPN piece (Insider req'd) earlier this week, suggesting the Yankees trade Dellin Betances and Austin Romine to Los Angeles for Ethier. I've been pretty hard on the Dodgers' right fielder in our weekly chats over the last year or so, but mostly because he's not much of an outfielder and not the upgrade over Nick Swisher the MSM would lead you to believe. As far as the DH spot goes though, he's nearly a perfect fit.
The Yankees are looking for a left-handed bat to platoon with Andruw Jones, and the 30-year-old Ethier is very much qualified for the job. He's hit .313/.398/.537 against pitchers of the opposite hand over the last three years, a 151 wRC+ that is the eighth best in baseball during that time. Ethier is miserable against lefties — .215/.279/.329 and a 65 wRC+ over the last three years, fourth worst in baseball — but the Yankees wouldn't be asking him to stand in against southpaws. That will be up to Andruw on most days. Yankee Stadium will help him out a bit more than Dodger Stadium, though he would have to adjust to a new league and new pitchers.
Ethier doesn't do anything other than hit righties, which is why he should be considered nothing more than a DH candidate. His defensive numbers — -24.6 UZR, -11 DRS, -21.8 TZ, and -9.3 FRAA — rate him as one of the five or so worst outfielders in the game over the last three seasons, grouping him in with Raul Ibanez, Delmon Young, and Ryan Braun. So yeah, it's bad. Ethier also has knee problems, having surgery in September to remove loose bodies and repair cartilage in his right knee. Getting him out of the outfield should help with that, in theory. He doesn't steal bases or take the extra base very often either. Ethier is what he is, and that's a righty mashing DH-type. There's nothing wrong with that at all, he'd fit right into this Yankees lineup.
The problem is that the cost to acquire him is probably very high right now. The season hasn't started yet, and the Dodgers didn't spend over $44M on free agents this winter to sell off their third best player before pitchers and catchers report. He's also slated to make close to $11M in 2012, which is about six times what the Yankees have said they have to spend on a DH. I'm looking at Ethier more as a trade deadline target, once the Dodgers fall out of the race and the Yankees have had a chance to evaluate their in-house options. I don't know what the cost would be, but I have to imagine there will be competition for his services (the Red Sox, Rangers, Braves, and Nationals could all use a corner outfielder). This doesn't figure to be a salary dump situation.
Ethier isn't the kind of guy you lock into a multi-year contract when he hits free agency after the season, but he's a damn fine rental player. The Yankees have the prospects to get a deal done — Bowden's suggested proposal isn't insane, but the Yankees need the catching depth and I'd hold onto Romine — and figure to have the need come late-July, so there's a natural fit here. They can get some extra input on his personality and makeup from former teammates Russell Martin and Hiroki Kuroda, and then make a decision based on their needs and the cost. A doubt a trade will happen anytime soon, but expect to see the Yankees connected to Ethier quite a bit this summer if they can't solve their DH issue on the cheap.