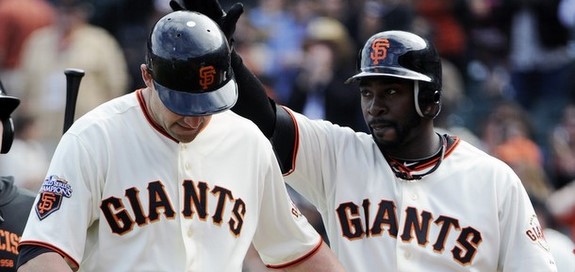 The Yankees have signed utility man Bill Hall according to utility man Bill Hall. We first heard rumblings that the two sides were talking last week. Erik Boland confirmed that it's a minor league contract with an invite to Spring Training. Ken Rosenthal says Hall will get a $600k base salary if he makes the team with another $50k each for 100, 150, 200 and 250 plate appearances plus another $100k each for 300, 350, 400, and 450 plate appearances. That's a total of $600k in incentives. He can opt out of his contract if he's not on the big league roster by April 4th, two days before the start of the season.
Hall, 32, is supposedly a close friend of CC Sabathia's from their time together on the Brewers. He was atrocious for the Astros and Giants last season, like .252 wOBA with a 31.7% strikeout rate in 199 plate appearances atrocious, but Hall did club 18 homers with a .342 wOBA in nearly 400 plate appearances for the Red Sox as recently as 2010. He does have some power (career .188 ISO) and is very versatile, having played over 200 career games at second, third, and short while also seeing considerable time in all three outfield spots. The defensive numbers are mixed, however.
The Yankees have been connected to Hall in each of the last three or four offseason it seems, so Brian Cashman finally got his guy. The signing doesn't impact the team's pursuit of a left-handed DH-type. Last night we heard that the Yankees were in serious talks with Raul Ibanez, and that a deal with a DH-type could be wrapped up this week. Don't be surprised if the Yankees bring in another player or two to compete with Hall for a bench spot either.