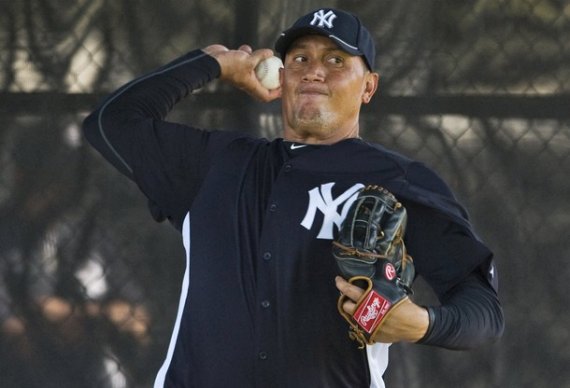 When we talk about bullpens, we're usually speaking of the closer and his one or two primary setup men. Rarely do we have time to dive into the guys who bridge that gap between the starters and the setup men. That's largely because we expect the starters to bridge their own gaps. But it's also because these middle relievers just aren't cut from the same cloth as their late-inning counterparts. Still, they can prove valuable, or detrimental, during the course of the season.
In the past few years the Yankees have built up their bullpen. That includes not only their setup men, but their middle relief corps. This year they could have an especially strong crew, thanks, in large part, to their fifth starter competition.
The Long Man
The Yankees will choose the winner of the fifth starter competition by the end of spring training, but that doesn't mean the competition will cease. The loser will head to the bullpen and take on the role of long reliever. The best chance for him to get innings will come when a starter gets knocked out of a game early. Who is the most likely Yankees starter to get knocked out early? Chances are, it will be the winner of the fifth starter competition.
A long reliever can be more than a mop-up man early in the season. Managers tend to go easier on their starters in April, often lifting them after the sixth inning. Last April that happened all too often. It led to an incredible burden on the bullpen. With the long man this year the Yankees can ease that burden. That's not only because they'll have a bonafide multi-inning reliever in the pen, but that reliever will actually be good (unlike most long man/mop-up men).
Sure, the starter's role will be more important in both the short and the long terms. But if the long man can go two innings twice in a single rotation turn, he can provide plenty of value. That will help the Yankees bridge the gap between the starter and the endgame. The longman can also, in some instances, finish off the game. In games where the Yankees are losing, or are winning by four or more (since Girardi plays it by the save rule), the long man can pitch those final three innings, giving the rest of the bullpen the day off.
The only question is of whether Girardi will choose to deploy his long reliever in this manner. If he saves the long man for failed starter situations, it seems like a wasted bullpen spot.
Cory Wade
It might have seemed as though Cory Wade came out of nowhere last year, but he had previously experienced success in the majors. Unfortunately, he followed his successful 2008 season — 2.27 ERA, 3.78 FIP in 71.1 innings — with an ineffective and injury riddled 2009. Those two factors kept him in the minors for all of 2010, after which he became a six-year minor league free agent.
Here's the kicker, though: the Rays signed him to a minor league contract, which included a mid-June opt-out date. He pitched exceedingly well for their AAA affiliate, a 1.23 ERA and 3.34 FIP, but they declined to promote him. The Yankees snatched him up after the opt-out date, and, well, we can all remember the rest.
Wade will essentially act as the bridge to the bridge to Mariano this year. He's not a knockout reliever, in that he won't come in when the Yanks need a strikeout. But he can come in to plenty of situations and challenge hitters. That might be his greatest virtue, in fact. Throughout his career Wade has sported a low walk rate; last year it was 1.82 per nine innings for the Yankees. That is, he doesn't work himself into trouble too often. That's a valuable, and uncommon, trait for a middle innings reliever.
Boone Logan
For a guy who throws about 40 innings per season, Logan is quite the polarizing character. Some fans loathe his every appearance. Others take him for what he is, which is a situational lefty. Or, at least, that's what he had been prior to 2011. Something changed with Logan last year. In 2010 he was quite effective against lefties, hitting them with a fastball-slider combination that resulted in plenty of whiffs. But in 2011 he saw fewer whiffs on his slider from lefties. Instead it was righties who were swinging and missing when he did go to the slider.
It's one thing to note that Logan performed better against righties than he did lefties last season. It's quite another to think that this is a repeatable trend. After all, it happened over the course of one season, in which time Logan faced just 185 batters. Additionally, the entire performance difference comes from home runs: he allowed four against lefties and zero against righties. At the same time, he struck out far, far more lefties and walked far fewer. That is to say, Logan is still pretty much a situational lefty.
If, by some stroke of luck, he can continue inducing righties to swing through his slider, he could become more of a bridge piece. He won't take late inning situations away from David Robertson or Rafael Soriano, but he could toss a sixth inning here and a seventh inning there. Chances are, however, that he'll continue being the pitcher he's been his entire career: effective enough against lefties, perhaps enough so that you'd intentionally walk a righty between two of them.
The last spot
If we play with the safe assumption that the Yankees will, as they have in the past, carry 12 pitchers, there is but one bullpen spot remaining. This morning Mike examined one candidate, Clay Rapada. Given the Yankees' follies in finding that elusive second lefty in the pen, Rapada's chances probably get a slight boost. There's also Cesar Cabral, who could have a leg up because he's a Rule 5 pick.
Brad Meyers, another Rule 5 pick, presents another option. He got a late start to the spring, but seems almost up to speed at this point. George Kontos and D.J. Mitchell are really the only other options, since they're on the 40-man roster. Essentially, the Yankees have a competition here without many inspiring candidates. It's hard to see how the Yanks will get much out of this last bullpen spot — which is why I feel they're more likely to carry the extra lefty.
As Mike said this morning, the spot isn't of the greatest consequence. The Yanks do have a few guys who could fill in this spot — remember, pitchers such as Lance Pendleton, Buddy Carlyle, and Amauri Sanit pitched out of the bullpen at points last season. Eventually, Joba Chamberlain will return and reclaim this spot. So whoever fills it, should the rest of the bullpen stay healthy, will likely be out of a job by the end of June.
* * *
It's easy to remember the mid- to late-aughts and cringe at the woeful bullpen behind Mariano Rivera. They had few effective setup men, never mind middle relievers. Now, though, they have the back of the bullpen pretty well set. Even the middle portion of the bullpen has formed nicely. When the only real concern is the 25th roster spot, something has gone right.