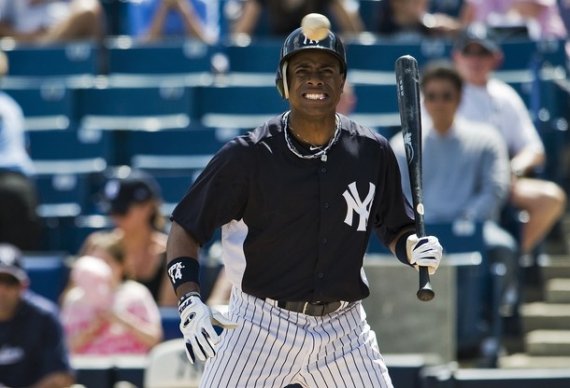 Since the Yankees' 2009 championship run, power has largely defined the offense. In both 2009 and 2011 the Yankees led the majors in isolated power, and in 2010 they finished third. They've hit 15 more home runs than any other team in that three-year span. Even more impressively, they've done this at a time when they're getting less and less from their once-premier slugger, Alex Rodriguez. But that's the point, really. The Yankees have many power sources, which helps keep the team ahead of the pack.
Curtis Granderson
When the Yankees traded for Granderson after the 2009 season, people salivated over his power potential. He'd just smacked 30 home runs while playing half his games in homer-suppressing Comerica Park. What could he do with the short porch at Yankee Stadium? It wasn't uncommon to hear predictions of 40 homers. While that didn't come immediately, it did last season.
From the start Granderson's power was evident. Not only did he homer on Opening Day, but he did so against a lefty. He continued belting homers throughout the year, putting on his best displays in May and August. This was made possible in large part because of his improvement against left-handed pitching. In 2010 he managed a paltry .120 ISO against lefties, hitting just four of his 24 homers against them. In 2011 he actually had a higher ISO against lefties than against righties, .325 to .273. If that's a real effect of the adjustments he made to his swing, the Yanks will continue reaping the benefits in 2012.
Andruw Jones
The Yankees originally signed Jones last winter, because he added some right-handed pop to an outfield that featured two flawed lefties. One had little power, and the other, to that point, had shown little power against lefties. Jones was coming off a season in which he mashed lefties, producing a .302 ISO and hitting eight homers in 102 PA. But a slow start threatened to end the relationship prematurely, as Jones produced little power through June. From then on, though, he was phenomenal.
While his power numbers against lefties were a bit better than against righties, he still produced solid overall power numbers. In fact, his .234 ISO against right-handed pitchers was higher than Robinson Cano's ISO on the season.* He comes back this year with a chance to play a bigger role and provide even more power. While Jones is nowhere near the player he was during his heyday with the Braves, his ability to hit baseballs with authority has kept him well employed in the last few years.
*This is not a demonstrative statement, just a little illustration of how well Jones did hit against righties in his limited at-bats against them.
Mark Teixeira
The story of Mark Teixeira's 2010 and 2011 seasons centers on overall disappointment. His batting average dropped precipitously, and it affected all of his numbers. That is, except his power numbers. While they look low on a superficial level, that's in part because power numbers are down across the league. Last year in particular he produced very good power numbers, ranking 12th in the majors in ISO and fourth in home runs.
Unless he brings up his batting average, which will in turn prop up his other numbers, Teixeira will be seen as a disappointment. But even if he doesn't, he'll still provide an excellent source of power. Batting in the fifth spot, that could come in handy. He might miss out an opportunity for an RBI single, but he can clear the bases with a homer as well as almost anyone else in the majors.
Robinson Cano
Since his early days in the league, people saw in Cano a perpetual .300 hitter. At the same time, they saw his smooth as silk swing and thought that he could drive plenty of pitches over the fence. Yet in his first four seasons he failed to crack 20 home runs. It wasn't until 2009 that he found his true power stroke. He hit 25 that year and has topped that in the following two. Could 2012 be the year he finally cracks 30?
The best part about Cano's increased home run output is that it hasn't affected his gap power. That is, he's not driving pitches over the fence that he once drove into the gap. From 2009 through 2011 he ranks second in the majors in doubles with 135, seven ahead of No. 3, Miguel Cabrera, and five behind No. 1, Billy Butler. At the same time he ranks No. 23 with 82 home runs in that span. Perhaps most impressively of all, he's No. 3 in total bases during the last three seasons.
Alex Rodriguez
Rounding out the middle of the order is a player whose production has faded a bit in the last few years. Clearly injuries hampered Rodriguez in 2010, to the point where he provided no more power than Nick Swisher. That he missed nearly two months of action, among all of his ailments, didn't help his cause. In a year when the Yankees hit, according to some, too many home runs, Rodriguez managed just 16, sixth most on the team.
During his prime years, from 2001 through 2007, Rodriguez averaged a .287 ISO. It's unlikely that, even if healthy, he reaches that mark again. But he did produce a .236 ISO in 2010, and .245 in 2009. Those are higher than the marks that he produced in 2006 and 2004, times when the offensive environment was a bit more potent than it has been recently. If he can simply reach those levels in 2012, hitting 30 homers and 30 doubles with a solid batting average, he'll produce enough power for the Yankees' already powerful lineup.